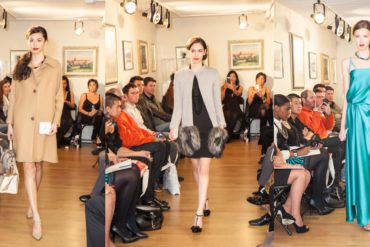 Models work the runway in designs sourced by Eva Flair. Images courtesy of Leonid Malashenok. A well-seasoned group of San...
Last Friday, School of Fashion Executive Director Gladys Perint Palmer gave an engaging and insightful presentation on the world of...
Models showing off Tommy Hilfiger's fall line at Macy's Glamorama.  There's never a dull moment in the style sphere, and...
Brad and Trung of TV Girl. Photo by Justin Smith.  Sitting down outside, the waitress rounded the table with large...
The U.S. Women's Gymnastics team. Photo Courtesy of Reuters.  Olympics mania has yet to subside. We are still hopelessly glued...
Time for a little game of Design Match! Can you match the below sketches with the designers' inspiration? And be...
Rei Kawakubo for Comme des Garçons – 1997. Have you entered the School of Fashion and ASSOULINE's Impossible Collection of...
Name: Lenae Falcone Where you live: Currently in Daleville, Alabama. Area of study: BFA Fashion Design Day job/occupation: Gymnastics team...
Sculpture students from Paris Texas, led by Doc Hickory Upclock, went to Paris France, seeking The Thinker. Doc Hickory (Hick)...