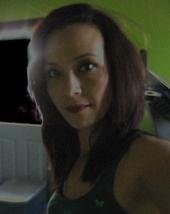 Name: Lenae Falcone
Where you live: Currently in Daleville, Alabama.
Area of study: BFA Fashion Design
Day job/occupation: Gymnastics team coach
What qualities do you most value in others?
Honesty
List a guilty pleasure:
Actually taking a nap! I never get any sleep so if sneak a nap I feel bad!
What is your present state of mind?
Pleased –  I love my family, I love my job, I love going to the Academy of Art University – so I'm pleased with the way my life is going right now.
What is your dream job?
I want to own my own leotard business and my own gymnastics gym.
What is the most important thing that people should know about you?
I am the mother of 11 amazing children!!!
When was the first time you recognized your interest in fashion?
I am a self-taught seamstress – I taught myself to sew at the age of five on a toy sewing machine making clothes for Barbie and her friends. I was a total tomboy who rode horses and dirt bikes, so I say sewing is the only feminine thing I ever did till I grew up! Haha.
Where have you found inspiration lately?
I find it in my family. They are the reason I am back in school. My older kids, especially my oldest daughter Aryka pushed me until I said yes! And a great teacher, Gayle Kabaker never gave up on me even when I felt too old to be doing this.
What is your most valued possession?
Wow, that's a loaded question! I have a couple. One is my wedding ring. My husband is deployed to Afghanistan and that is super important to me. Second would be my mother's wedding ring. She passed away from cancer 12 years ago and it's all I have left of her.
What music do you like to listen to?
I don't really. When I'm traveling from work to home I like the quiet from teaching. I live in a house full of people so I like the quiet there, too, but my oldest daughter listens to all the "Glee" songs so I get a bit of my music needs through "Glee."
If you had an opportunity to travel back in time, who would you like to meet, and why?
I think people cross your paths for a reason so if I was supposed to meet them I would have already!