Paris
Tuesday July 6th
7 p.m. till…. late
Givenchy: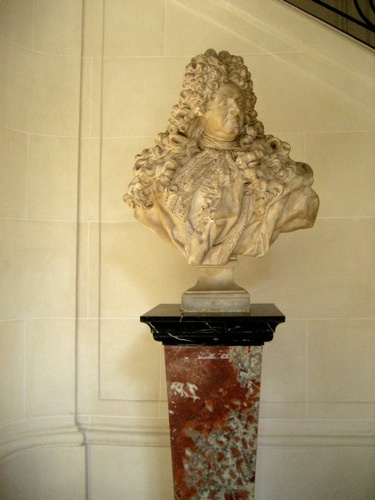 Bust of Jules Hardouin Mansart
In the 17th century, the architect Jules Hardouin Mansart was given a cozy corner in 19 place Vendôme known as the Hôtel d'Évreux. The bust was made by Jean-Louis Lemoyne. Mansart was the the architect behind buildings such as Versailles, the Grand Trianon, the Château de Marly, and Les Invalides. Notice the cross of the Order of St. Michael, which denotes that he is an artist.
Once past the Givenchy securité we are greeted by (the bust of) Mansart. Upstairs, ten Haute Couture outfits by Riccardo Tisci adorn the rooms.
They are fit for princesses from countries under far bluer skies.
Most intriguing is a long dress with the sleeve covering arms and fingers. On close inspection, sleeve is attached at the shoulder with zipper.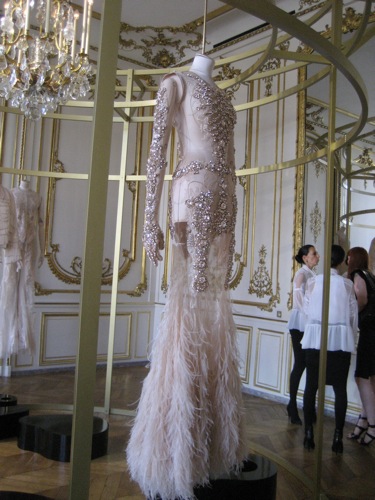 Givenchy Haute Couture dress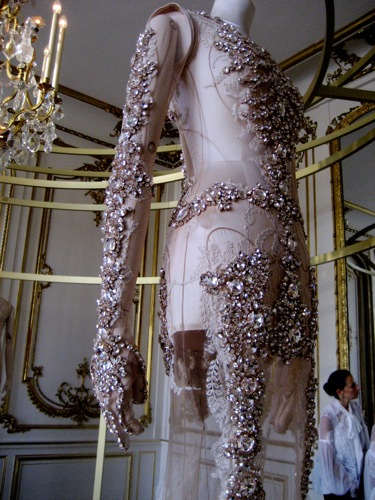 Sleeve and glove attached at the shoulder
Chanel:
Waiting to get to Chanel at the Grand Palais — now a museum — at 8 p.m., we sit for a while next door at the Ritz.
Anna Wintour walks past wearing a plain beige belted dress. Chanel clients walk by in diamonds, sequins and feathers. Very short men in white linen walk by. Linda Wells' sons walk by dressed for a party from The Great Gatsby.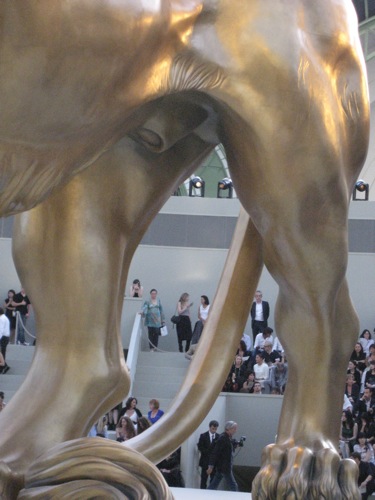 Coco Chanel was a Leo
At Chanel there is an anatomically correct golden lion 11 metres (about 36 feet) high and 22 metres (about 72 feet) long. Models emerge from under a paw. Coco Chanel was a Leo and would have enjoyed the sight, after the show, when everyone rushed to congratulate Karl Lagerfeld under the belly.
Follow the jump for more pictures.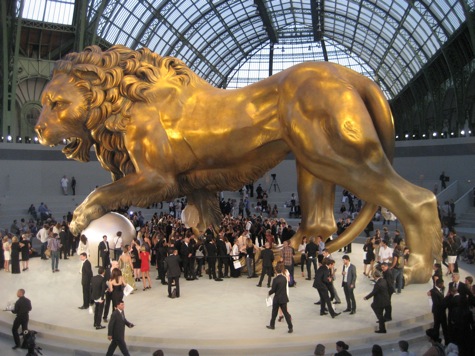 A footnote: Hilary Alexander's (U.K. Telegraph) couture pedicure and sandals: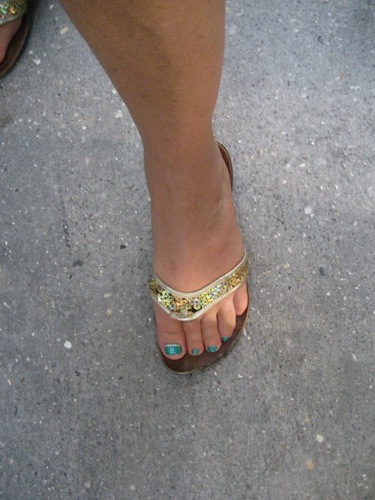 Words and pictures by: Gladys Perint Palmer
Click here to read more of "Picture This" by GPP