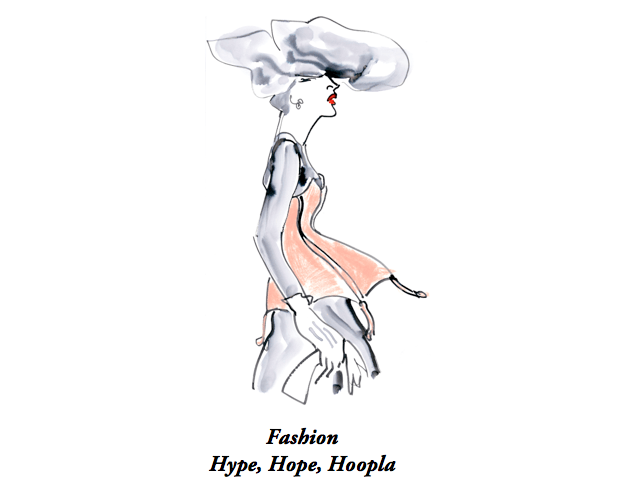 Last Friday, School of Fashion Executive Director Gladys Perint Palmer gave an engaging and insightful presentation on the world of Fashion – Hype, Hope, Hoopla. She began the presentation discussing her summer activities, which consisted largely of handwriting, "Yes, handwriting," she emphasized, her new book of drawings and text titled Adam & Yves, a tongue-in-cheek history of fashion. Each student was given a post-card and a blank sheet of paper, and asked to handwrite (or draw) something that inspired them in the presentation – but more on that later.
Follow the jump to read more!

A sample of GPP's handwriting for her new book, Adam & Yves. 
She discussed the bought of nostalgia that has taken over the fashion industry in recent years, quoting the 12th Duke of Devonshire – also Stella Tennant's uncle – who famously said, "People often forget how terrible the past was – and how exciting the future can be." She examined fashion icons of the past, including Cleopatra whose rise to the thrown was anything but glamourous, and the Duchess of Windsor, Coco Chanel, and Diana Vreeland, among others. "They were no angels," she quipped.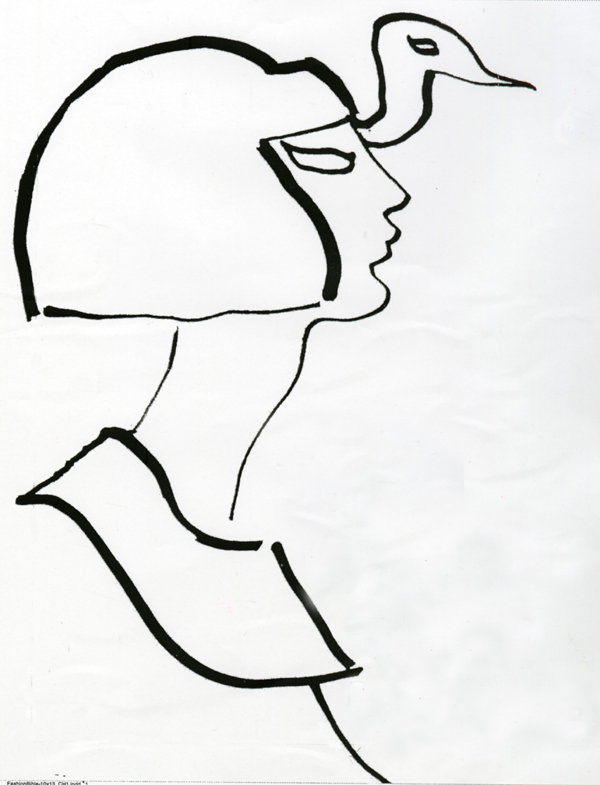 Cleopatra. 
And coming into the present, GPP shed light on the "Bad Boys of Fashion" in the 21st Century – Galliano, McQueen, and Gaultier. "Let's not idealize those days, or the decades that followed. Each hero had major setbacks," she warned, noting that each designer had to overcome obstacles and nay-sayers on way to the top. "But these designers did not wallow. They used their energy, their anger, to fuel their passion for work, for creativity," – a sentiment that stuck with many of the students.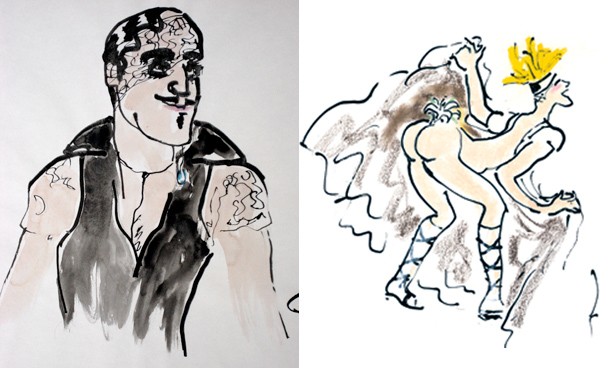 John Galliano, and one of Jean Paul Gaultier's not-so-blushing brides. 
She then went on to discuss her own experience in the fashion industry, "The stories behind the stories. You might call it the skinny, or the truth." After attending Central St. Martins and Parson's School of Design, she began drawing for Harper's Bazaar in New York and Vogue in London. While in Paris to draw the collections for Bazaar, Palmer said to then editor-in-chief, Nancy White, "I'd like to write." She was not laughed at, as she'd predicted, but was instead encouraged, and assigned a 2-page illustrated spread on what was going on in London. "I worked very hard on this. I collected adjectives, phrases, colour references," she remembered. The spread was well-received, and she was appointed contributing editor and as well as guest editor four times a year on the staff editor's pages – which didn't go over very well with the staff editor.
Then Palmer moved to Hong Kong, beginning of period of immense creativity, "I had time to draw and paint and began my love affair with Asian costumes." The colorful culture of Hong Kong made for interesting stories, and even more interesting illustrations. She began writing for the South China Morning Post, a name that was not recognized at the Paris shows, "I was lucky to get a standing spot," she remembered.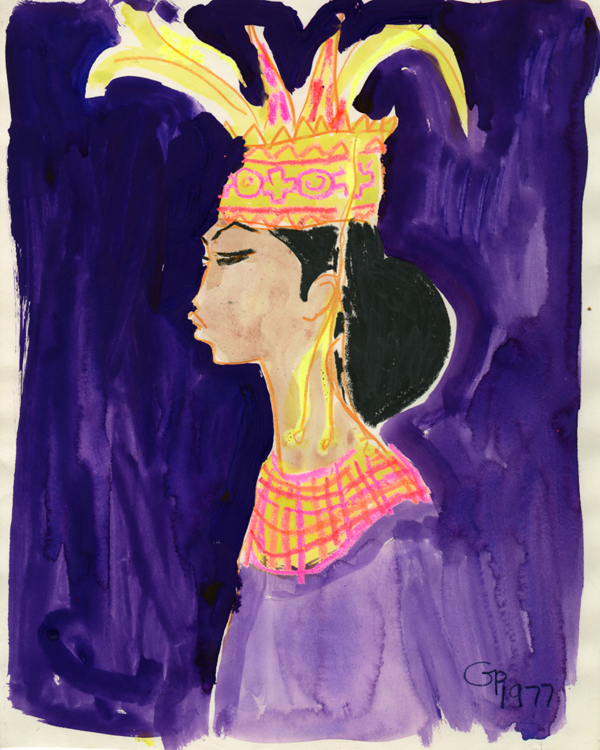 Balinese Purple. 
And after Hong Kong it was off to San Francisco, where she landed a job at the San Francisco Examiner, her first full-time job. "I covered Paris, Milan, London, and New York and was frequently banned for writing what I thought. Those who did not ban me said I was witty, but my wit, to be frank, was plain honesty," – a lesson to aspiring fashion journalists. At the Examiner, GPP continued to push the envelope, even shooting a story about costumer Nolan Miller's new womenswear collection on a pair of male students and proposing an entire fashion issue on the Ottoman Empire.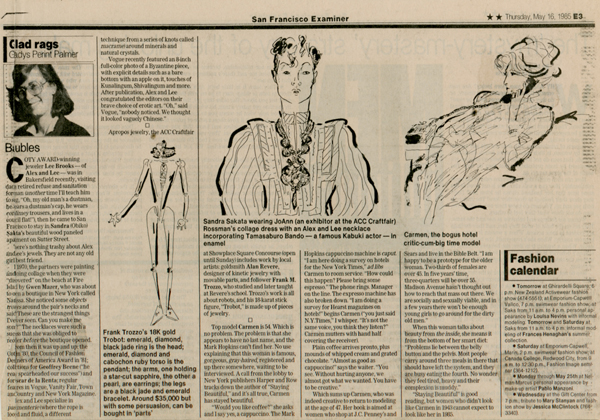 GPP in the San Francisco Examiner.
She continued to illustrate for notable fashion magazines, and eventually left her post at the Examiner to draw for the New York Times twice-yearly style publication, Fashions of the Times. GPP recalled a number of memories from her days covering the shows, sleeping editors, sulking designers, artistic experiments. "I drew using makeup. Lipstick, nail polish, rouge – mascara is great fun," she advised students.
And then, in 1995, Richard Stephens and Dr. Elisa Stephens offered her the Executive Director position at the Academy of Art University School of Fashion – which she first turned down becuase, "the fashion calendar and academic calendar are on a collision course… However, I love a challenge." She accepted the job in 1995, and Simon Ungless joined a year later.
GPP has continued to draw as she leads the School of Fashion, and has recently had her worked featured on Vogue.com and in the online magazine Lumière. "I love the immediacy of the Internet," she noted, and often shares her work with students and the world on Facebook. She warned students to never stop working with their hands, and never compromise their creativity. She closed the presentation with a brief note on her mentor, one of the industry's most creative minds, Anna Piaggi, and fellow fashion illustrator Antonio Lopez, whose work was recently revived with a new exhibition and book, re-instating him as an icon, though his reality was not so glamorous.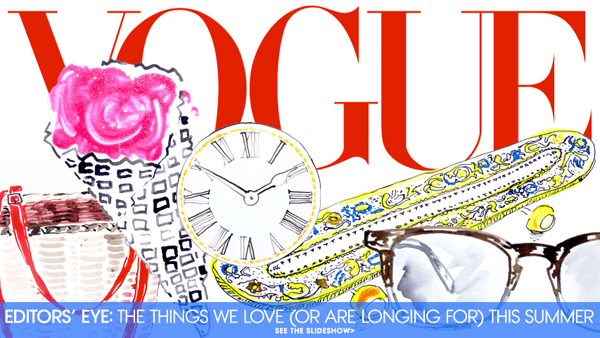 The Editor's Eye on Vogue.com. 
She then invited Simon Ungless to the stage to talk about the Academy of Art University Spring '13 Fashion Show at Mercedes-Benz Fashion Week. He walked students through the process of the show – from selecting the designers who will show their collections, to casting and fitting models, to the final few moments before their designs hit the runway.
As the presentation came to a close, students finished their postcards – drawing, writing, scribbling – and they were collected at the door. The postcards will be assembled into a collage and displayed at Polk – stay tuned for the final product!
Thank you to Gladys for an amazing presentation! To watch the presentation in it's entirety, click here.
All illustrations by Gladys Perint Palmer.