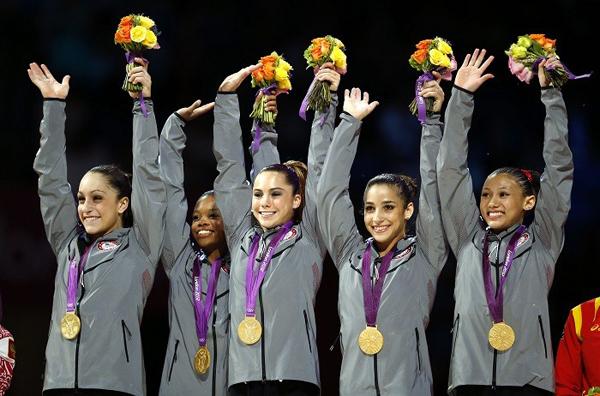 The U.S. Women's Gymnastics team. Photo Courtesy of Reuters. 
Olympics mania has yet to subside. We are still hopelessly glued to our televisions each night, watching the best of the best compete for the Gold. But we've come to terms with it, our productivity is just not going to be the same these next few weeks. And while we thoroughly enjoy the raw athleticism of the games, we can't help our minds from wandering a bit and taking note of the trends we've been noticing.
Fashion and the Olympics in go hand-in-hand in many ways. Many countries enlist designer favorites to add a little flair to their gear – Ralph Lauren has produced the USA's Opening Ceremony ensembles for several years, Canada's Hudson's Bay Company designed their OC garb,  and Stella McCartney designed active-wear pieces for Great Britain's team.
But this year, we've noticed some of the athletes taking sartorial matters into their own hands. And while they don't always hit the mark, we applaud them for trying – it's hard to look good carrying the hopes of an entire country on your back.
Follow the jump for a few of the trends we've picked up on so far!
1. Underwear as Outerwear – There has been some debate about the attire sported by women's beach volleyball athletes this year. It was ruled that they would be allowed to wear shorts and shirts, as opposed to bathing suits, out of respect for cultures who find bathing suits inappropriate for world-broadcast television. But that's not the trend we're talking about. What has piqued our intersest is women wearing their sports bras/bathing suit tops outside of their long-sleeved jerseys – underwear as outerwear. VPL sparked this trend a few years ago, and it seems beach volleyball players are catching on. We can dig it. (Pardon the pun).
[imagebrowser id=32]
2. Scrunchies – The women's gymnastics team is on fire, scoring gold for the U.S. in the team competition. And while we're beyond excited and grateful for their victory, something else has caught our eye: their scrunchies. Scrunchies bring us back to the '90s, and remind us of that episode of Sex and the City when Carrie just can't believe Berger has his leading lady running around town in – gasp – a scrunchie! But these young ladies wear their scrunchies proudly, matching their hair accessories to their leotards in shades of pink, purple, and red, earning them points for coordination. And now that they're gold medal winners, that's all anyone's really going to notice anyway.
[imagebrowser id=33]
3. The Grill – Ryan Lochte has gone and stolen our hearts. With those baby blues and washboard abs, we're pretty much powerless. But we questioned our crush the night he won his gold medal. It wasn't the winning that caused us to take a step back (who doesn't love a winner?!), it was the grill. A diamond, sapphire, and ruby American flag grill to be exact. Generally, we're fans of a little bling, but this might just be taking it too far. It slightly resembles braces, which isn't the best look on anyone, and we just don't know if we can look past it. What are your thoughts on the grill – yay or nay?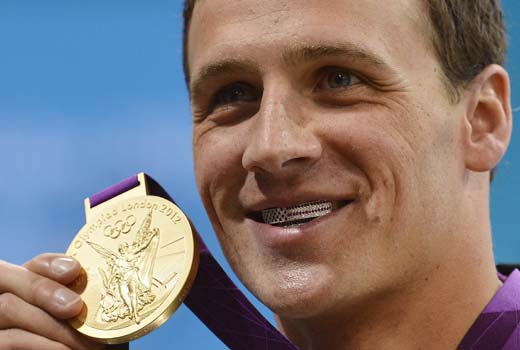 Gold and grill. Photo Courtesy of Getty Images.
Any other trends you've noticed this week? Let us know in the comments below!