Since its launch in 2013 in collaboration with the School of Photography, the Fashion Styling Meet-up event became the must-attend bi-annual rendez-vous for aspiring stylists and photographers.
Styling students were able to meet and build their network to produce fashion photoshoots for their classes or personal projects. Teaming up with students from other majors improved the production quality of their fashion photography at the industry level while still at school.
Models, makeup artists, hairstylists are also invited to collaborate with styling students, participate in the photoshoots, and receive photos for their portfolio.
For the last February session, BFA and MFA design students joined in, and some spectacular collaborations resulted from the connections formed at the event. Designers benefit from these collaborations with professional look-book images and eventual publications when stylists and photographers pitch their work to magazines. 
For the upcoming 14th edition, the Fashion Styling Meetup will move from Art Café to a bigger venue at the Atrium of California Hall, 625 Polk Street, where a live DJ will set the vibe for the networking evening.
The event will open the doors to fashion journalism students and videographers from the School of Communications and Media Technologies.  Editors in the making, journalism students will be able to source content for their thesis projects in Magazine publishing, while students videographers will connect with School of Fashion majors to collaborate on video creations. 
The conversations and networking will evolve around four poles of interest: Lookbook and Test Photoshoots, Still-life and Product Styling, Magazines Production, and Fashion Film.  
For Fall 2019 session, Fashion Styling program partnered with fashion club Beyond the Front Row (BtFR) to launch a call for models and to manage the front of house on the day of the event.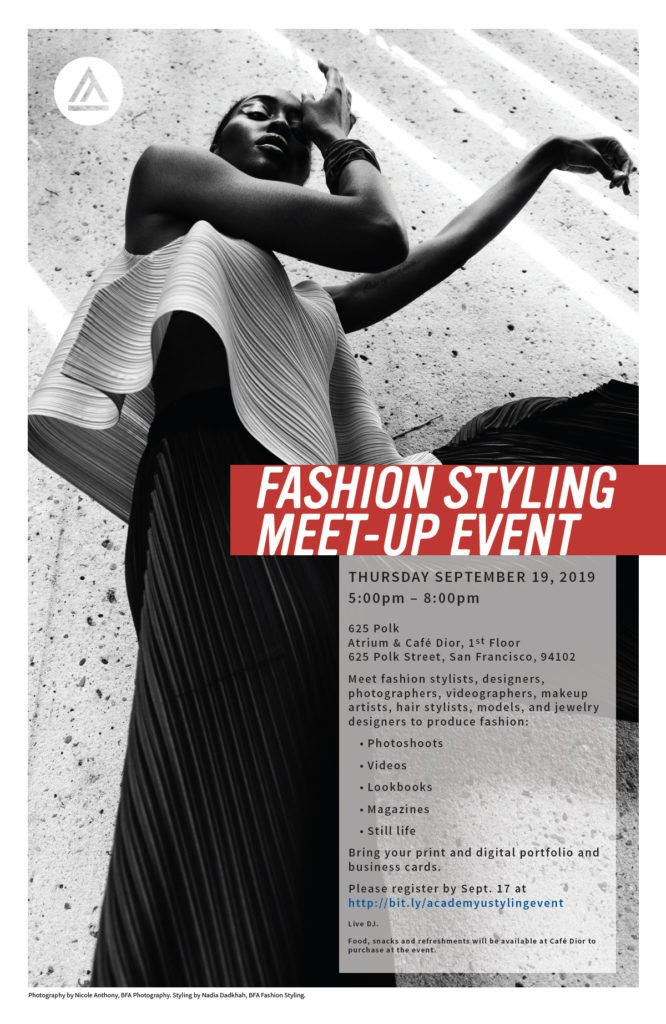 Food, snacks, and refreshments will be available at Café Dior to purchase at the event.
To attend, register before September 17 at AcademyUStyling Network MeetUp Event registration page. Bring your print and digital portfolio and business cards.
When: Thursday, September 19, from 5:00 pm to 8:00 pm
Where: Atrium, 625 Polk, San Francisco
Registration: AcademyUStyling Network MeetUp Event
For more information email: drueda@academyart.edu