Time for a little game of Design Match! Can you match the below sketches with the designers' inspiration? And be sure to check out the final products during the Academy of Art University Fall '12 Fashion Show at Mercedes-Benz Fashion Week on Friday, February 10th at 8:00 PM. You can watch the livestream here and be sure to Tweet about your fave looks using the #AAUfashion hashtag!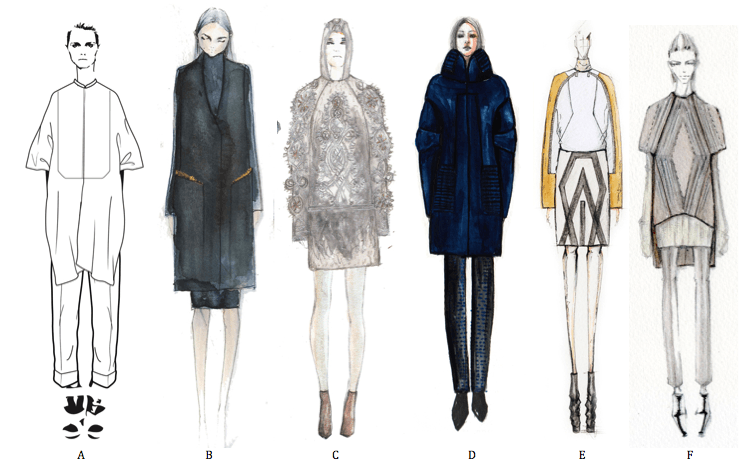 Follow the jump for the inspirations!
1.  Wu Di was inspired by the work of printmaker Aaron Coleman and his use of geometric shapes.
2.  Jeanette Au was inspired by Sergei Diagliav's Ballet Russe and the paintings of Leon Bakst, both of which influenced the texture, patterns, and color pallete of the collection.
3.  Farida Khan was inspired by the idea of unconventional beauty and silhouettes.
4.  Xiang Zhang was inspired by Plato's philosophy that the highest form of beauty can be explained by principles of mathematics. He used Plato's theory of the golden rectangle, in which the ratio of the long edge to the short edge equals the golden ratio, to determine the proportions of designs, as well as the number of stitches and their orientation within the pattern.
5.  Kate Y. K. Lee's collection was inspired by the sculptural elements of architecture and features rounded silhouettes, offset by defined lines and sharp, angled seams.
6. Juanyu Jade Liu's collection was inspired by the French collage artist Damien Blottiere, known for his unique layering technique that creates shadows and empty space. She layered several fabrics, including wool, jersey and fur, to achieve the same effect.