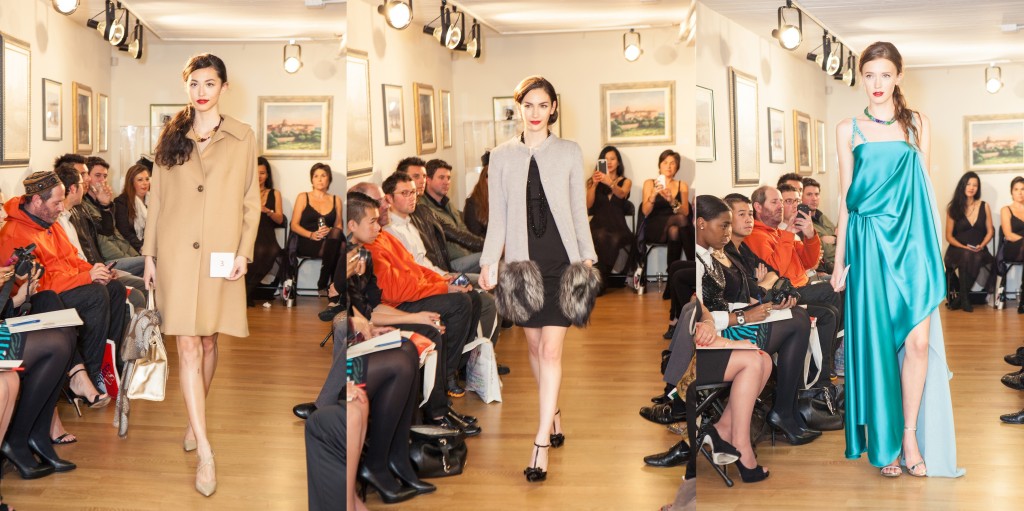 Models work the runway in designs sourced by Eva Flair. Images courtesy of Leonid Malashenok.
A well-seasoned group of San Francisco's style aficionado's and fashion appreciators gathered Monday night to celebrate 2013's "Year of Italian Culture". Hosted by the Consul General of Italy, Mauro Battocchi and the Director of the Italian Cultural Institute, Paolo Barlera, "Italian Style Makers" treated guests to cocktails and a fashion show, curated by the Academy of Art University.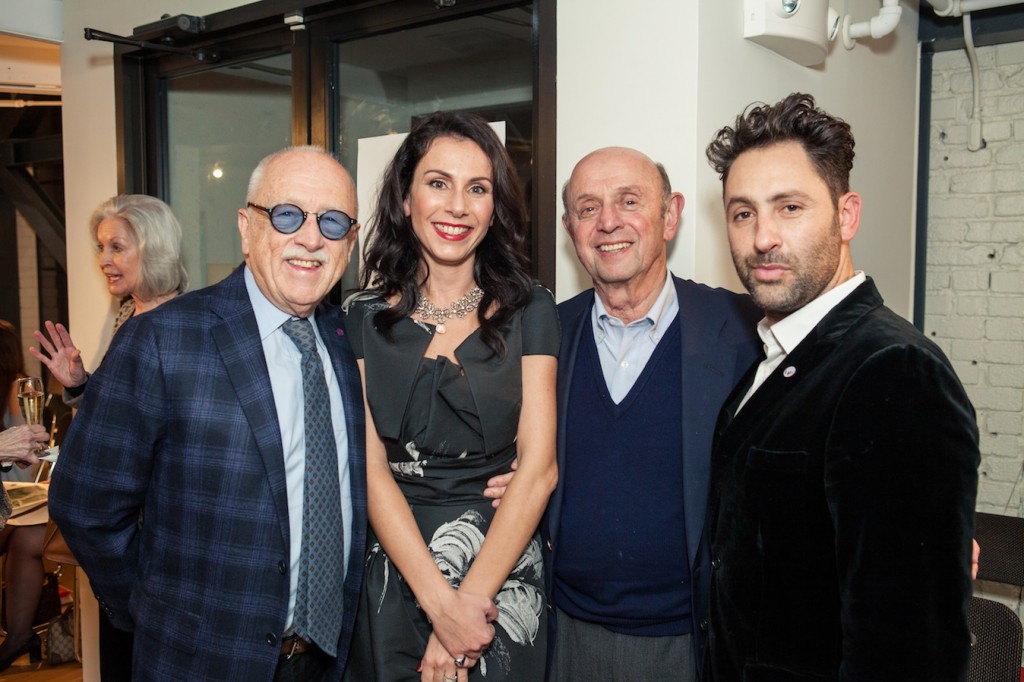 Wilkes Bashford (left), Eva Macauda, Phil Schlein, and Mauro Aprile Zanetti. Image courtesy of Leonid Malashenok.
Featuring eight Italian based designers – EcoToosh, Ella, LEEY, Ones, Ornamenti D'Autore, Ottavia Failla, OttiMia and Zibilla Italian Atelier – each selected by Eva Flair, the fashion show highlighted what's best about Italian fashion and design; the pristine craftsmanship, unmatched leather goods and the richness of Italian taste and culture.
"This is the 'Year of Italian Culture' in the United States, so the Italian system is working [to showcase] what Italians are able to do. It means culture, it means fashion, food, furniture design and luxury products," said Chief Creative Officer of Eva Flair, Mauro Aprile Zanetti."Eva does a lot of talent scouting throughout Italy looking for emerging designers, new brands. The sourcing is in Italy. That means a heritage, an artistry, a craftsmanship. We are talking about scarcity of production, but high quality product. It's definitely what makes up the difference of being Italian; being connected with that Renaissance framework of knowing how to do things with your hands."
Guests were greeted upon their entry with Italian hors d'oeuvres and flowing glasses of prosecco, sponsored by the Colosseo restaurant in North Beach. The cocktail hour before and reception after the show displayed another celebrated aspect of Italian culture – camaraderie and family. All of the guests mixed and mingled, as old friends with one another.
[justified_image_grid row_height=325 height_deviation=50 ids="26908,26909″]
Images courtesy of Leonid Malashenok.
The "slow" fashion show, named by Mr. Zanetti, featured so many of the pieces Italian fashion is known for: OttiMia leather bags that channeled a certain highly coveted luggage style handbag, pristine toga-like gowns from Zibilla Italian Atelier, each accentuating different points on the female body and LEEY's many over-sized coats embodying the trend sent down countless runways for the Spring 2014 season.
Through the designs shown, guests were able to have a personal glimpse of the care put into hand-crafted Italian designs."I think the guests are going to experience Italy and doing things in a slow, [thoughtful] way. I hope they will experience[…]real things happening and [a connection in] multicultural ways like it was during the Renaissance in Italy," said Zanetti.
[justified_image_grid row_height=300 height_deviation=50 ids="26926,26927,26928,26929,26921,26924,26923,26925,26930″]

The looks from "Italian Style Makers" will also be available for purchase Thursday, November 14th – Saturday, November 16th at a pop-up shop hosted at Wilkes Bashford on Sutter Street. For more information on Eva Flair and their work with independent fashion designers visit: www.EvaFlair.com.
Written by Alexa Palacios. Photos courtesy of Leonid Malashenok and Jen Miyako McGowen.