Halloween Windows Get Crafty One of the best things about October is observing the deep plunge that Visual Merchandisers take...
Energetic Angles This week, I tried to contain my urge to write a Halloween-themed post and instead, cover other beautiful...
A Sudden Fade to Black Over the past few months, I was riding high on summer's trends such as neon...
School of Fashion Alumni Grace Neiman's Windows for FNO Fashion's Night Out is upon us again, which means beautiful Alumni...
Hello everyone! I have returned to blogging for Fashion School Daily and am excited to give my posts a bit...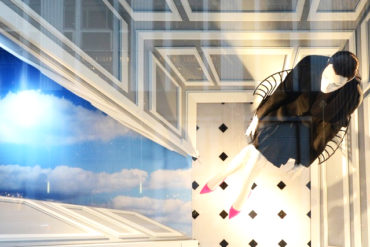 The Spring 2013 Dior windows at Bergdorf Goodman. Photo courtesy of Steve Eichner, WWD. For today's edition of Monday Morning...
Bill Cunningham pedals his way on stage to receive the Eugenia Sheppard Media Award in 1993. Photo Courtesy of Dan...
Yesterday Paris Fashion Week S/S 2011 started — and what better way to be involved than to be a dresser...