Each semester, students in Martin Zanfardino's visual merchandising class design dynamic window displays for the InterContinental Mark Hopkins Hotel. The Mark Hopkins is a San Francisco landmark, rich with history and tradition, which the windows highlight each season. This semester, the display on the main floor is dedicated to Rudy Vallee, singer and entertainer, who delighted guests at the Mark Hopkins for years. It features a vintage record player, playing the crooner's famous tunes.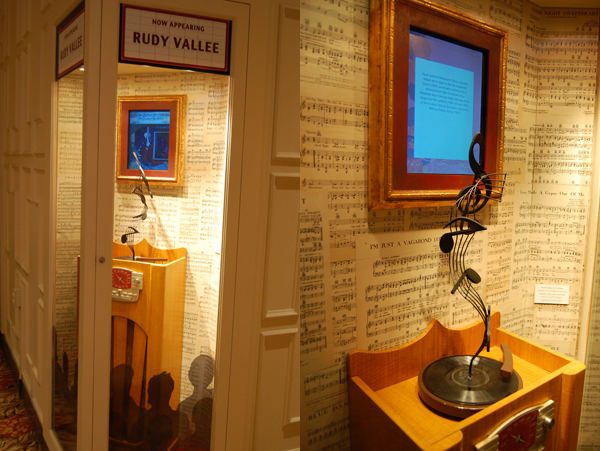 Now Appearing: Rudy Vallee – Designed by Jimena Diez and Grace Rhee
On the California level of the hotel, guests are greeted by Celebrate the Mark … and Milestones Around the City – an eye catching display celebrating San Francisco's many anniversaries, from the Golden Gate Bridge to  to the San Francisco Symphony.
Follow the jump to read more!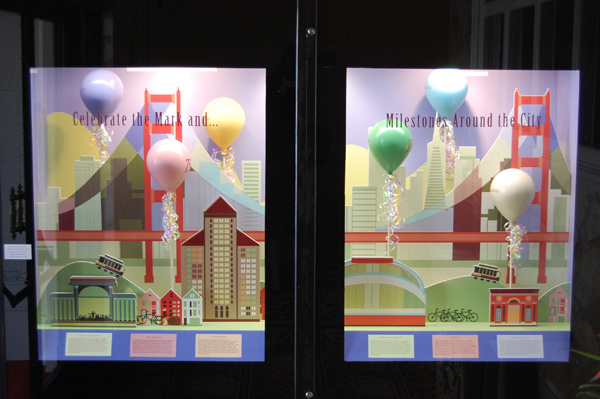 Celebrate the Mark… and Milestones Around the City – Designed by Emi Sullivan and Li Wang
Further up the stairs is a display dedicated to the hotel's founder, George D. Smith, and his travels around the world. The mining engineer had long harbored a dream for the 1 Nob Hill address, one of the most coveted spots in the city. When the hotel opened in 1926, it was an overnight success, becoming one of the leading social centers of San Francisco.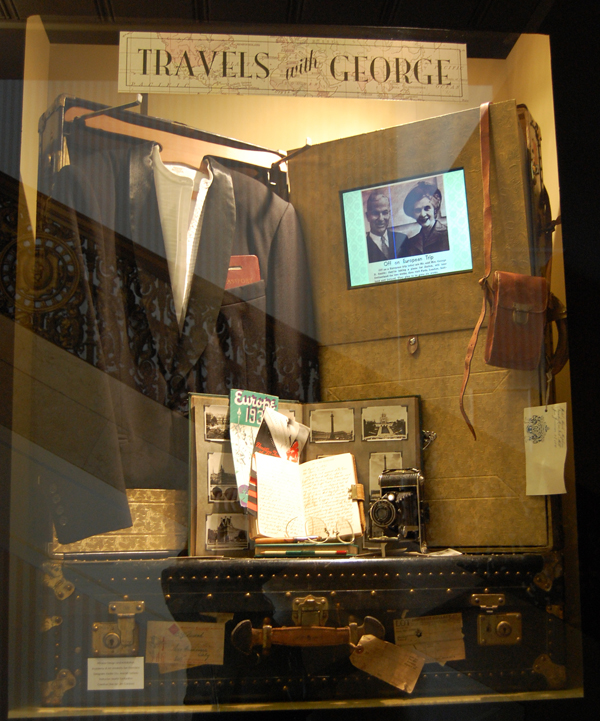 Travels with George – Designed by Eddie Chu and Araceli Tostado
The final display, A View of Historical Ads from the Mark, centers around a vintage view-master that showcases advertisements from the hotel. They are featured on the view-master screens, as well as in the background of the window, and the bright colors immediately call to your attention. The windows offer the perfect visual amusement for guests at the hotel, and let them in on some of SF's best stories. Congratulations to all of the students – you did a wonderful job!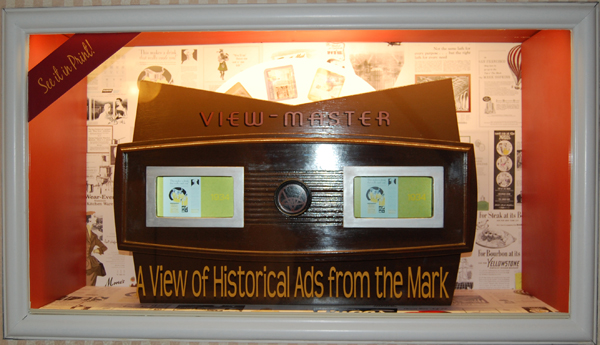 A View of Historical Ads from the Mark – Designed by Marleena Luukka and Gracie Xu