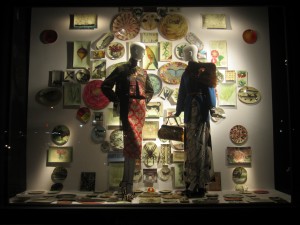 Hello everyone! I have returned to blogging for Fashion School Daily and am excited to give my posts a bit of a New York City – style spin for a few weeks.
When I moved to New York in May, I left a lot of my art and craft supplies at home. I know, I know – how could Danielle survive for over a week without her hot glue gun? Believe it or not, I made it through the summer without one, but with the changing seasons, I was reminded of my packing mishaps.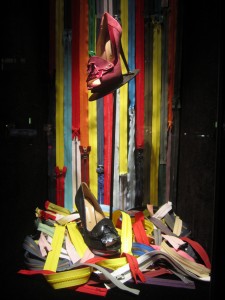 From uptown to downtown, I noticed that a frenzy of every day household items have become the "it" prop or decoration in display windows. With even smaller budgets and serious seasonal transition windows to design, Merchandisers have finally taken their knick-knack collections and put them to use.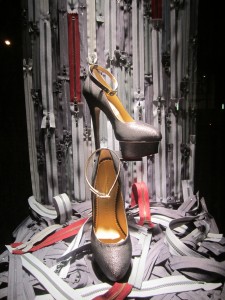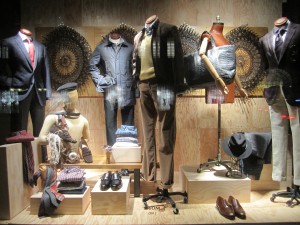 Forget eating off Grandma's china – this season, Bergdorf's wants consumers to get their dining collections out of storage and mounted on the walls! In addition, seamstress zippers received a glorified moment in Bergdorf's elegant jungle-like composition. At the Men's store, geometric rubber band and nail art was created on the back walls, while rope and natural wood planks set the scene. All items found in Dad's garage, yeah?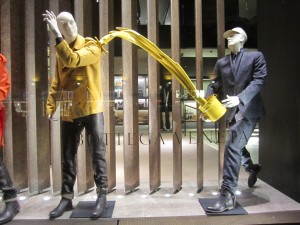 Bottega Veneta gave me a few messy Pollock inspired ideas with their paint can display on Fifth Avenue. A splash of a trend color, anyone?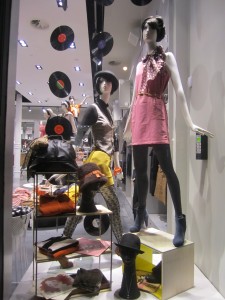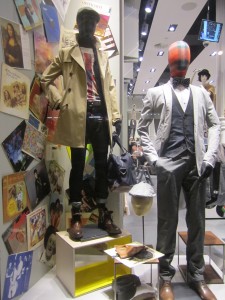 H&M had a male/female window face off in Soho while using classic vinyl records as props. Merchandisers really stretched their dollar by using the sleeve in one window, while placing the vinyl record itself in another.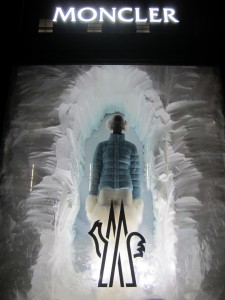 Now for the show-stopper – Moncler's foam core sculpted iceberg! Let's bypass Fall altogether and go straight to chilly January in the middle of August. Although it may be ahead of the season, using a little leftover foam core from your past craft projects never hurt anyone!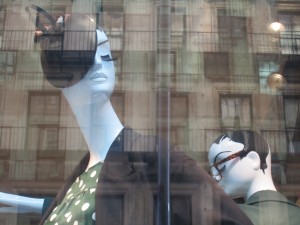 Merchandisers' new obsession with vinyl sticker makeovers is in full force in New York this summer as well. Cute bob haircuts, striking eyebrows, and even a full pout have been carefully cut out of vinyl sticker material and used in a playful way for fall. If only my body was made of plastic.
Written by Danielle Wallis.