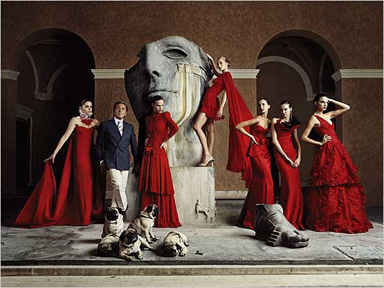 Meet Matt Tyrnauer, producer and director of Valentino: The Last Emperor, the widely acclaimed documentary with unprecedented access to Valentino and his extended family.
View the film's trailer Wednesday, April 22  at 1:00-1:45 pm at 79 New Montgomery Auditorium with Matt Tyrnauer and Cheryl Locke, coordinator of the fashion journalism program. After the trailer, Cheryl will moderate a Q & A with Matt about his experiences and impressions as a journalist and a documentarian who spent two years, from June 2005 to July 2007, capturing 250 hours of footage of Valentino's private and public life.
You can view the film at the Landmark Theaters' Embarcadero Center, San Francisco and Landmark Shattuck, Berkeley www.landmarktheatres.com as well as at the Smith Rafael Film Center, San Rafael www.cafilm.org
Matt Tyrnauer is a Special Correspondent at Vanity Fair magazine and this is his first documentary. In his own words, Valentino: The Last Emperor is an "…engaging and entertaining portrait of an extraordinary partnership…and a dramatic story about a master confronting the final act of his celebrated career". He further states, "What started as a journalistic inquiry, in the end, revealed a unique love story with the world of fashion as a backdrop."
Valentino: The Last Emperor made its world premier at Venice Film Festival, won at the Chicago Film Festival, and was selected for the Toronto Film Festival.