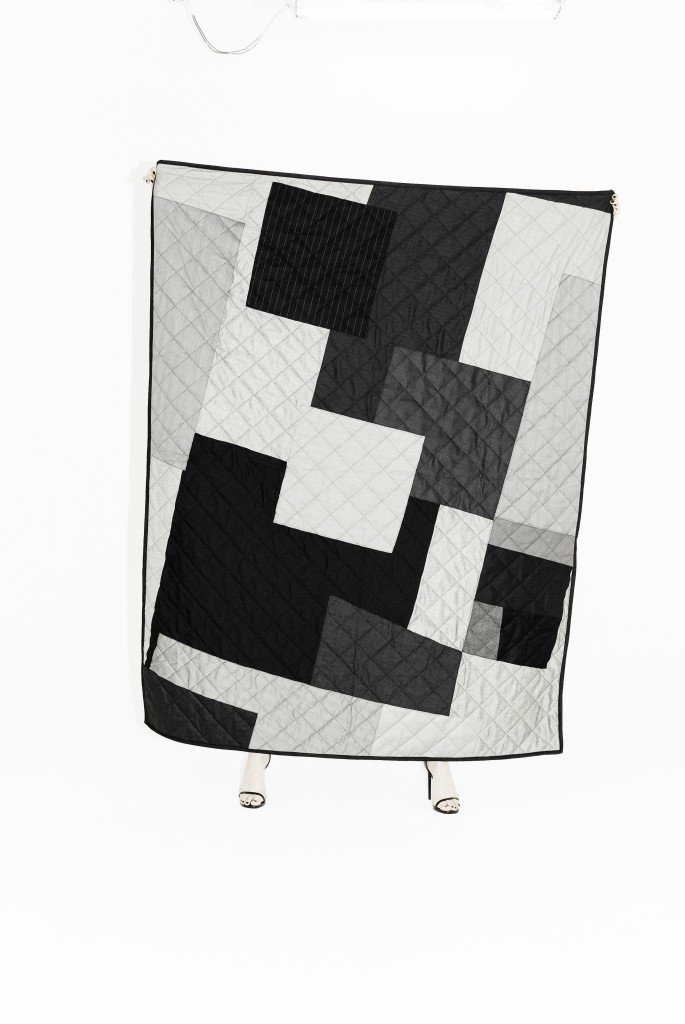 Heather McDonald, 2013 MFA Fashion Design and Knitwear alumna, launched her Fall 2013 MFA thesis collection during New York Fashion Week. Heather was on the board of the fashion club Beyond the Front Row since it began in 2009 until she graduated in 2013. Before her New York Fashion Week collection debut, she would assist Simon Ungless, Executive Director of the School of Fashion, with fashion show production and work with the Fashion PR Team backstage.
Mel Harper, 2014 BFA Photography, was also a fixture at both the New York Fashion Week and San Francisco shows as he would photograph backstage and from the runway.
Fashion School Daily: Did you meet as students at AAU?
HM: We actually met at the new student orientation, Mel was attending and I was representing Beyond the Front Row.  I think that we have hung out almost everyday since.
FSD: What prompted you to launch Harper McDonald?
HM: We like to make things, I have been quilting for years and Mel grew up sewing with his mother and sister.  A few years ago we made our first quilt together and saw that not only could we combine our respective disciplines into this objet d'arte, and brand, but that we also had a merchandisable product, with an identifiable absence in the luxury market.
FSD: Tell us about Harper McDonald.
HM: We hand make one-of-a-kind quilted blankets, from fine wools, silk, cashmere, leather and alpaca – these are not your Grandma's quilts!  Due to the nature of how quilts are constructed, they outlast their original owners so you are buying something to pass on, an heirloom.  All of our production, sourcing and operations are accomplished in the U.S. We have sustainability in mind at every step, from something as simple as recycled/able paper products (where they are essential), to utilizing digital platforms for forms, receipts, invoices etc.  Luxury should not come with an ethical compromise. Whether through sweatshop labor or toxic dyes, if the product truly is luxurious then it must be ethical.
FSD: Where can we buy Harper McDonald?
HM: HarperMcDonald blankets and bears are available in the Wynn Las Vegas Home Store. They are also available directly for custom/bespoke orders through our website.
FSD: Describe one or two ways that you are better as a partnership?
HM: We could describe hundreds.  That is not meant to discourage the lone entrepreneur, but we work all day, everyday.  NYC, the fashion, or more specifically the creative/taste-maker industry is fierce, you're going to get plenty of 'NOs', that is if someone even gets back to you.  Having a partner is indispensable for; bouncing ideas; consolations; doubling your effective ability; a different perspective.
FSD: What is next for you in 2015?
HM: The day-to-day is the most important part about 2015, the many little tasks that add up. We also have a lot of multidisciplinary projects we are working on, collaborating with some brilliant artists in a variety of media.  We are also a new brand, so we are very aware that we need to increase our exposure.
FSD: What are some fun things that have happened recently in your business?
HM: We spent a year putting together our business and sales and marketing strategy.  One of our most exciting prospects was a prestigious New York retailer.  We figured getting someone on the phone would take a while so it was our first call, as we knew we would have to follow-up.  Mel called and got straight through to the head buyer!
MH: We also met with some Las Vegas based buyers.  In Las Vegas most of the business is conducted underneath the city, our contact took us into this labyrinth underworld, it was interesting to see the city underneath Las Vegas.
FSD: What is your favorite memory from your time at the School of Fashion?
HM: I loved the sanctuary that school provided. A place to learn, create and make, at all hours of the day. In the working world your creative tasks are more limited and the time you have to work on your own projects is after hours. I miss the freedom that school allowed, and the guidance of my mentors, Simon Ungless, Hersha Steinbock, Edith Mead Barker, and lan MacKintosh.
MH: The first few times I was able to photograph backstage at the Mercedes-Benz Fashion Week shows in NYC.  It was great to be a bright-eyed photographer excited to shoot in that setting, I am grateful to Ian, Edith, and Alexandra for providing the opportunity.
FSD: What was your biggest challenge / surprise during your time as a student?
HM: Working on my graduate collection, the amount of work and problem solving was intense, but was totally worth it.  It was such an accomplishment knowing that I pretty much
MH: My biggest challenge as a student and now a business owner and professional photographer, is don't take it personally.  That sounds ridiculous, you are invested, it is your work, why wouldn't you take it personally?  But don't take offense, and move on, don't let it interfere or interrupt business.  Business is what you do to pay for your bills and personal projects.
FSD: What was the hardest fashion lesson you've learned?
HM: As designers our aesthetic is constantly becoming more sophisticated with experience.  You cannot fast forward, experience takes practice and time.
No matter what it is, you could construct the most amazing clothing, furniture, websites, products, if it does not have a merchandisable support structure it is just another cool idea.  We do 90% business operations and about 10% design.
It is really about who you know, don't take that as elitist, go with it, network, meet people.  Be professional!
FSD: Any 'insider information' from the fashion industry that could you share with fashion students today?
HM: Target someone.  If you want to sell a product, or get a job, find that person, qualify their responsibility, and start contacting them.  Follow-up, follow-up, follow-up x10.  Don't leave it up to chance that your communication will find its way to the right person, and don't write generic emails.  Personalize your correspondence, invest in them if you want them to do the same for you.
FSD: What advice would you give to students?
HM: One day we are students, the next we are professionals.  We are constantly collaborating with artists in different disciplines, the first people we turn to are those we know.
While in school get the 'extras'.  Use that special request, get more involved, take those extra classes, cross collaborate with other departments, the University has galleries, photography studios, many unique spaces and opportunities.
HarperMcDonald website and instagram