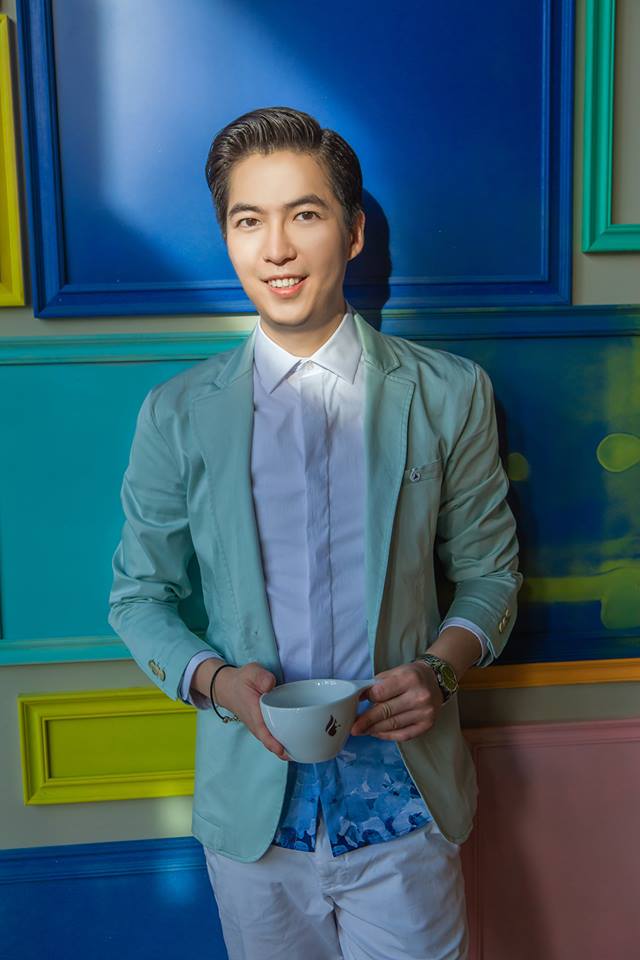 Wesley Sin is a journalist and a great supporter of the School of Fashion as he has attended the Academy of Art University New York Fashion Week shows for years. He is often backstage interviewing the designers as the host for "IT STYLE" which airs on ICN TV Network USA, the largest Chinese investment television media entity in America. Through broadcasting in both English and Chinese, ICN presents exclusive content about culture, travel, economy, lifestyle, fashion and art to Chinese American Families in New York, Los Angeles, San Francisco, Seattle, Houston, Dallas and Austin via cable or antenna (Channel NY 24.3, NY 24.2, SF 26.4, LA 44.8, LA 44.6).  According to Neilson, ICN is the top ranked Mandarin speaking TV content provider and distributor in the United States. Wesley is a graduate of National Taiwan University and holds a M.A. of Media, Culture and Communication from New York University. His personal publications include What's New in Tokyo, Tokyo Fashion Diary, Travel in Tokyo, Travel in New York and more. He is working in New York as a PR professional all the while writing and contributing from the Big Apple.
FSD: You have been coming backstage and covering the Academy of Art University New York Fashion Week showing for years now and thank you for that! When and how did you begin working for IT STYLE?
Wesley Sin: I have published some traveling and fashion guides about Tokyo and New York in Taiwan, so I started to cover the New York Fashion Week as a writer since I moved to NYC in 2008. Last year, the Chinese American broadcasting network ICN invited me to be the host of the show, IT STYLE, which is about lifestyles and fashion in New York. We are currently producing the show for two episodes per month. We just have to be consistent, but not too much since the market is being bit saturated with emerging of many online fashion media.
FSD: Did you have previous experience in broadcast journalism and television?
WS: I participated in some radio shows when I was still a student and had some working experience for magazines in Taiwan after I graduated from my college. I also hold a M.A. degree in Media, Culture and Communication from New York University.
FSD: What is a typical day for you like?
WS: I actually have a full time job as a Marketing/ PR Manager for a real estate developer which operates several properties including mix-used condominiums, shopping centers and the hotel. So the weekends are the days for me to discover the city, writing some articles and have some fun with friends. Sort of like New York hipster lifestyle without the beard and flannel shirts but more work, work, work on weekdays instead of going to 1 Oak or Brooklyn.
FSD: Tell us about your work as an author and photographer.
WS: I was very lucky to have the chance to publish my first book in Taiwan when I was 23 years old and every year I continue to publish either a new publication or a new version of my traveling guides about Tokyo and New York. I find it interesting to have this platform to share my sights in different cities through articles and photos. I am also happy to receive the feedback from my readers saying that my publications are helpful for their trips or let them know more about their dream cities.

FSD: What do you love most about your work?
WS: I love that I can have those multiple roles in my working field, including a writer, TV host and PR professional. Those jobs can sometimes be connected to each other; for example, I can learn something from a good event that I attended as a writer and apply what I observed in my PR/Marketing field. I'd like to say free drinks but obviously my work says otherwise.

FSD: You are always traveling for work. Do you have a favorite city that you love to spend time in?
WS: My favorite city should be Tokyo because it is a city that perfectly combines the traditional culture and the hottest trends. You will always find something new and exciting when you visit there. I can say Tokyo is a city that you will never get bored!

FSD: Do you have a favorite designer or celebrity interview that you did?

WS: I recently interviewed the fashion icon Mr. Nick Wooster in both Tokyo and New York Fashion Weeks. He is a very gentle and humble person and I can see his passion for men's fashion. He is also willing to support some upcoming designers as well as designers from Asia.
FSD: Any funny stories about fashion week that you can share with us?
WS: I remember two years ago it was heavily snowing one day and everyone was trying to catch the 10:00 Lacoste show in the morning. All the fashion insiders wore heavy down jackets and snow boots to attend the show. For that 2013 Fall/ Winter collection, Lacoste coincidentally used a large snow white cube to illuminate the beginning of the runway. Everyone was surprised how the designer predicted the weather! But then again, he might have just saw it on the news…

FSD: Have you always been interested in promoting new talent and covering student shows?
WS: I think Academy of Art University's show is always inspiring. Without any limitation or commercial concern, students can actually show more creativity in the fabric and colors they choose and the unique style they would like to express. Also the student designers are from America, Europe and Asia and it's always a good thing to see different interpretation of fashion from people with different cultural backgrounds.

FSD: What advice do you have for students who are interested in working in television and journalism?
WS: I will encourage students to try as many as they want and they will find out what their favorite thing is in the future. If they are interested in working in the journalism field, starting from a personal blog or online channel could be a good way to start off in this digital era.
To watch the Academy of Art University Spring 2015 show coverage on IT Style click here and for the Fall 2015 show coverage click here.
Follow him on Facebook @ facebook.com/Sin.Wesley