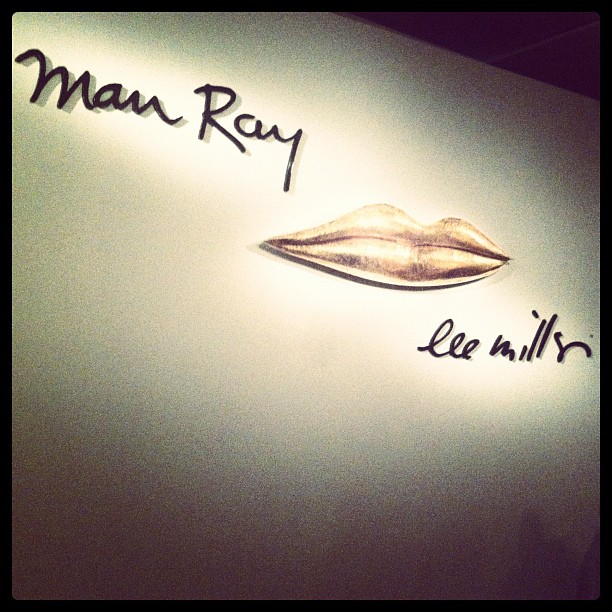 We've seen many an exhibit in our time, but trust us, this is one of the best yet. Man Ray | Lee Miller, Partners in Surrealism, explores the complicated relationship between the two artists, and the influence they had on each other's work.
Man Ray and Lee Miller met in in 1929, when Miller showed up on his doorstep in Paris. She did not know the artist – only that she wanted to be his apprentice and learn from him. What began as a relationship between teacher and student soon developed into much more, and the pair lived together until 1932. Though it was a brief period, the inspiration they offered one another was boundless, and resulted in some of the most powerful works of each artist's career.
Follow the jump to read more!
The exhibit begins with works preceding their love affair, introducing us to the two artists as individuals, before their fateful encounter. But as you continue through the exhibit, you see how complicated their relationship was. The question of artist vs. subject is paramount to this – Man Ray constantly looking to Miller as muse, while she simultaneously tries to assert her role as an artist in her own right. The exhibit also features works by artists in their inner circle in Paris, including paintings by Pablo Picasso, Max Ernst, Roland Penrose, and Dora Maar. But arguably the most moving pieces in the exhibition are those that take you inside their complicated relationship: handwritten letters, small gifts, and works inspired by their feelings for one another.
Man Ray | Lee Miller, Partners in Surrealism, open now at the Legion of Honor, is absolutely a must see – we can't wait to go back!
[imagebrowser id=26]
Images Courtesy of Legion of Honor/Man Ray/Lee Miller.