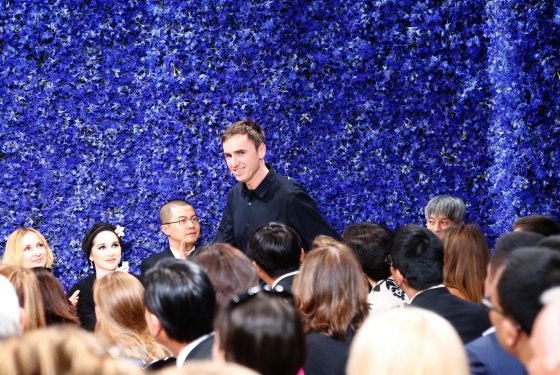 Photo Courtesy of FRANCOIS GUILLOT/AFP/GettyImages.
The fashion world was abuzz with talk of Raf Simons' debut for the house of Dior – and now the designer himself is talking about the experience! In a video released by Dior, Simons expands on his inspiration and his goals for the collection.
"My desire is to have the history and the future together by making a more modern dress and a more, let's say, historical dress, and kind of fusing them together."
He also talks about his research into the work of Christian Dior, and delighting in little details he discovered along the way.
We all know and we all perceive Christian Dior in a very specific way… finding myself in the house now, I have to say that I discovered even much more things that I didn't really see before, like specific codes that he uses, and specific gestures, and specific attitudes."
Simons' inaugural collection received favorable reviews – and we were certainly digging his tuxedos and original take on the dresses-over-pants look. But its clear that the designer is just getting started, and we'll have even more to rave about next season.
Follow the jump to watch the entire interview!
(The Cut)