You guys were on your game this week – Fashion School Daily readers "Vintage_" and Morgan Truong, as well as Twitter follower @Vintage_XCII all got this one right. That gal is Liz Tilberis!
She was the editor-in-chief of both British Vogue and Harper's Bazaar, working with the biggest names in the industry. She ruled, not with an iron fist, but with kindness and humor. Former British Vogue editor Beatrix Miller remembered her first impression of Tilberis: "It was her niceness, enthusiasm, and eagerness, even over making coffee; and her boundless energy." Sadly, Tilberis passed away in 1999 after a hard fought battle with ovarian cancer. She worked up until the very end, and left a legacy at Bazaar that is still continued to this day – a cooler publication built on understated glamour.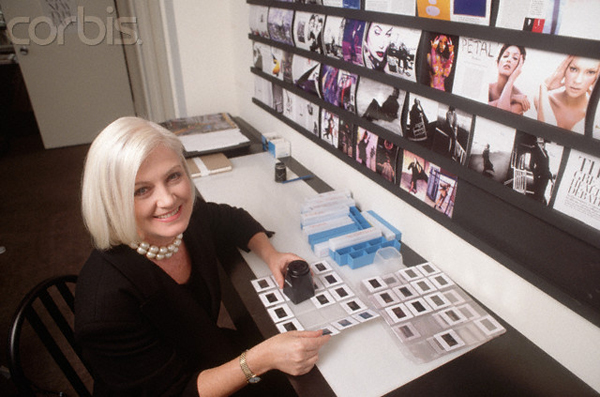 Follow the jump for the clues!
Clue #1: Essay contest – In 1967, British Vogue hosted a talent contest, asking entrants to write three essays for the magazine. Tilberis was the runner-up and was taken on as an intern. Of her apprenticeship she wrote,
"I began by picking up dress pins at photo sessions, making tea, swapping risque stories with models and complimenting hairdressers and photographers. I made myself useful, generally; slowly, very slowly working my way up. I succeeded by knowing the right answers and when to keep my mouth shut, when to smile, and how to do really good ironing. I also learned everything there was to know about fabrics. it was invaluable experience."
Clue #2: Harper's Bazaar – Tilberis took over harpers Bazaar in 1992. She injected the struggling 125-year-old magazine with modernity and glamour, and brought in the top supermodels and photographers, including Bruce Weber and Patrick Demarchelier.
Clue #3: Making fashion accessible – Tilberis loathed snobbery, and was a fierce champion of accessible fashion. As the editor of British Vogue's "More Dash than Cash" pages in the early Seventies, she introduced the notion of affordable style. She searched high and low for unexpected fashionable finds that wouldn't break the bank.
Until next week!