Diaspora, from the Greek diaspeirein, or "disperse," means the dispersion of any people from their homeland. It begs an interesting question: How are we part of the diaspora?
All humans are part of the boom and slump of cultural cycles that make up our origins and influence our sense of identity. No matter where we are or what journey we take, we repeatedly integrate influences from all around the globe.
The Museum of the African Diaspora in San Francisco connects those dots, and explains through art, how that migration allows for adaptation and transformation while igniting  conversations and celebrating black culture. MoAD's three-floor building not only shows the rich cultural heritage of the African people and African-descendant cultures, it is also a statement of what the culture symbolizes in fashion and politics. Additionally, the MoAD takes into account the increasing emphasis of the digital world by featuring video installations and documentaries created by young black artists.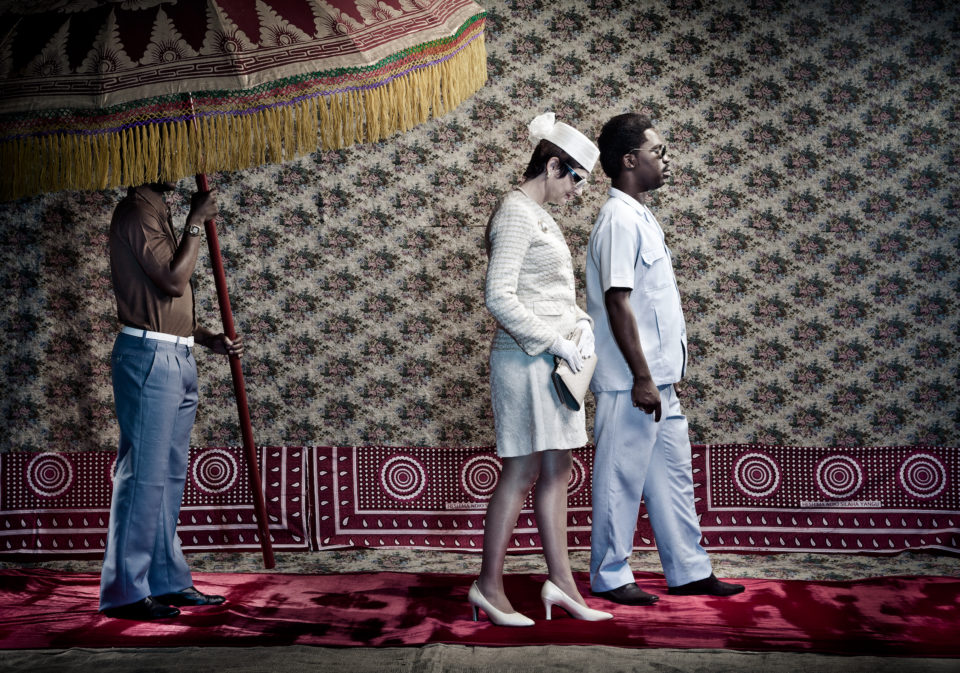 In the exhibition After the Thrill is Gone: Fashion, Politics and Culture in Contemporary South African Art, artists use fashion to shape the idea of identity, memory, xenophobia, domestic violence and allegories of nationalism. Moreover, they attempt to view the frantic colonial history, critique the present and propose a humanistic vision for the future. A sense of calm is evident throughout the insightful and provocative exhibition, which is accompanied with gentle background music.
The Touched by an Angel tapestry by artist Athi-Patra Ruga alludes to pop-culture, including Marvel's Black Panther comic books. The piece features a Rihanna-esque female clad in a bikini and the television show "Touched by an Angel." The woman depicted in the tapestry is part of a community known as Sangoma. Such women often apply white powder to their faces to hide themselves from corrupt spirits. This leads them to be called "the white person."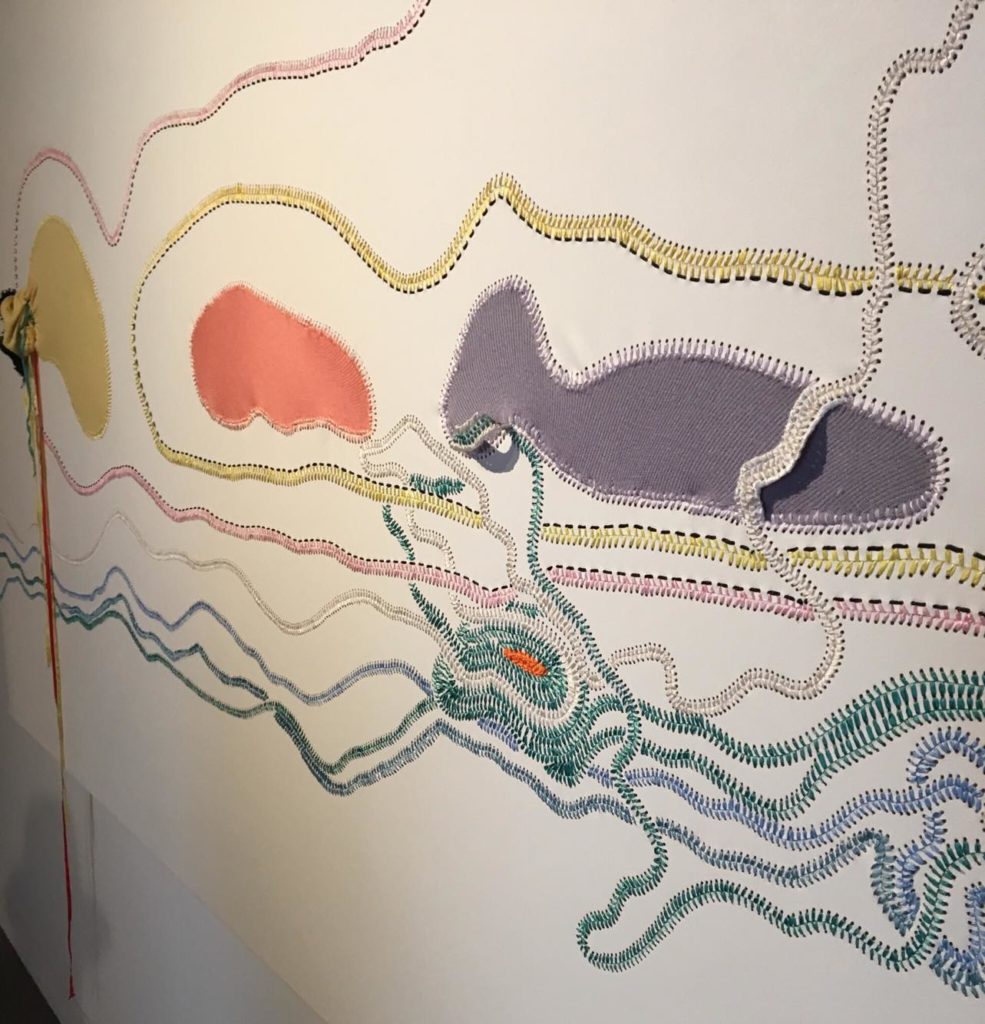 Jody Paulsen created an ingenious, thought-provoking, colorful and fun collage featuring dramatic Disney personalities that resembled chaos from every angle and showcased South Africa equal rights for LGBT activists, contrasting homophobic legislation in places like Uganda and Jamaica. As an updated version of The Real Housewives featuring Disney characters, it mixes issues of consumerism, inclusion, racial and sexual otherness, childhood nostalgia, printmaking and fashion. It is a piece layered with meaning and references; a statement about global issues and reflection by the artist.
For Academy of Art University fashion student Elizabeth Collie, the art synthesizes the struggle for a better life, and the determination to stop at nothing to get there. "Coming from the Bahamas, my roots ultimately come from the African culture. Seeing the portraits, knowing what my ancestors had to go through so I can live a better life, made me feel more fulfilled than any history book could have ever done," she said.
One of the most fascinating pieces involved binding leather, organza, rubber, knit jersey and canvas together with ribbon to create an abstract piece that referenced masculine traditions, including rituals used to train boys to channel their libidos years before they were culturally initiated and circumcised. The flowing pastel color forms made of ribbon figuratively join disparate parts of one's cultural identity, and the whole piece draws out metaphors of the body as well as a division between the past and the present.
Politics of sexuality, gender, identity and humanity are discussed in the i-D documentary series Out Of This World, shown in a dark theater that seats 30 people. It's an intimate film featuring American rapper and activist Mykki Blanco as he explores queer culture in Johannesburg. Touching on the social media phenomenon, the rapper meets a diverse group of ambitious, determined artists who are using their platforms to reconnect and rethink history while celebrating the alternative queer scene.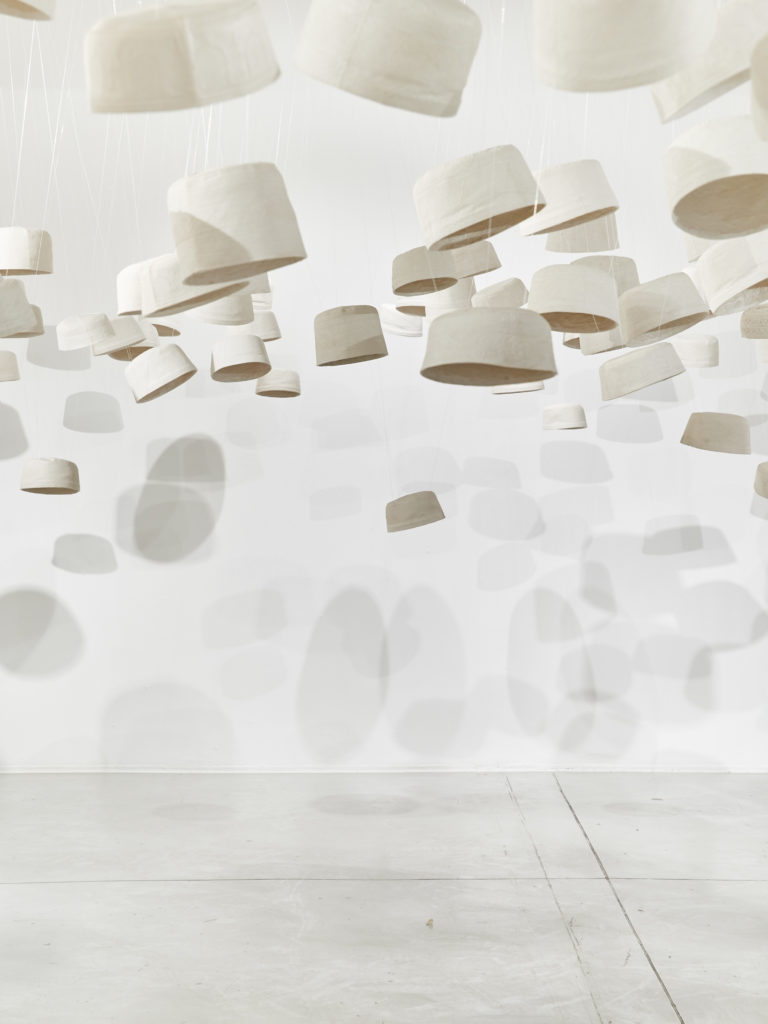 On the third floor, an eye-catching navy dress lays on a white surface in the middle of a large room with Islamic prayer caps suspended from the gallery's ceiling. The caps represent the men who attended the funeral of Imam Abdullah Haron, a member of the anti-apartheid Pan-African Congress. As I walked through the room, I was accompanied by a recording of poet and black consciousness activist, James Matthews, reciting a poem written to honor the Imam at the time of his death, a gesture that eventually led to his own arrest.
"The different dynamics of visual arts and audio, all tell a story of religion, gender and sexuality. This exhibition was a humbling experience; it took me back home," Collie said. "I could hear the goat-skindrums beating off the wall, and the conviction in the voices through the portraits."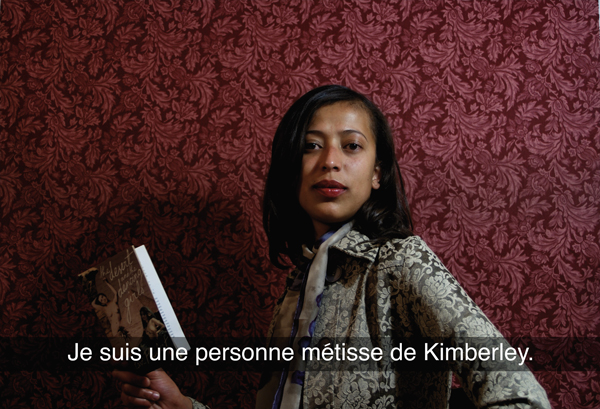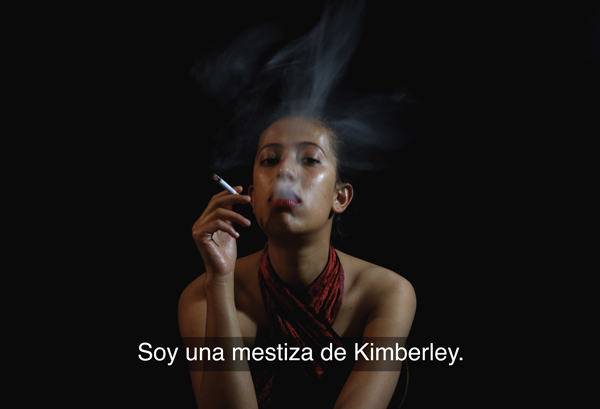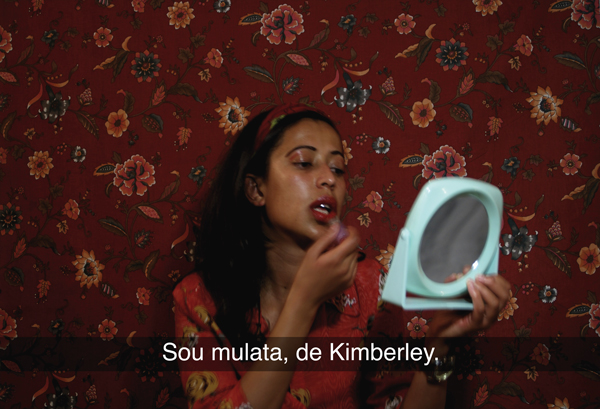 "Who are you?" is a question that artist Gabrielle Goliath answered through three-self portraits that expressed the same idea in three different languages: "I am a coloured [sic] person from Kimberly." She redefines the definition of the term "coloured" from a racial classification to a mixed of ethnic origins, owning her answer with pride and purpose. Either by looking at herself in the mirror while applying lipstick, smoking or looking straight at the camera, each portrait conveys a feeling of indifference mixed with determination.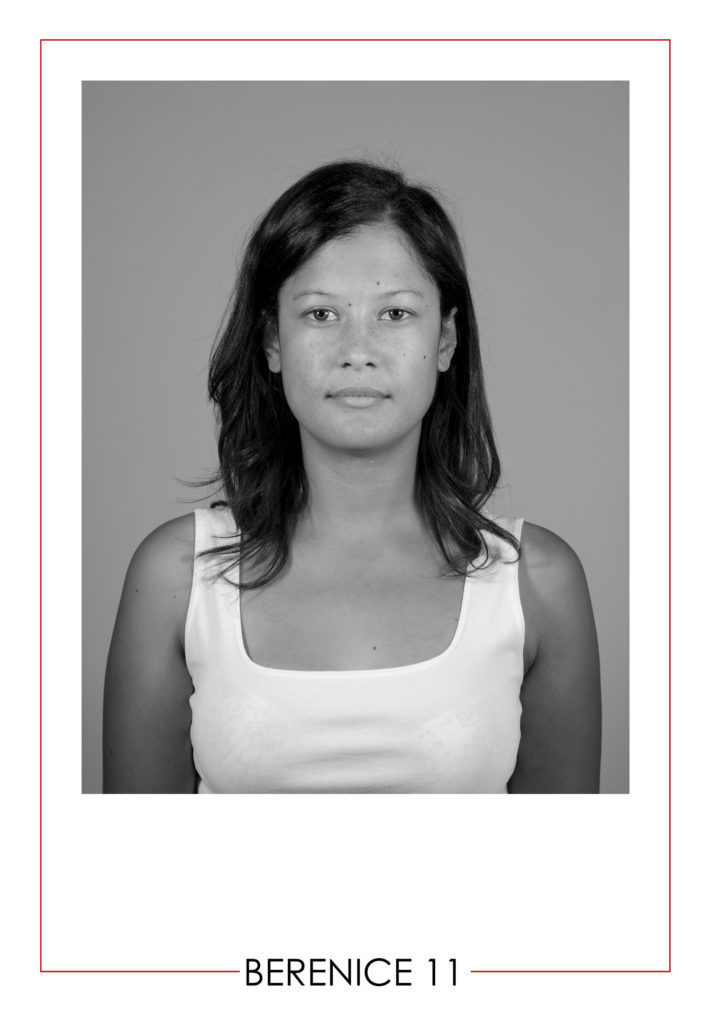 Goliath's best friend, Berenice, was shot at nine-years old on Christmas Eve as a result of a domestic accident, which had a physical, social and personal impact on her. What could just be considered an act of violence is explored in-depth through the artist portrait series Berenice 10-20. The dichotomy between the statistics of violence and the long-term impact in someone's personal life is not often seen; that is why each portrait featuring friends, family, and strangers represents one year lost in Berenice's life. The composition, including a clinical red border surrounding each portrait, touches the viewer on an intimate level, making them question if there's something more to what we think we see.
The unknown, or an element of mystery, can ignite questions and inspire us to delve into the past to discover where everything connects. MoAD explores the significance and importance of diaspora in the realms of culture, politics, fashion, social issues and technology in a world that's been shaped by a journey that began many centuries ago.
Immerse yourself in this exhibition that's been fed by influences from all around the world and that explores the collision of past, present and future.
Location: 685 Mission St. San Francisco, CA 94105
Hours: Wednesday through Saturday from 11 a.m. to 6 p.m. and Sunday from 12 p.m. to 5 p.m.
Text by Camila Encomendero, BA Fashion Journalism