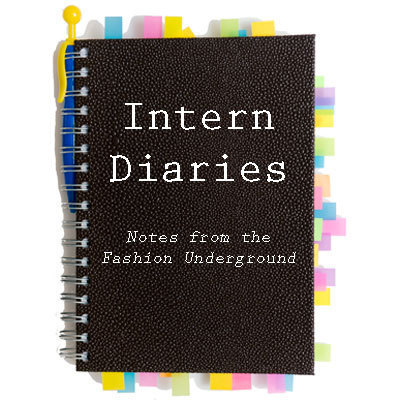 Stylelist has started a new column called The Intern Diaries: Notes from the Fashion Underground. Each week, anonymous interns working in various sectors of the fashion industry will dish about their daily tasks, ridiculous bosses, crazy cool experiences, and valuable lessons learned. We can't imagine that industry insiders are too pleased about this, but it is a great way to peek inside the industry – especially for anyone who will soon be starting an internship! And though lately we've been hearing a lot about interns being abused, let us be the first to tell you that that is not the case everywhere. Many internships are absolutely amazing – and they are always a good learning experience.
Here are a few highlights from the first two installments of the Intern Diaries!
The Intern Diaries: A College Student Works New York Fashion Week for a Designer
4:20 Standing next to the designer during the model fitting and made sure everything was right. He is a complete perfectionist.
4:45 Exhausted after running around making sure that each model has at least 2 looks and footwear in the proper size. 
5:13 Hand the models their call sheet and remind them to show up on the day of the show in clean hair and nails. You would be surprised how some of them walk in. 
6:00 Take a short break. Deserved, right? 
6:15 Still running on adrenaline. I'm back, baby!
10:13 We call it a day after almost 10 hours of non-stop working. Does that make me a workaholic? 
11:40 Dreaming about the music for the show. I'm sick.
Follow the jump to read more!
The Intern Diaries: Behind the Scenes at a British Magazine
3:50 Told that I'm going on the shoot tomorrow (Saturday) with one other intern. I will have to rearrange my weekend, but I am so excited as I will get a fashion assistant credit in the magazine that I can add to my clips! I will also get to see the fashion editor in action and learn how to do her job (my ultimate career goal). Not a lot of fashion interns get this opportunity – most just stay in the fashion closet.
5:30 The last thing arrives and now I'm waiting for the fashion editor to come in to edit down and select pieces to take on the shoot. The shoot location is still unconfirmed.
6:25 The editor rings. She won't be coming in and won't say why. Guess that means we're taking everything in three suitcases (including the broken one). With one of the fashion assistants, I over-stuff the suitcases with clothes, extra hangers, shoes, accessories, the editor's stylist kit, hand steamer and a garment rack. We're ready. 
6:45 The other interns have already left (we're only supposed to stay until 6:30), but since I am going to the shoot, I stay late to make sure everything is set for tomorrow.
Next day….
8:00 I arrive on the shoot and the other intern is already there. Hair and makeup have also arrived. We put up the rail and start to unpack. I take charge and we organize the clothes by designer in alphabetical order.
8:15 Editor arrives and has kindly brought breakfast for everyone. How sweet!
8:20 Photographer arrives. All the other crew know each other and have worked together before so it is a friendly atmosphere. He puts on music.