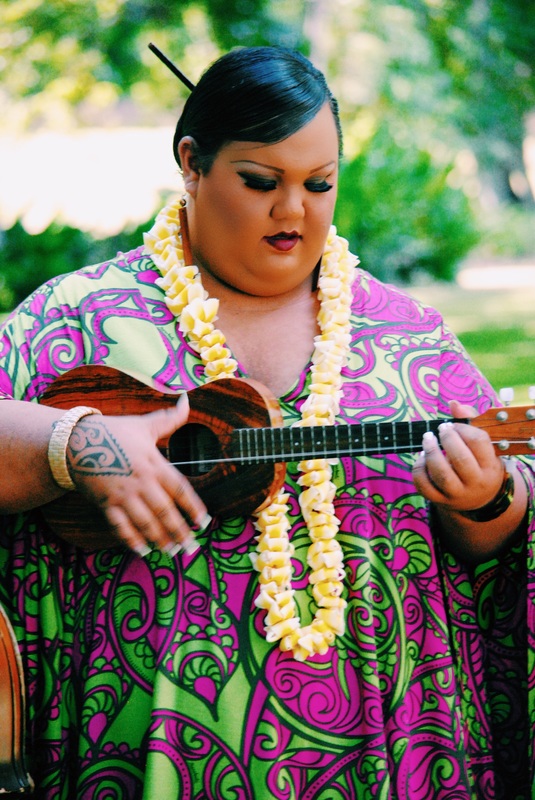 Arriving promptly at fifteen past nine in the evening, Lina Robins-Tamure stopped in the doorway of local joint Chiko's Tavern and eye-searched the dimly lit pub for her interviewer. Tucked away at the back of the pub and I sat next to an artificial Christmas Tree, a year-round pub staple. We locked eyes and smiled at each other as Lina glided across the bar to my maroon upholstered sofa cove. The faint smell of Elizabeth Arden's White Diamonds fragrance filled the air as we embraced and greeted each other as old friends.
Dressed in head-to-toe black, she wore a sheer kimono top and that fluttered as she walked, and accented her ensemble with beautiful kapa (Hawaiian cloth)-inspired printed wooden earrings and tortoise shell cuff bracelet. In her signature side-slicked hair thrown up into a sleek bun were a pair of ornate black hair chopsticks. It was her work 'uniform', as Lina had just gotten off of work performing at Hilton's Hawaiian Village to meet me for an interview. The bartender sent over a round of tropical "Fruit Fly" drinks, one of Lina's favorites.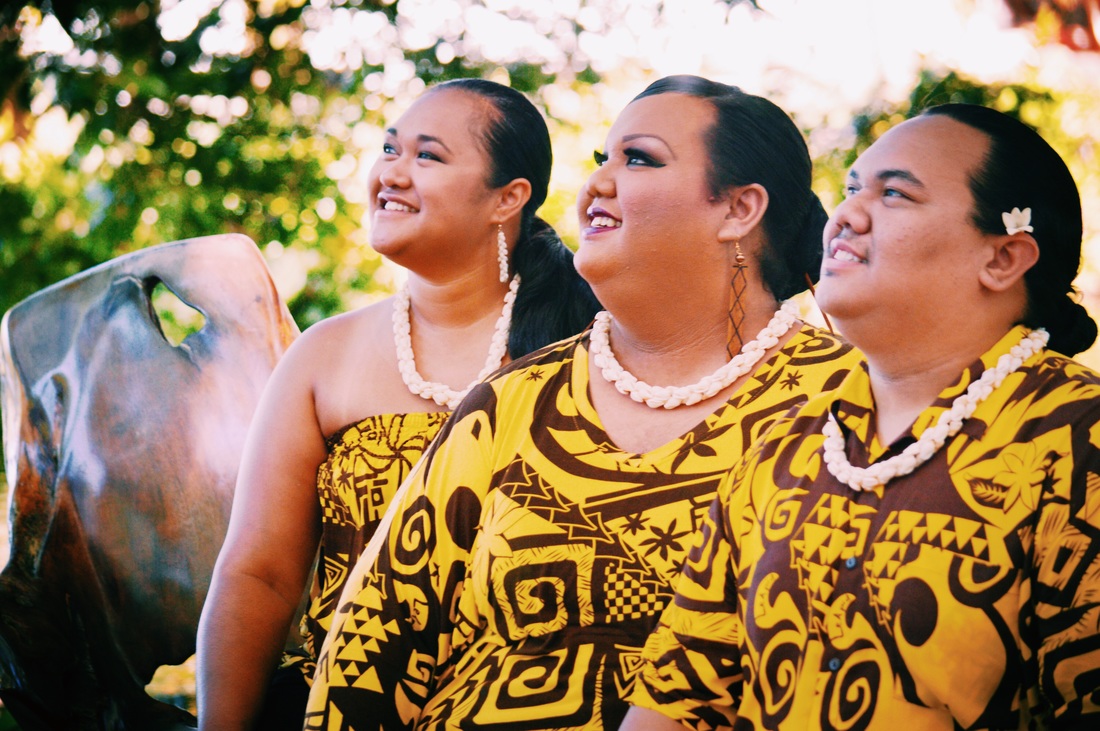 Born into a family of musically talented musicians and instrumentalists, Lina embraces her Hawaiian heritage by sharing her golden voice with the world. Ever since she was a child, Lina has surrounded herself with the diverse music of the Hawaiian Islands. Frequenting Hawaii sister countries across Polynesia and the island nation of Japan, Robins-Tamure states that she always takes with her on her travels the spirit and culture of her Hawaiian ancestors.  She has become an "Ambassador of Aloha" to the people on her travels, sharing her love of Hawaiian music and the warm and spirited lifestyle of her Hawaiian home with anyone willing to listen.
In a moment of quiet contemplation, Lina gazed into the depths her cocktail to collect her thoughts before saying
"I feel like it's almost a responsibility for me… I'm the only one who sings Hawaiian music in my family… I'm blessed to play with a lot of people and travel a lot of places for Hawaiian music."
Blessed with the grace and fortune provided by Oprah Winfrey through her Wildest Dreams Come True campaign, Lina had the once in a lifetime opportunity to train under legendary R&B idol Mariah Carey and American Idol's Randy Jackson. She performed two songs on The Oprah Show including Carey's smash-hit "Hero", and one titled "I Pray", which was written and produced for Lina by Carey herself. When asked about her experience with Carey, Lina looked up from her drink and smiled before saying  "She was really down to earth to me and my parents, she was really, really nice… she handled me and the state I was in in a nice and gentle way, like a really good friend or a sister." At the time of this performance, Lina was still in middle school and had not yet transitioned from Paul into the beloved and beautiful Hawaiian songstress we know and love today.
Recollecting her experience about her transition, Lina 's posture changed as she said more quietly "In talking to my mom and dad, it lifted one of the heaviest burdens from me." Given her religious upbringing, coming to terms with her gender identity and sexual orientation was difficult to reconcile, especially with her parents. It took a quiet moment in Lina's dorm room at the University of Hawaii at Manoa for her to realize that she was missing a critical part of herself; she wanted to be a woman.
With the continual help of mentors (and future godmother and drag mother) Iwalani Ho`omanawanuiikanaauao Apo and Kapulanakehau Tamure and copious amounts of MAC foundation, lipstick, and eyeliner, Lina's journey of transformation was complete. "As soon as I looked at myself in the mirror I instantly felt happy…I told myself, you're happy now." Lina has been living her happy life as a woman for three years now.
When asked about her future, Lina expressed interest in producing a CD for her singing group`Uhe`uhene (consisting of cousins Heather "Kapua" Kalua, and Jordan "Aina" Asing and literally translated into English as "Tra-La-La"), as well as a solo CD within the next three years. She also shared a juicy tidbit about an upcoming R&B performing group in the making; She and fellow group member Deandre Brackensick of American Idol Season 11 lovingly refer to the group name as "Brunch". Of her current situation, Lina asserts that she "…is living at a leisurely pace and enjoying all the good things that life has to offer."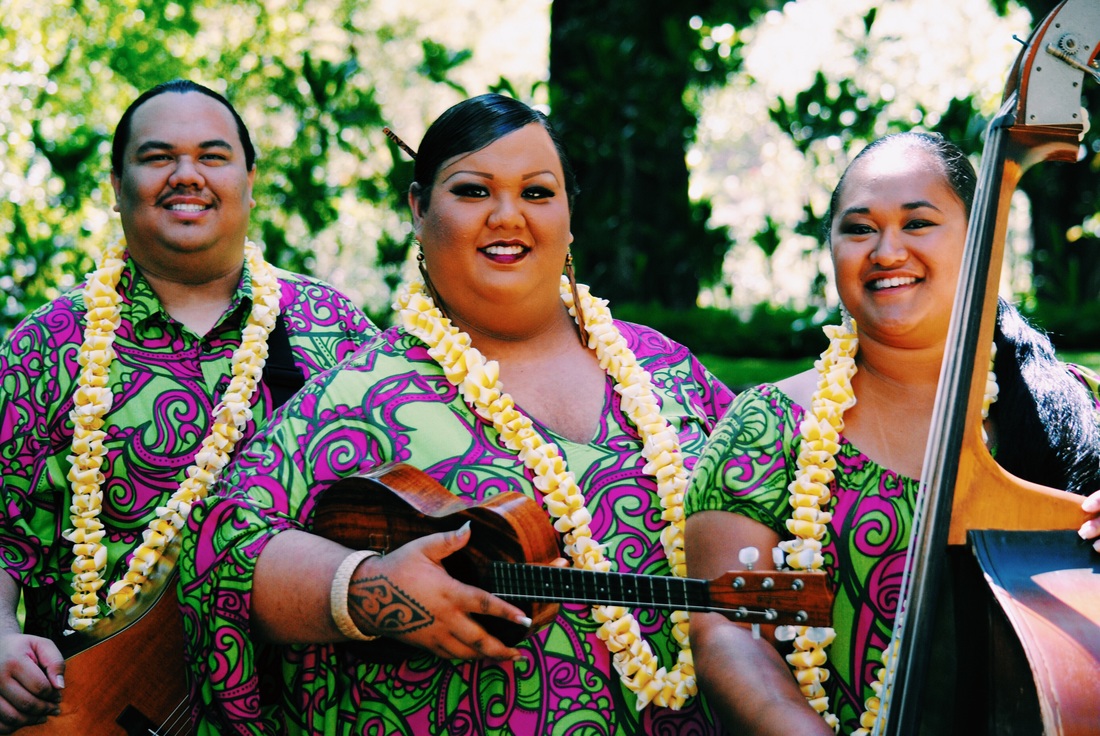 As we nursed the remainder of our drinks and our interview came to a close, Lina took a moment to ponder her final thoughts before leaving us with powerful parting words about love, life, and music:
"Never lose the drive, because as long as you're doing what you love, the fame and the recognition will come… Just keep at it, because if you work hard it will pay off eventually in life."
Written by Kahea Montgomery. Content originally posted to ChromaHawaii.
This content was produced by Academy of Art University MA Fashion Journalism students as part of their Fashion Journalism coursework.