By Lo Olbin, BA Fashion Journalism
Entering the creative field as a freshly graduated student is a wicked mixture of excitement and confusion. Possibilities lay at one's fingertips, but today the competition is stronger than ever. Navigating through this is an art form within itself. Fashion School Daily had the opportunity to sit down with designer Raquel Tirado, a 2010 fashion design graduate from the School of Fashion who successfully maneuvered her way through the industry. From freshly arriving in New York and handing out her portfolio to discovering her passion for accessories and landing a director role at Away Luggage, Raquel Tirado gives insight into the journey from graduate to designer.
What was the most significant learning lesson from school?
Hard work really pays off. When I started at AAU, I didn't know how to sew; all I had was a background in drawing. When I got my first assignment back, I got a pretty bad score and was devastated. But I kept working at it, and by the end, I was getting A's. The fact that I don't give up has helped me in my career, and also reminding myself why I entered the industry in the first place. Also, being nice to everyone is always important because you never know who will be your manager one day. You don't know how small the industry is until you enter it. I've worked with the same people multiple times at different companies, so it's important to keep your connections. Something else that I learned at school is that one of my teachers said that the worst answer you're ever going to get is no. And when you think about it that way, you're not as afraid.
What is the most valuable school experience?
Networking is super important. The school environment very much mimics the work environment. I found that useful. You have to be willing to work hard and show up. If this is the career you want, you have to fight for it because it's a competitive industry. You have to be willing to do the work and love what you do.
How did school prepare you for work life?
It's important to try to work with difficult people. A demanding teacher is an essential lesson of what it will be like in the industry. Sometimes it's worse when you're in the work world. Also, it's important to value creative time and do whatever you want. Once you work in a corporate environment, you're designing for a company, so you must follow certain brand rules.
Describe the pathway from school to working designer.
It was an interesting experience for me. I entered in somewhat of a naive way because I moved from California to New York, and it's such a different environment. It's done very differently now, but at the time, I just brought my portfolio, walked into companies, and asked if they were looking for interns or assistants. It's good to stay in contact and if you don't get a job, say that you're interested in others. Many HR people will think of you for other positions when they open up if one position doesn't work out.
How do you cope with the competition in your field?
There are a lot of talented people out there, for sure. Sometimes it's hard for creatives to work in a corporate environment. You could be talented and creative, but it will be extremely hard if you're disorganized. I work hard, I show up on time, and I'm very consistent, and that's very respected in the industry. There's a huge creative side to any design job, but a lot of it is administrative tasks where you're writing to your cross-functional partners and asking them for things or turning in work. It's important to keep good relations with them.
What would you have done differently looking back?
If there were anything I would have done differently, I would've appreciated my time as an assistant and an associate more. I say this now, being a manager. Managing people and managing design teams is great, and it's something that I've always wanted to do. But at the same time, when you're an assistant or an associate, you're doing a lot of the design work, and it's a really fun time, especially if you're working with other assistant designers. You learn a lot from the people around you. And even though you're not getting paid as well and your hours are longer, it's an enjoyable time. I remember just being able to sketch for hours and not having to worry about managerial tasks. It was a nice time, and it's good to value it. Same with school; you have to appreciate that time because it goes by quickly.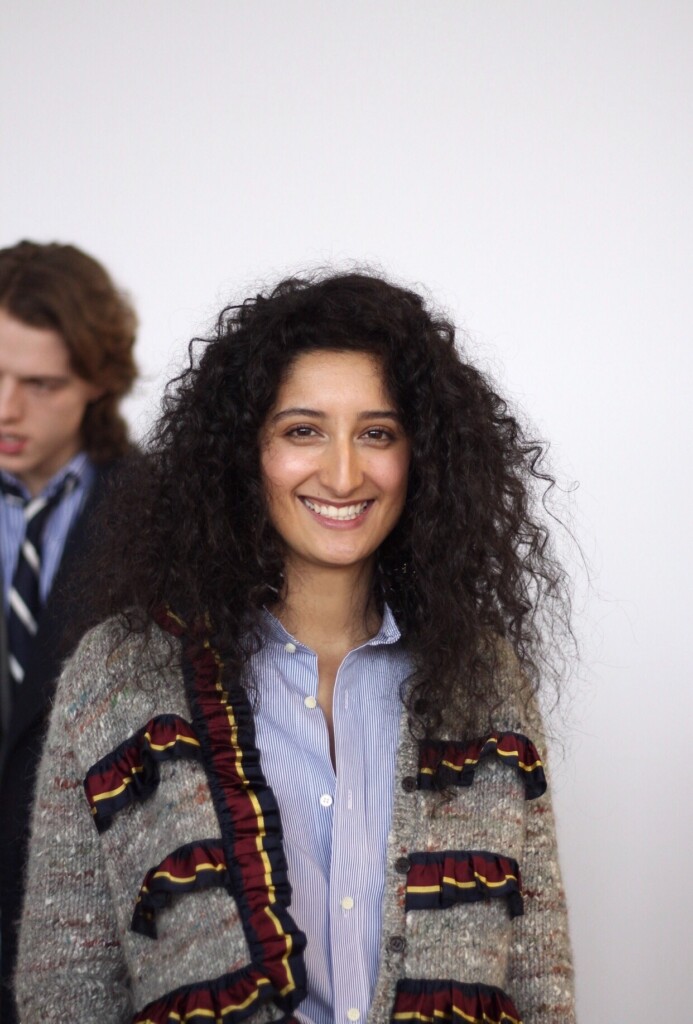 What about designing accessories intrigued you?
I was doing apparel as an intern at Rag & Bone and Diane Von Furstenberg. I started doing accessories at Diane Von Furstenberg and realized I was passionate about it. I like being a part of a company where it's apparel based because accessories are the cherry on top, so you have a little bit less pressure, and it's more creative. Although there's a lot more competition in the accessory field, once you're in the position, it's great because there are only a few experts. So especially as you get higher and higher, it's harder for recruiters to find people with enough accessory experience. You get better opportunities.
Where do you gather inspiration?
I try to get inspiration from everywhere. Pre-pandemic, I was someone who would shop a lot. It was essentially window shopping, when you're looking at stores and just seeing what other people are designing and doing–especially higher end. That's still really important. Also, I often read the newspaper – I know that sounds weird – but reading The New York Times, I get a lot of inspiration from there and from design magazines too. Specifically architecture or furniture magazines. In my field, it's also important to look at the furniture industry. The home industry is becoming more and more important.
How is it to design luggage?
It's been an interesting pivot. I have said this to people before, but you can create many things once you design bags and shoes. As our industry changes, luggage is becoming part of the fashion space. Home and travel are becoming huge. Especially now that people are starting to branch out and do things again. So these jobs are popping up, and they want people with a fashion background.
What restrictions are there when designing luggage?
There are restrictions at every single position. I loved all that I designed at J Crew and the same with Gap, Old Navy, and Target, but at the end of the day, you're not designing for yourself; you're designing for a customer. You have to think about the customer first. One thing I didn't realize going into this industry is that you have to be a salesperson as a designer. It can be challenging when you're not designing for yourself. But there's also something cool about designing for the masses. It's exciting to see your design, especially somewhere like Target, which has huge buys.
What about Away Luggage stood out to you as a designer?
Company culture is important, and I had heard really good things about their design culture. But for me, I like to challenge myself and learn new things. I hadn't done luggage before, so it appealed to me. Also, because of how our industry is changing, people now see luggage as a fashion item. It was very appealing to learn how to design something like luggage for traveling, and it was a big pull for me when I was thinking about taking the position.
Describe the team you work with.
I love the team and feel like it's the best I've ever worked with. They're all so creative and talented, and I get a lot of time to be creative and design, which is excellent. I've worked at companies in the past where I don't get enough time to design. I have to be quick and fast, and it's nice that I get time to work on the product and be creative. I've learned a lot from them already. Nothing but good things to say about the team. I feel really lucky.
Do you have any advice for graduating artists?
Not to give up when someone says no. When I left school, I made a huge list of companies I wanted to work for. If you hit a few companies on your list, it makes you feel good and accomplished. Like I said earlier, I wanted to work at Gap, and I interviewed with them a couple of different times before they found the correct role for me. It's also important to be patient and not get let down if something doesn't go well. Keep a little fire inside of you and keep going!