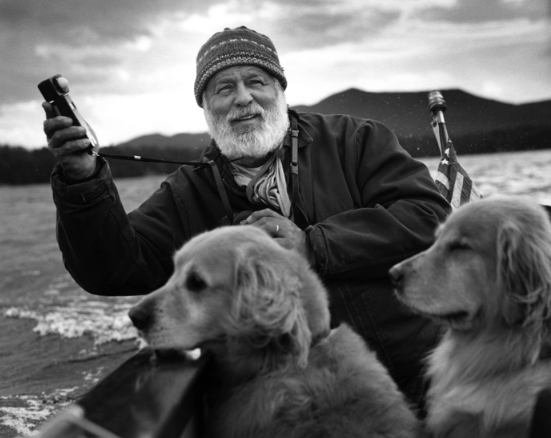 Photo Courtesy of Michael Murphy.
That guy – with those two adorable pups – is Bruce Weber! Correctly deduced by Ashley Strunk, the man in the photo is the famed fashion photographer, who usually spends his time behind the lens, not in front of it.
Weber began his career shooting covers for GQ, but really hit it big in the 80s and 90s with his black and white ad campaigns. He shot some of the most iconic images of the decade, including all of those slightly scandalous, but oh-so-sexy Calvin Klein ads. He's also shot many a celeb, and directed several short films and documentaries, and even a few music videos.
And a very interesting fact about Weber – he only shoots in film, not digital. We have to say, it's working for him!
Follow the jump for the clues and some of Weber's most famous photos!
Clue #1: Activist – Though best known for his photos of models and celebrities, Weber has also used his photography to tell other stories – particularly those of Haitian refugees. In 2003, he visited the Krome Detention Center, a federal facility near Miami where Haitians are held pending deportation, and was shocked by what he found. "I saw men treated so terribly – just because of where they're from and who they are," he recalled.
And so he told their story, because they couldn't. His portraits have brought awareness to the problems they face, and he's not done yet. "I'm hoping that one day, we have a better story to tell."
Clue #2: Chet Baker – Weber directed the documentary, Let's Get Lost, about famed jazz trumpeter Chet Baker. The documentary trace's the musician's career from the 1950s to his deterioration as a drug addict in the 80s. The project began as a three-minute short, but as Weber got to know Baker and his story, it expanded into a full-length film. It was nominated for the Academy Award for Best Documentary Feature in 1988.
Clue #3: Pet Shop Boys – In 1990, Weber directed the music video for the Pet Shop Boys single, "Being Boring." The vid portrayed a group of friends partying in a Long Island mansion, being anything but boring. It was banned from MTV for nudity, but that didn't bother the Pet Shop Boys. Weber went on to direct two more videos for the group, as well as one for Chris Issak.
Here are just a few of Weber's most iconic photos:
[imagebrowser id=18]