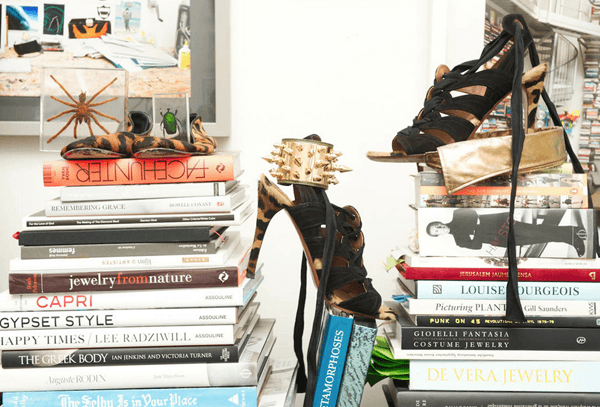 Photo Courtesy of The Coveteur.
We know you all spend hours in the library each semester – looking for inspiration, researching and reading. It can seem tedious at times, but when you find exactly what you've been looking for, it makes it all worth it. And fortunately, there have been some amazing new additions to the catalog this semester!
– Arthur Elgort's Models Manual – A collection of images by famed photographer Arthur Elgort, presented as a tribute to the models who helped define his career. Interviews with the models are interspersed with the images, providing a a deeper look into the relationship between subject and photographer.
– Camera Crazy by Joan and Arthur Elgort – Arthur Elgort's famous photos of camera-toting people, from children and supermodels to actors and strangers. An endless sea of cameras plucked from our image-obsessed world.
– Carine Roitfeld: Irreverent – A visual history of Roitfeld's fearless career at French Vogue and beyond. The book includes 250 magazine tear sheets, covers from pivotal editorials and ad campaigns, as well as more intimate portraits that give an inside view of Roitfeld's daring sensibility. *Reference copy only.
Follow the jump to read more!
– Deborah Turbeville: The Fashion Pictures – A collection of images from the visionary fashion photographer Deborah Turbeville. Known for avant-garde approach and celebrated for her cinematic vision, Turbeville's photographs draw the viewer. The tome reveals her individualistic point of view, and the stories behind her images.
– Diana Vreeland: The Eye Has to Travel – Celebrating the work of visionary Harper's Bazaar editor Diana Vreeland, the book chronicles 50 years of international fashion under Vreeland's vivid influence.
– Eleanor Lambert: Still Here by John Tiffany – A look at the life, career, and accomplishments of the world-renowned American press agent Eleanor Lambert, as told by her former assistant and fashion historian, John Tiffany. *Reference copy only.
– Harper's Bazaar Greatest Hits by Glenda Bailey – A collection of over 300 photographs from the pages of Harper's Bazaar that capture the best fashion of our time.
– Vogue: The Covers – Organized in chronolgical order by Decade, Vogue: The Covers, presents over 300 of the most beautiful, provocative and fashion-forward covers produced over the last 120 years. The tome also shares the stories and histories of the covers and contributors.
And movies too!
– Bill Cunningham New York – A poignant and moving cinematic profile of the father of street style, Bill Cunningham.
– L'Amour Fou – A documentary the explores the relationship between one of the most influential designers of all time, Yves Saint Laurent, and his life-long lover and business partner Pierre Bergé.