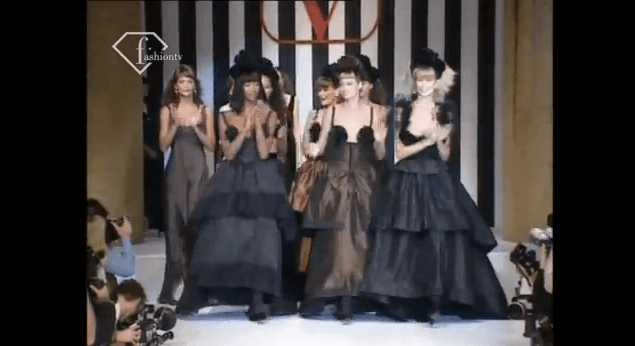 The finale of Valentino's Fall 1994 ready-to-wear show in Paris.
We made the most amazing discovery this morning – vintage fashion show footage on FashionTV! We're talking runway shows from the late 1990s and early 2000s – Versace, Givenchy, Valentino, and more! They don't play the shows in their entirety, but they piece together enough footage to give you an idea of what the show and the collection were like. We've been glued to YouTube for the past – lets just say several minutes – watching the supers strut down the runway. Naomi, Kate, Christy, Linda, Stella – the list goes on.
It's amazing not only to see the archival pieces and iconic models, you also realize how different fashion shows were 10 or 15 years ago. There are a lot more twists, turns, and poses on the runway – we even saw one model stick out her tongue. Apparently the runway is a much more serious affair these days.
We've been begging someone to post these shows on the interwebs for all to see – and it looks like FashionTV is finally answering our prayers. Follow the jump for a few of our faves!