The stunning beauty pictured below is '60s supermodel Naomi Sims! Amazing job by Ashley Strunk who guessed correctly via Facebook, and Tremaine Wheaton who also got all of the clues! Sims is largely credited as being the first black supermodel, and paved the way for runway stars of the 1970s including Pat Cleveland and Beverly Johnson.
Sims moved to New York in 1966, to attend fashion school on a scholarship. In need of money, she was encouraged by many of her classmates to give modeling a try, but was turned down by every agency she approached. Not one to give up, Sims began to contact photographers directly, and finally caught a break. She went on to be the first black model on the cover of the Ladies' Home Journal and LIFE Magazine. 
After several years modeling, Sims started a wig-making business specifically for black women. She grew the business into a multi-million dollar beauty empire, and went on to write several books on modeling and beauty. Sims was a also a pioneer of the Black is Beautiful movement, and helped to break down many of the barriers facing black models and women in America.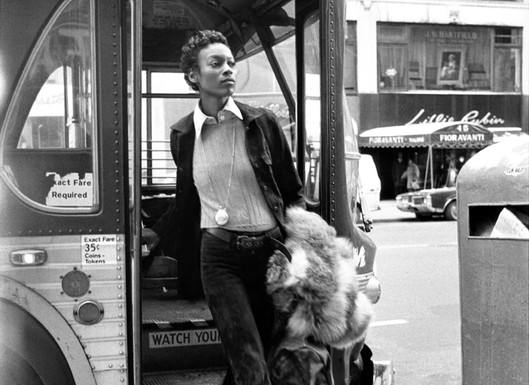 Photo Courtesy of Associated Press.
And now for the clues!
Clue #1: Gosta Peterson – Peterson was the photographer who first agreed to use Sims. A photographer for The Times, she photographed Sims for the August 1967 fashion supplement, Fashion of the Times.
Clue #3: Ladies Home Journal – Sims was the first black model to land the cover of the journal. This was a major accomplishment, as Ladies' Home Journal was one of the most widely read women's magazines of the time.
Clue #3: AT&T – Sims landed a national television campaign for AT&T, which skyrocketed her to national fame. The commercial showed her and two other models, one white and one Asian, wearing clothes by the designer Bill Blass.