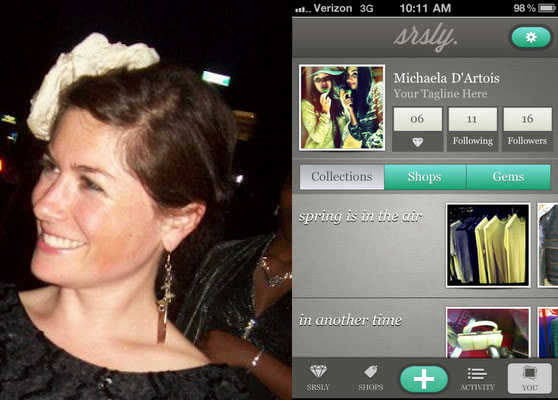 SRSLY's Content Curator – Kristen Dilandro. A peek at the app. 
As it happens I don't actually know every boutique in the little city of San Francisco. As I scroll through the SRSLY shopping App, to which I am a brand ambassador, I am met with various products and stores that are completely new to me. This is a recent project I took on when I was reached out to by Kristen Dilandro, the apps content curator/inspiration blogger/fashion intellect. The App (which you can find in you're application store), is a helpful and extremely chic way to browse through pictures of clothing, interiors and knick knacks that other stylish SRSLY users have posted. Along with a snap-shot you will find the location of the item and what it is exactly. To stay involved in the app's content, you can also keep up with their favorite posts and some serious daily style inspiration at srsly.com.
Kristen and I have bonded over our love for an abundance of stacked rings, vintage everything and of course shopping. But instead of hearing it from me, I thought I would do you one better with a Q&A with Dilandro herself.
What is SRSLY and where did it come from?
Where SRSLY came from was getting the most creative people in San Francisco and eventually every kind of city to share the most beautiful things that they find and for others to be able to go in and browse, and visit those places and appreciate them too. Ill give you the semi short version. Our CEO Tim Weingarten walked into a Blue Bottle and he discovered a cold brewing coffee distiller and he thought, wow I had no idea something like that existed. He had the idea, wouldn't it be great if you could catalogue all of these shops and places so you could actually know what was behind the door and discover these awesome things you didn't know existed. Similarly, Dan Linsky our other founder thought, I want to go into such and such store but I don't know what the price point is. Will I feel intimidated when I walk in? Wouldn't it be great if I could see what was in there and then decide whether or not I wanted to go?
Who would you say are SRSLY's users?
We have two kinds of users essentially, really creative people that love to share. Probably the people who are the power users of Pinterest, and Tumblr, who have blogs, they find things and get really inspired to share them with the world. Our other users are people who don't have a lot of time, they are the kind of people who are probably young, maybe have families maybe don't, but they just work a lot and on the weekends when they get to have that time and they get to shopping for themselves they want to know where to go.
Follow the jump to read more!
So you guys have really created a community for the people who are stylishly opinionated to rub shoulders with each other. And where do you come in to this SRSLY family?
Initially I came in as just the content curator, so my job was to go through and sort of siphon out the best items that we had and represent them through our social media. I reach out to creative people and draw them back into the app and as we say, "make them fall in love with it", and want to be part of it. Essentially I get to run the blogs and conduct interviews and talk to all the creative people.
As a tastemaker in your own right, what do you hope people are gaining from using the app?
As you know it became really easy to shop online, but there's also this awesome community of small businesses who I really hope that people will think "I could order this dress online, but I know this small independent shop that has great stuff in it.". I want to create that experience for people to have for themselves. For people to talk to an expert again, and having the actuality of going into a tailor again and having a real life experience that feels good. Bonding over beautiful things.
Involving local businesses is a big focus for you guys?
It's huge, one of the things that we would really like to do is help to get people to come back into the stores and help small business owners have a kind of marketing outlet where people are coming in and seeing their merchandise. One of the things that SRSLY takes is, these are the types of things that the store offers and so maybe you develop a relationship with the person in the store. We just want to give them the fighting chance, because at the end of the day thats what makes a neighborhood special.
You can kind of tell what neighborhood people are from or hang out in San Francisco, where are your go to places and what neighbourhood do you consider to be yours?
I live downtown, in lower Nob Hill. What would you guess would be my go to stores?
I would have to guess little trendy stores in the Grant/ Maiden Lane area. But you're not really a mall person.
Ya, not a mall person, I think we both share the shops on Haight. But I love Bastille on Kearny, I love that they have ACNE and really great brands like that and I also love a lot of the shops in the Mission. I love Candy Store collective, I love Ver Unica the vintage store in Hayes Valley, and the stores on Maiden Lane. Sometimes I go to Marc Jacobs. Oh! and this store called Gravel and Gold, thats a good one. I love mixing high and low big time.
What is your inspiration when making your own "Collections" as you guys have dubbed the feature on the App?
A lot of things. So definitely the city and the vibe of the city and if you stand in different parts of the city you get a really different feel. Sometimes your out by the ocean and it feels really nautical and downtown and it feels really urban. I like to capture the city. Also people that I meet, sometimes I come away from something like this interview, Its really invigorating, by the energy and I want to create a collection for people who are really energetic. Other times you meet a tired mom and your like what would make her feel sexy? But again also things like art and movies.
And finally, what are your big style and interior inspirations for spring 2012?
So I have an issue with wearing color, I just wear a lot of black and then I try and pile on jewelry. What I will probably try and do is add some lighter fabrics and maybe some pretty nice pastels. Not like old lady pastels. I would love to be able to pull that off!
Written By: Michaela D'Artois
*This post was previously published on Michaela's personal blog Fashion415.