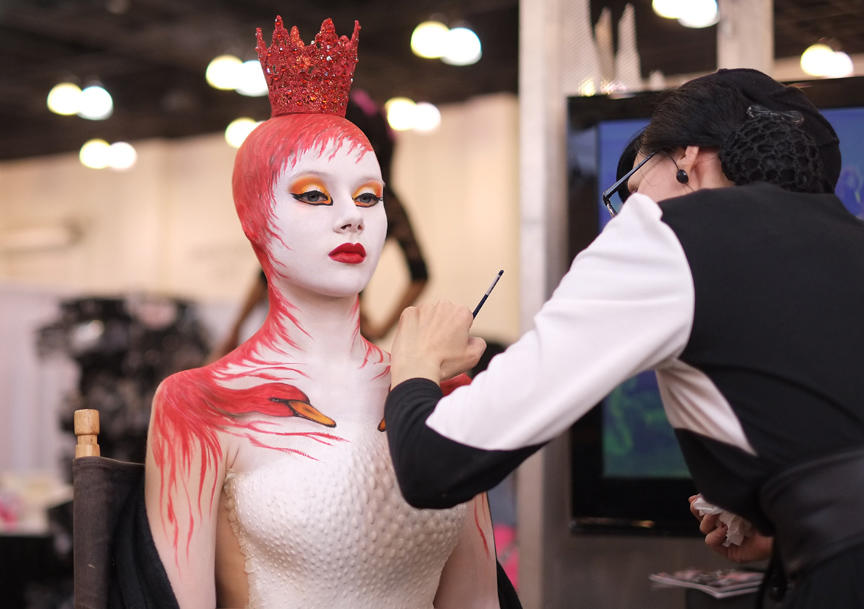 Born and raised in France, Nelly Recchia is the elegant, unique, and ethereal body art evolutionist that is all about emotion. To find something beautiful, she has to be moved.
She's a multi award winner in International makeup and Body Art competitions, but humbly hopes to "be perceived as someone who is contributing to Body Art's evolution and make it more than just "naked people with paint on."
Recchia lends her fine talent and skill to the renowned Cinema Makeup School in Los Angeles, where she now resides collaborating on all visual art forms including: music videos, editorials, commercials and fine art photography. Some of her clients include: Katy Perry, Dita Von Teese, Kelis, Static X, Marilyn Manson, Britney Spears, Vogue, and Wired magazine.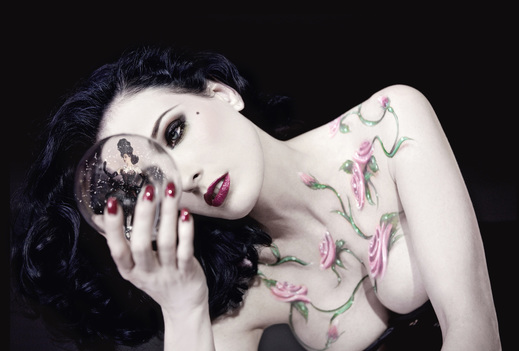 Interview
Where and when did you train to be a makeup artist?
I have never said as a child "when I 'll grow up I will be a body painter." I was more likely to become a ballerina but I would have had to live the family' s nest at a very young age to enter a professional ballet school and I did not want to. I was lucky to have my parents nurture my early tastes and genuine interest for Arts. I don't remember this myself but my mother also mentioned I used to do strange makeups on my dolls so maybe there was already something there! Years after studying languages and philosophy, I finally decided to pursue a career which would encompass various forms of arts theater, music, photography etc…and I concluded being a makeup artist would just do that. So I studied makeup artistry for a short year program in France.
What inspired you to use airbrushing/body painting as your medium?
For our final at the end of the Makeup School year we had to present a body painting based on a given theme. That day I had a strong and positive reaction from the jury and the audience towards my work. I realized then the magic of paint on a human body and wanted to experience and share these emotions again and again.
Body Art is particularly niche, what are the kinds of projects that you find yourself working on?  
There is quite a diversity, it may be one day for a music video and the next for a commercial or a circus performance. In fact anything which requires a strong visual impact.
Can you tell me a little about the technique of metamorphosis? How long does an artwork typically take?
Some body paintings can take up over 13 hours which is a challenge not only for me but also for my model. I am very grateful to have such wonderful patient "human canvases."
It is interesting I think to begin by pointing out the fact that painting their bodies is one of the first thing humans used to do whether for spiritual reasons or survival ones, such as camouflage from danger. Nowadays, body painting is still synonymous to a large audience with a little bit of paint on naked girls to satisfy libidinous eyes. I humbly try to push body art to a much more sophisticated level. Technically speaking I am using brushes or an airbrush depending on what I want to achieve. All is painted on my models, it is not done digitally.
Where do you find inspiration for your creations?
I would like to take the opportunity of this question to say how much the word inspire is used so loosely, sullied. Nowadays more people tend to use the term " inspired "or the term " re-create" when all they are doing is to plagiarize someone else's work.  Even if I believe no one is really inventing anything completely new anymore and we are all mainly recycling ideas, I believe it is important to strive for originality. Many  pro artists in my field and I are quite stunned about so many self proclaimed "creative genius artists " all over the internet who are completely lacking of personality and humility.
Many of your pieces include fashion and costume as a part of the overall image. Are you particularly interested in fashion? Where do you shop for your pieces used in the artworks?
I am making most of the headpieces or accessories myself so I am sure to have precisely what I want and to be unique.  Several times people who are appreciative my work have mentioned it reminds them of Haute Couture.
What kind of a feeling does it evoke for you, seeing your final piece? 
It is always reminding me how much more I need to learn and strive to do better each time. I am surely not about self- contentment !
Has growing up in France influenced your style at all? 
I do believe we are influenced by our childhood experiences, I do not know to what extent but I was fortunate to be raised in a family nurturing creativity and allowing me at a very early age to attend ballet classes, ballet performances and diverse art performances.
I heard that you are planning on publishing a book of your artwork?
It is taking much more time than I was expecting since I am more about quality than quantity. I still need to gather more images.
What do you think about the future of hand-painted body art with the digital world kind of becoming so prominent as an artist medium and platform?
More and more people are feeling too disconnected from the over the top digitalized images we are served in films or magazines. Even if technology can do wonders, nothing in my humble opinion will ever replace the human touch.
Written by MFA Journalism student Faye Harris. Content originally posted to whatittakesmag.