San Francisco is an odd city for any fashion loving youngster. While in New York or London, there are inevitably fashion icons on every corner, it can be hard to find one in SF.
Probably part of this is because the weather is always so unpredictable, so you always have to be prepared with a multitude of layers. And then there's   the multitude of hills. It's hard to dress cute when you'll be hiking around all day and need to wear sensible shoes. There are a few people, though, who insist on defying the ubiquity of jeans and flannels in the city.
Chris Lin and Brock Williams of the Yummertime blog are two such guys. Filled to the brim with smiles and unicorn emojis, the Yummertime boys stand in juxtaposition to the foggy city in their pastel shorts.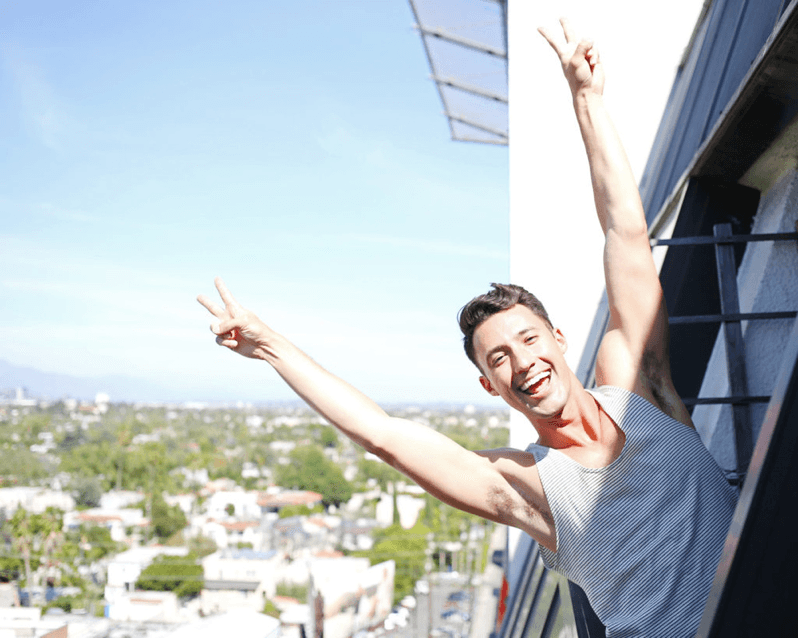 Q: Why did you start Yummertime?
A: We started thinking about Yummertime in 2013. It all started from a super-secret conversation that went something like:
Brock: "This pizza tastes yumma!"
Chris: "I love that word, yumma."
Brock: "Me too."
Chris: "Yumma, yumma."
Brock: "Yumma, yumma, yummertime."
Chris: "Like summertime?"
Brock: "Yeah!"
Chris: "Yummertime summertime!"
Brock: "Yummertime!"
This is verbatim what happened, tbh. The pizza was an "Ultimeat" pizza from Round Table — we highly recommend it.
From there, we'd use Yummertime in our everyday conversations together. At the time, we were incredibly unhappy with our day jobs — Brock was at an advertising agency in account management; Chris, at a video game company leading growth and use acquisition — and needed to find a creative outlet together. So, we started snapping photos of each other and decided to launch a blog on June 21, 2014 (the first day of Summer).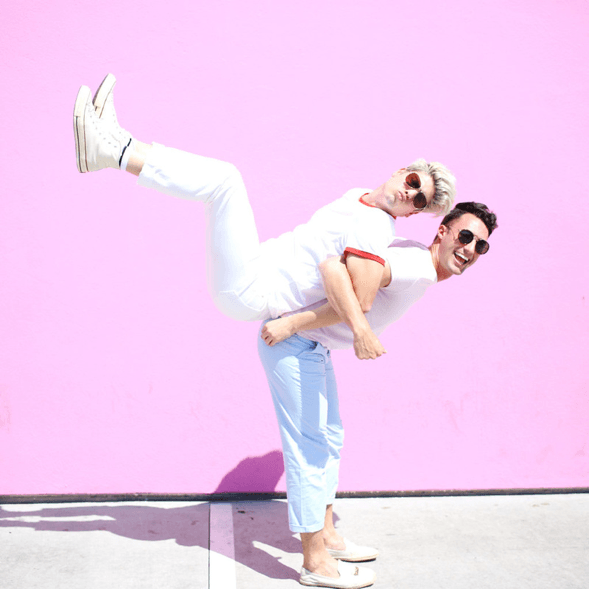 Q: What are you guys currently "obsessed" with? 
A: We're both going through a HUGE Coach phase right now. Everything they're currently doing for men is super fun and playful, and it really aligns with the aesthetic behind Yummertime.
Q: What do you each hope to express with your style/the way you dress? 
A: Ease.
We really like wearing clothes that we feel good in without limiting ourselves to any one type of style. We typically see something we like and buy it immediately — to the detriment of our bank account. We're very impulsive, but it seems to be working for us so far… maybe?
Q: Where do you see Yummertime going in the future? 
A: We see Yummertime transitioning from a lifestyle blog into some sort of lifestyle brand. We've been getting this question a lot lately, and honestly we don't have any specific idea with regards to where exactly we're going. We're still figuring out what works for us and what the next big step is. BUT, the process has been really fun so far :
2016 is a big year for us. And if there's one thing we're great at, it's never spilling a secret 😉 there's more to come this year. HINT: clothes?! IS THAT TOO BIG OF A HINT!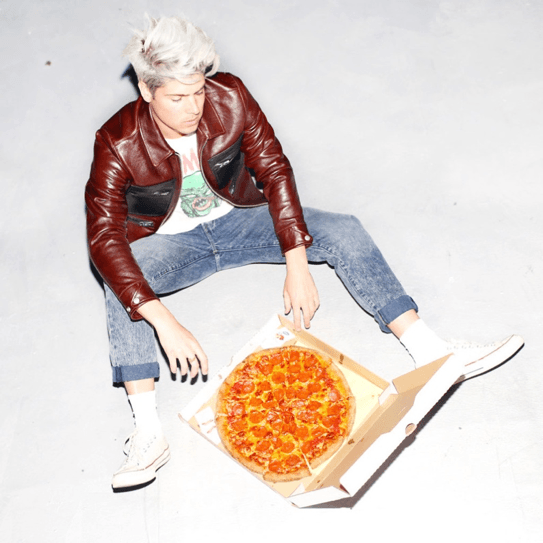 Eating pizza and wearing Coach, the casual "it" guy. Image from Yummertime
Q: If you could eat one food for the rest of your life, what would it be? 
A: PIZZA!!!
Q: Who are your style icons?
Brock: Lucky Blue Smith. He has this fun/cool/ease about him that really goes beyond what he's wearing, and to me that is a true sign of style.
Chris: TBH, I don't know if I could name any one style icon, for myself, other than Brock… You should have seen me before I met him. Picture this: faux hawk, green and plaid button-up shirt TUCKED into dark-wash, boot-cut jeans TUCKED into my distressed leather boots. I also wore leather bracelets. I was a mess. My style's been improved to the power of 1,976,892,789 since July 24th, 2011.
Q: If you had to bet on a sing-off between current day Mariah Carey and current day Christina Aguilera, who do you think would win?
Brock: Not a fan of either so… current day Ariana Grande?
Chris: Lady Gaga!!
Well that's all for now folks. Make sure to check out Yummertime and follow them on Instagram. I'm going to go try to force my boyfriend into pastel shorts now and hope that we, too, can be as cool as Chris and Brock.
This piece was written by BA Fashion Journalism student Mary Justice McNeil for Worninvernacular.weebly.com