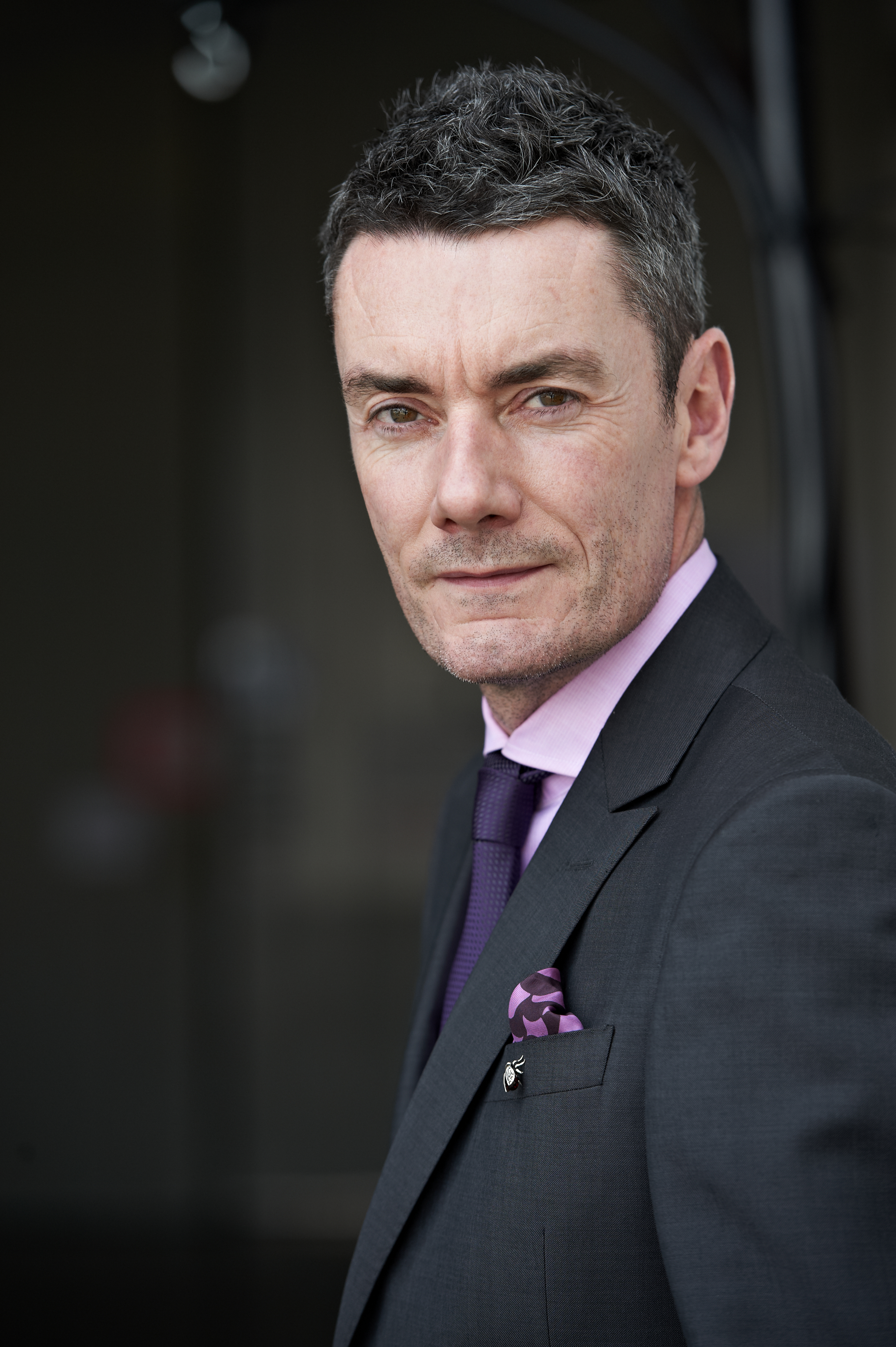 Keanan Duffty talks to Miles Siggins, the stylist who Ryan Seacrest turns to for sartorial advice. Born near Liverpool, UK, in the swinging sixties, Miles first flirted with fashion during the Queen Elizabeth's Silver Jubilee in 1977—the birth of punk rock in England. The DIY ethic of bands like the Sex Pistols stayed with him throughout his career.
In the late 1980s Miles moved to London, working with Paul Smith. This led to being poached by a store called World Service, which at the time was one of the hottest labels for musicians to wear. It was the day of the power suit, and nothing said power more than a World Service suit. In 1990, Miles and a colleague launched iconic street wear label Stüssy in the UK, with great success. They also started Gimme 5, a distribution company that launched labels such as Hysteric Glamour, Goodenough and A Bathing Ape on a fashion hungry British public.
Miles moved to the US in 1994 to start a career in styling and to work more directly with celebrities. His work has appeared in Vanity Fair, Rolling Stone, I-D, Interview, British GQ and US Weekly and in videos for everyone from Three Doors Down, Korn, and Suzanne Vega to Ice Cube and Warren G. In 1999, Miles moved back to London for two years to work solely with musician and photographer Bryan Adams. This was a particularly lucky move, as that's where he met Kirsten, his wife and assistant on American Idol.
Miles got the American Idol season two gig after a producer friend suggested he meet Ken Warwick, one of the executive producers. It turned out they were born two miles apart and that sealed the deal.
Miles lives in Los Angeles with his wife and two children.
Keanan Duffty: What was the first item of clothing that you bought for yourself and what was so special about it?
Miles Siggins:  It's funny, I can clearly remember the first record I bought, aged seven, from a market stall in Cookstown, Northern Ireland…Gary Glitter's debut album 'Glitter'! But I'm having trouble remembering the first article of clothing I bought…I think it was a fishtail parka I got when I was about 13. I was one of those English kids who dabbled in every genre of music growing up, from punk to mod to new wave to new romantic, and back to punk again…all between the age of 11 and 17! It was a proper military issue parka I bought with hard earned pocket money; it was a couple sizes too big (they were really hard to come by at the time as The Jam were massive!). Of course I set my mum to work sewing the obligatory patches on it. Funny though, even though I had a Who patch on it, I never bought one of their records… wasn't really a fan!
KD:  When did you start taking working as a stylist and how did you get into it?
MS:  I didn't start styling until I moved to LA in 1994…but first a little history. At the suggestion of Shawn Stüssy, a friend and I had launched Stüssy in the UK and another company called Gimme 5, which handled labels like Goodenough, Hysteric Glamour, Judy Blame, Haze and GFS, as well as helping relaunch Hang Ten, and Mr. Freedom. Anyway, I met a girl, decided to move to LA, and sold my half of the company to my business partner. Being new to LA I jumped in headfirst and had a lot of fun…too much actually! One day I went to the bank and found out I only had $100 left.
I was sharing a great house at the time with Kim Bowen, the amazingly talented British stylist, who suggested I assist her to make some cash (and pay the rent). Soon after that I started assisting Kate Harrington, who was fashion editor of Vanity Fair at the time. Pretty soon after that I started getting my own work, and haven't looked back since. It's taken me all over the world, and I've met and worked with some incredible people along the way.
KD: Which designers/stylists have inspired you?
MS:  My first true style inspiration was when I was 11 years old. It was the Queen's Silver Jubilee, and the Sex Pistols were really assaulting my conscience and everything my catholic parents stood for. It blew me away that you could take an article of clothing as everyday as a biker jacket (I grew up in a biker town with my mates' brothers all riding bikes/in bike clubs) and make it cool. To this day I carry a safety pin everywhere, in fact, I have a couple tattooed on my arm to represent my kids.
But to answer your question, the designer who has influenced me the most has to be Paul Smith. I worked for him for five years from the age of 18 on. He showed me how to wear a suit and make it cool, and not to take fashion too seriously. I've worn a suit to every American Idol show day for nine years, and wear his socks every day.
As far as stylists go, it really has to be Ray Petri— who to me, and I think most male stylists, is the master. I pale in comparison, and I can really only call myself a shopper! Others I would name check are Kim Bowen, Grace Coddington, Simon Foxton, Edward Enninful, Greg Fay and Judy Blame, whose work with Mondino and Marc Lebon has always blown me away. And Polly Mellen, too! I'm constantly trying to figure out how to keep doing what I do now. I'm 45 this year, and people like her give me hope that I can keep shifting my 'sell by' date!
KD:  What's the best way for Academy of Art University students to break into styling?
MS:  Errr…run out of money, but make sure you are very close to a working stylist when you do? No, to be serious, nowadays I think the easiest way is to assist someone whose work you admire. Every stylist will always say yes to extra helping hands, and although you may not get paid initially, you will hopefully learn enough to carry you onwards.  Putting your name on an agency's roster as an assistant will also help immensely.
KD: Give me a really crazy anecdote/story, maybe something that has happened with a celebrity or on American Idol.
MS:  Probably the craziest, most excessive thing that's happened to me is when I was prepping for the American Idol finale a couple of years back. Adam Lambert and I had found this amazing pair of silver Dr. Martens by Raf Simons and we wanted to use them for an outfit. I called the PR company in New York, who duly dispatched said boots. One problem… they arrived with two left feet. We found out Raf Simons had the other in his apartment in Amsterdam! Dr. Martens actually sent a private jet to pick up the boot, which was flown—on its own, in its own seat (!)—to me in LA overnight. I thought they were joking when they told me!
Web: www.milessiggins
Interview conducted by Keanan Duffty