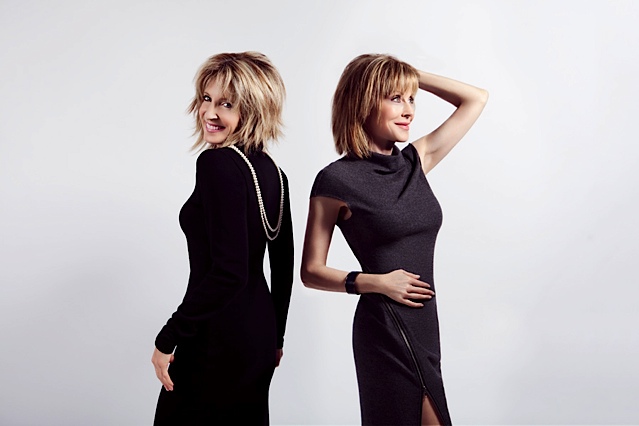 Wear2Where founders Sandy Mandel and Barbara Winchell.
Today's Industry Interview is with the women behind Wear2Where, a website dedicated to traveling in style. Founders Sandy Mandel and Barabara Winchell both fell in love with fashion at a young age, always on the search for new designers on the cutting edge. With Wear2Where, they were able to combine their love of fashion with their passion for travel and adventure, bringing readers a full-proof guide on where to go and what to wear. They recently re-launched their site, and were kind enough to answer some questions and offer their advice on building a business!
What were your professional backgrounds before launching your site?
SM: My interest in style emanated from my mother. She designed my clothes and was an expert seamstress. I was brought up rummaging through bolts of fabric in downtown LA and developed an early passion for the fashion world. I also love the business world and pursued a Master's Degree in Business Administration. The MBA in finance doesn't seem to help when shopping. Wear2Where allows me to combine business and fashion. I also style for Print and TV media. I was the Fashion Stylist for the TV Show, Red Carpet Bay Area. I also worked as a style consultant for Style Studio working with personal clients. I never leave a garment in its original form – I love to cut and paste. A fashion designer at heart, I usually chop, re-construct, and modify anything I buy to create a new look. I am also passionate about salsa dancing – wow! Dance attire opens another styling opportunity.
BW: I was in retail for 18 years. I was also Merchandising Coordinator at Joseph Magnin, as well as the owner/ buyer of New York West Boutique for 10 years, located on Union St in San Francisco. I brought a NY style of fashion to SF by only purchasing clothing from NY designers. I wrote quarterly newsletters for customers about the latest trends and fashions. Additionally, I was featured on the Morning Show AM SF for three years producing, writing, and appearing in fashion segments that related to all topics of fashion from lingerie, to the evolution of the tuxedo, to Sports Illustrated swimwear. I also travel whenever I can and love the thrill of the hunt for fashion finds deep in exotic bazaars.
How did you come up with the idea of Wear2Where?
Barbara's love of travel and being an avid researcher prompted Sandy and I to join our respective talents. Barb can remember every meal she had and in what city. Sandy only notes how dim the lights are in the restaurant. Sandy's fashion styling background seemed like a natural progression with Bar's expertise in travel to combine and create Wear2Where. We both love to shop (way too much), so this validated our research & development needs. Our personal lives also play a role in Wear2Where. Everyone is either married (Barb) or single (Sandy) and share in life's constant challenges and struggles. Our Get Personal category hopefully makes our site more engaging and connective for our readers. Then, of course we love sharing our favorite passions with our readers – travel and fashion.
Follow the jump to read more!
What has been the biggest challenge of launching a website? Biggest reward?
Biggest challenge was learning what 18 year olds seem to be able to do blindfolded – run a website! Learning code, editing, deleting, formatting, and photo shop were concepts we knew nothing about before undertaking this project.
Biggest reward is the finished post each week. When the pictures are perfectly placed, when fashions we select look great and the travel destination section makes us want to revisit that location, we feel like the perfect child has been born. Until we have to do it all again next week….
Where are your favorite places to travel?
SM: Ski Resorts – Europe, Latin America, Utah – anywhere I can wear après ski attire!
BW: Bali, Hong Kong, Penguins in Antarctica, Barcelona, Morocco, Istanbul and of course, Paris.
What are travel essentials that everyone should pack?
SM: The impractical traveler – I always have 5-inch heels – even to wear in the airport. (You never know who you might meet), everything in the medicine cabinet – just in case, black opaque cashmere Wolford tights, skinny black dress, that can be worn for dancing or out to dinner, black cashmere dress, hot pick gloves!!
BW: Travel essentials – hair iron, adaptor plug so the iron works, ear plugs, sunscreen, comfortable walking shoes (comfort over fashion during the days (a small Lulu Lemon bag to carry the high heels in for at night) my favorite Shu Uemura Eye Lash Curler, skinny jeans, over sized pashmina (plane is freezing) dry shampoo, sexy black tops and my off the shoulder James Perse dress travels anywhere.
What's next for Wear2Where?
Next for Wear2Where is to become a national brand (we can dream.) We would like the site to evolve with national advertisers coming on board. We want to become the website where women come before making travel plans, packing and purchasing fashions. Next – we will be also be providing packing lists for different destinations. Ultimately, we would also like to write travel/personal anecdotal columns for magazines such as Travel and Leisure, Vogue and a lively Get Personal column for Cosmo!!!!
For more Industry Interviews, click here.