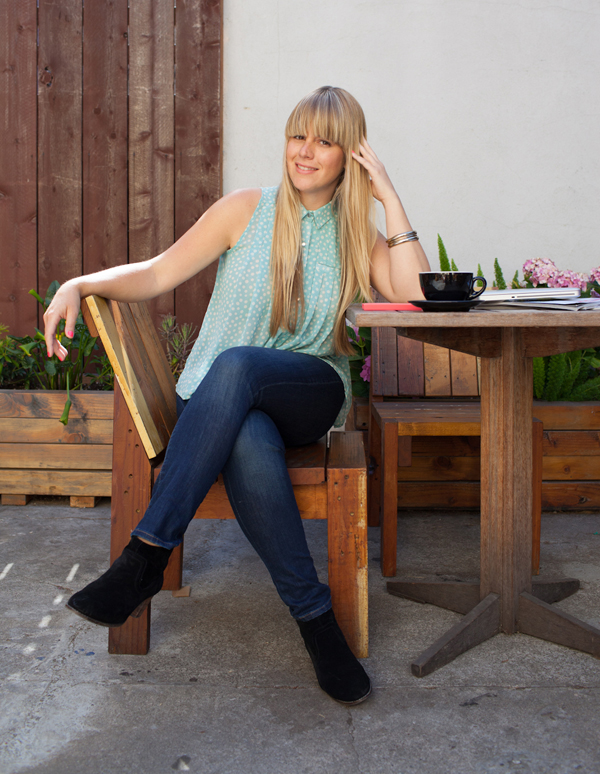 Photo by Anna-Alexia Basile. Courtesy of Refinery29.
For today's Industry Interview, we caught up with Joanna Riedl, a San Francisco fashion and lifestyle public relations pro who recently ventured out on her own. With clients including our go-to shop Mira Mira, Mission fave Photobooth, and the awesome Poshmark app, this PR maven is set to take SF by storm. Joanna dishes on her start in the industry and striking out on her own – as well as lessons learned along the way. Read on for her tips on how to make it as a publicist!
Had you always thought of public relations as a field you wanted to go into?
Not really. I've always been an outgoing, social person but growing up in Cape Cod, Massachusetts, I didn't have a lot of exposure to the industry. I knew I wanted to pursue fashion when I was about 18 years old and decided to go the distance to FIDM in Los Angeles to take a shot. For me, from the beginning it was either New York or Los Angeles and I knew that if I stayed on the East Coast there was a chance I would come back to the Cape on weekends to see my friends and never truly distance myself to see what I was capable of. Plus, I always had my eye on being a California girl.
Once I was at FIDM, I chose the Merchandise Marketing major and thought buying was something I'd be great at (shopping for a living, hello!) Then I learned how much math was involved and quickly switched gears. I credit my introduction to PR to a promotions class that I absolutely loved (where I pretty much invented Netflix, BTW) and from that moment on I knew I had to look into public relations.
You began your career at People's Revolution – what was your experience like?
People's Revolution was a game changer for me. Since FIDM didn't offer any PR or communications curricular at that time, my career counselor advised me to seek out a PR internship. I put on a cute dress, hit the pavement, walked into People' Revolution, handed my resume over to the intern manager, was interviewed the next week and was hired shortly thereafter.
I spent about 3 months in the internship position (doing all the grunt work that you think fashion interns do) and then was offered a showroom manager position when the current manager moved on. I was smitten with all the excitement. I loved working with the stylists, designers and celebrities – helping them pull for shoots and chipping in on the PR side of things where I could. That was where I gained my first glimpse of the importance of being accountable and building strong relationships based on personality and trust.
Follow the jump to read more!
What was the most valuable thing you learned there?
Being a small boutique agency servicing global fashion clients, we did it all. I quickly learned so many aspects of the PR business from putting on high profile events to producing fashion shows, placing clients in editorial spreads and coming up with creative pitch ideas. It's so hard to identify the most valuable asset because there were so many, but what I feel I really took away from the experience was being able to become a chameleon – the inherent ability to shift gears on a dime and stay super organized in the process. When you are working on so many different projects at once or managing a showroom full of thousands of dollars worth of designer clothes and accessories, you can't let anything slip through the cracks.
After working at a local PR firm for several years, you recently opened your own business. What prompted that decision?
I had been working at one of the top small technology agencies for four years and while I was super connected to the firm, our clients and my co-workers, ultimately at the end of the day I wasn't passionate about technology PR. I feel like the agency gave me such a strong understanding of how to develop strategy, creative media relations, industry analysis and social media, I was ready to apply my expertise to something I was more interested in.
When I thought about leaving the agency, I started looking into more fashion and lifestyle firms in the Bay Area where I could work and saw they were lacking. There are a few local players I respect but didn't really have that something special I was looking for. Since I didn't want to leave the city, it was only natural that I start my own thing. I felt like I had enough knowledge under my belt to do it, so I took the risk with a handful of clients and boy, am I happy I did.
What have been the hardest and most rewarding aspects of going out on your own?
The most rewarding aspect is definitely all the amazing clients, journalists,  and influencers that I work with on a daily basis. I'm constantly inspired by all the creative, driven people in San Francisco. I love that there is a pack of us blazing the trails, following our dreams and not compromising what we want in the process. This city really feels like a breeding ground for innovation and disruption. It's intoxicating and I'm so grateful to be a part of it.
The hardest thing was and continues to be time management, there's so much I want to do and so little time! I have a great intern but will be looking to grow soon so I can work on all the exciting projects that I'm not currently able to execute.
What advice would you give to students looking to go into PR?
If you're serious about PR, start building relationships right now. Identify the influencers in the industry you are interested in and get to know them via social media. Engage with them. Brand yourself on social media. Show potential employers you have a knack for brand management by starting on yourself!
Also, get an internship. I'd say one of the best tracks to get great insight into the industry is to find an internship in-house at a company, at an agency, and within a publication. This will leave you with a deep understanding of various aspects, such as how to work better with journalists and improve your writing which is a huge asset in PR. Great writers are still a rarity and if you can communicate well in all mediums (in person, written and social media) you will go very far. Plus, you will have contacts at a magazine/website which is a huge plus when looking for an entry-level gig.
And lastly, look for a mentor who is successful, figure out how they got where they are, and follow in their footsteps.
What is your "golden rule" of public relations?
My number one is be a human being. Use your brain and don't make it all about you and your client. That will get you nowhere. Build strong, meaningful relationships. Immerse yourself in the industry, know your goals, do your research, exhaust all possibilities and truly understand your audience.
Also, this is not my quote but I think it rings true when thinking about public relations, "It's hard to keep your head up and your head down at the same time, but it is an important skill for a founder." Oh, and be nice. You have no idea how far that will get you.
You're dialed into all the hip SF spots – what are some of your faves?
Well, I'm not sure I am the hippest because I really love old undercover S.F. staples but here are some of my go-tos. Always love Four Barrel for people watching, plus their Back Alley is now open on weekends. Haus Coffee and Sugarlump on 24th Street in the Mission are also excellent places to post up and work.
For food I love Loló in the Mission, Local: Mission Eatery has a great brunch, Warakubune on Church is my sushi staple. Loving Citizen's Band in SoMa as well. I am obsessed with both Bi-Rite and Humphrey Slocombe ice cream.
If you're up for some art/photography fun with friends, hit up Photobooth on Valencia for epic tintypes (aka your new Facebook profile pic) or First Thursday downtown. For shopping: Painted Bird, Mira Mira, Acrimony and ACRE/SF, enough said.
Keep up with Joanna's PR adventures on Facebook and Twitter!
For more Industry Interviews, click here.