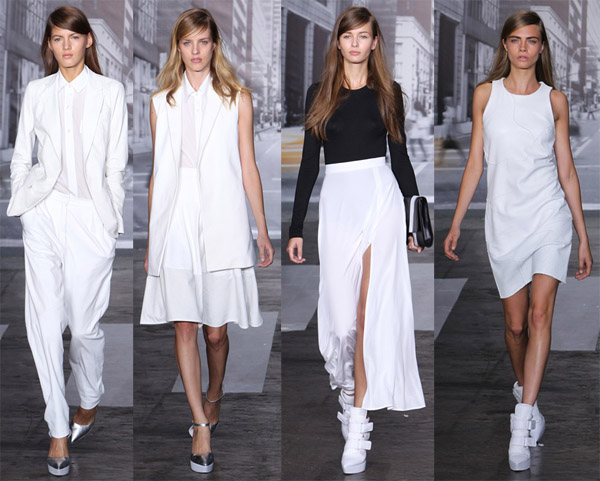 Looks from DKNY's Spring '13 Collection. Photos Courtesy of Robert Mitra/WWD.
My internship at DKNY this summer was an amazing, invaluable experience. I was able to take the skills I learned at the Academy of Art University, and apply them to a professional design environment. In turn, I gained skills that are only available in such an environment. I learned how to do a spec drawing (a very detailed flat sketch) for a technical packet (the sewing guide sent overseas, complete with fit notes, measurements, and often pictures). I also worked on developing embellishment patterns, sat in on print and color direction meetings, production meetings, and also spent time learning about shoe design. Here is a run-down of the last few days of my internship; which were also the days leading up to the DKNY Spring 2013 runway show.
Thursday September 6, 2012
The few days leading up to the show were like being at the eye of a fashion hurricane – the days were at times eerily quiet and still, and the late nights bright and thrilling.
Day one (ish- we've been working towards the show for many weeks, but today was the official start to the countdown) of the hustle and bustle at DKNY lands on Fashion's Night Out (FNO). Of course, this is the day that many design houses have the most work to do… or are too tired at this point to participate in any extracurricular fashion activities. However, Donna Karan never misses a chance to show her support for her legendary brand – especially when Miss Piggy is involved. Let me take a step back. DKNY had the honor of dressing the sexiest Muppet (sorry Kermit) of all for FNO. Besides spending time in the design department during my internship, I also spent time in shoe design. So, a week ago the shoe design team asked me to play around with some ideas for shoes for Miss Piggy. I started draping on the Miss Piggy foot sample that was sent to us by her PR representatives. It ended up that they used the pattern that I draped! Long story short, I was ecstatic that Miss Piggy herself was going to wear these shoes at FNO at the DKNY store on Madison Avenue. I was also ecstatic that the firemen from the 2013 FDNY Calendar of Heroes were going to be there as well. Miss Piggy cannot go anywhere unless sexy men will be in attendance (again, sorry Kermit). It was also for a great cause – with proceeds from the calendar sales going to the FDNY Foundation. FNO at DKNY was, in my opinion, the most happening party of the night. But, however fun it was, I couldn't wait to step away from the bustle on the streets, and step in to the crazy show prep at the office the next day. I didn't have to wait long.
Follow the jump to read more!
Friday September 7, 2012
Today started bright and early. I came prepared with a large coffee (followed by more throughout the day), and my game face on. Somewhere around 40 models were expected to arrive for castings (and that they did!). It was a whirlwind of models cracking jokes, dancing, and looking amazing in the flowy DKNY swim dresses and sporty visors. Wait – did I mention the number of flights of stairs, and elevator rides to and from the sample room? Or, taking all 50 or so pairs of shoes to a local shoe repair on West 39th street to make sure the models didn't step right out of them on the runway? We also had to print three pictures (two full size, one head shot), complete with labels, for each model, and paste them to the garment bag, and look board. In the garment bag went the correct shoes, the proper accessories, all in separate, labeled drawstring bags. This procedure had to be done twice, of course, for the few models that had two looks. Confusing? Not too bad. Exhausting? Yes. But, more than both of those… it was exhilarating.
Saturday September 8, 2012
Twenty-four hours before the show. The day greeted me with sunshine… and shoes. Yes, there was a straggler pair that somehow did not receive the same strap treatment as the others. Down to the sample room I went to solve the problem – there's nothing a pair of pliers, and a D-ring can't fix! Once that was resolved, I moved my attention to the garment bags. They had to be put in the correct order, filled in with altered garments, and checked again for the correct shoes and accessories. One last model trickled in, and she was perfect for the remaining look we had in mind for her. It's funny how things work out that way. Next, I packed up the extra shoes (and shoe glue), accessories, and a variety of other supplies needed for possible emergencies during, or before show time. Amidst the craziness of quadruple-checking the garment bags, and fixing the shoes- my excitement was building. It was going to be a good show.
Sunday September 9, 2012
I arrived at the venue (a beautiful, industrial building with exposed brick that is normally a dance studio) at 11am to collect my badge – ALL ACCESS! I was just as excited about this as I was about the free food. But, there was not much time to eat. There were shoes to be fixed and checked (it's always the shoes!), and steaming to be done. Luckily, there weren't any major emergencies… just the ones expected right before a runway show – hair and make-up people and photographers running from model to model. The transformation that each model underwent was fascinating to watch. First, hair and makeup, then a bit of down time – models walking in an out, looking chic in their fresh makeup and clips to keep their hair out of their face. Then, almost suddenly, everything springs into action. The dressers fervently tying shoes, zipping dresses, and reaching way up to place a visor or cap on the model's sleek, shiny hair. It felt as if the room had been elevated. All models proceeded to line up (walk on your toes, please!), and the show began! From this point on, everything went in slow motion. The girls looked stunning as they walked back from the real catwalk to the backstage catwalk – fabric flowing (the extra fabric I had picked up just days before). Seeing the garments we had been working on for months, and hearing the applause was so rewarding. Ah. We could all breathe now. Time to celebrate. Then, on to the next one!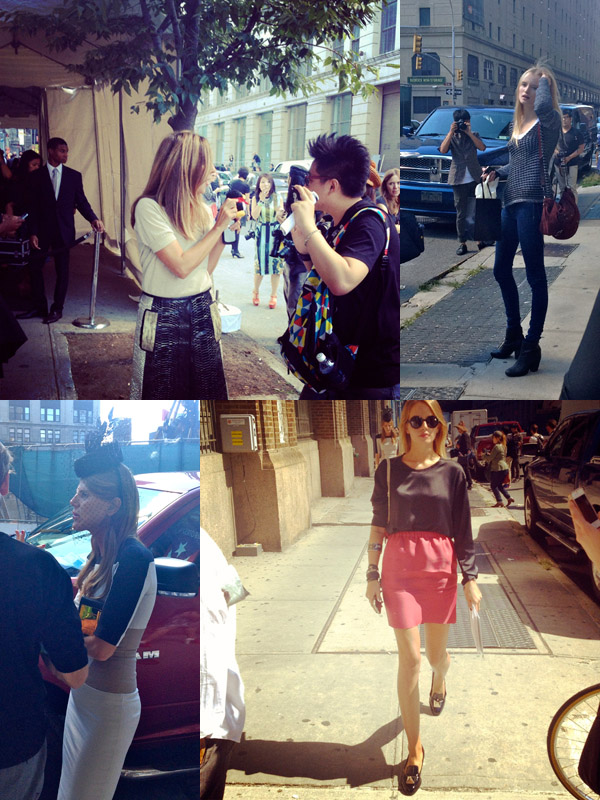 Clockwise from top left: Nina Garcia outside the show venue, off-dute DKNY models, Anna Dello Russo
waiting outside. Photos Courtesy of Katarina Farley. 
Written by Katarina Farley.