By Kailyn Chadwick, MA Fashion Art Direction
Image by Danielle Rueda
There is something special to be said about the students of the Academy of Art University. Not only is the student body dedicated to pursuing their own individual talents in the creative field, but they are persistent in their mission to deliver unique works of art to inspire industry professionals and their peers. What better way for our design students to share their creations than at our Academy of Art Graduation Fashion Show! This year was a particularly sentimental showcase because it was the university's first in three years due to Covid-19 setbacks. For almost three years, students had to channel their creativity in ways they may not have ever anticipated before due to classes being solely online because of the pandemic. Finally, design graduates from the last two years showcased their work to a crowd eager to appreciate it.
This year's fashion show was held at Saint Brigid Church located on Van Ness Avenue in the heart of San Francisco. St. Brigid is a landmark in the San Francisco community and has survived both the 1906 and 1989 earthquakes that devastated the city. Just like St. Brigid, our school is a survivor.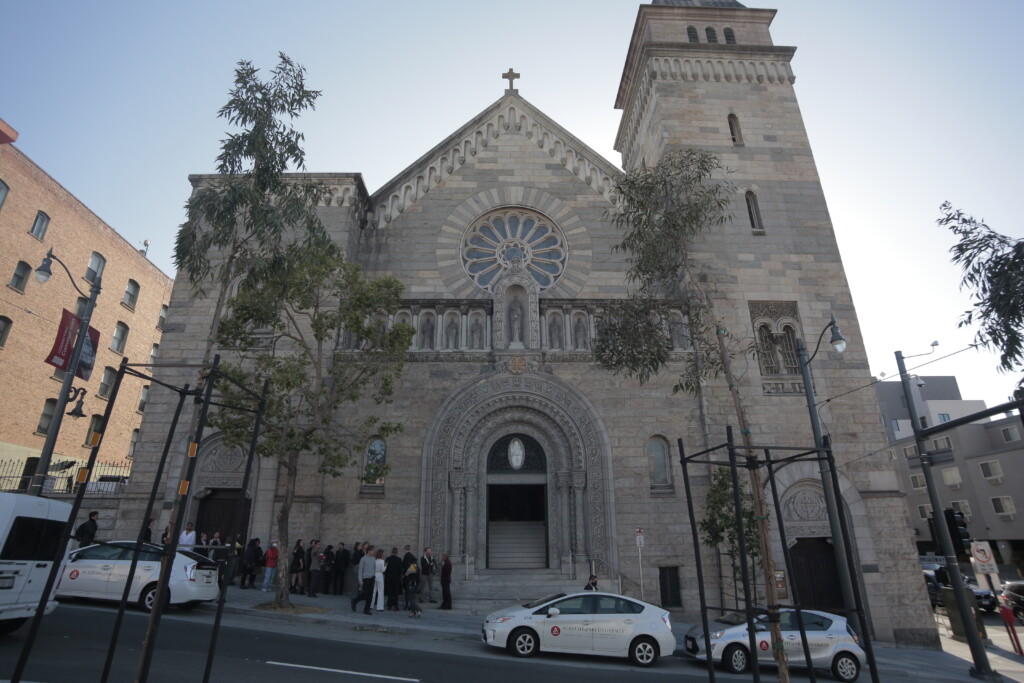 Upon arrival, guests were lined up down the block, waiting to present their tickets for entry. It was a beautiful night, and everyone took the opportunity to also showcase their own personal style, reminding us all that this was, for many, their first proper night out since Covid and not to let it go to waste. Inside the venue, one couldn't deny the energy. In a word, it was palpable. As guests found their seats among the dark-stained wooden pews, students and faculty mingled with one another, many meeting for the first time in person in over two years.
Seeing people embrace, laugh, and catch up only solidified how special this event was. One could almost forget that we were there to celebrate the work of twenty-nine passionate designers, but we're soon reminded when our university president, Dr. Elisa Stephens approached the podium to welcome the audience. President Stephens perfectly summed up how we all feel about each of the three graduating classes this year by saying, "These collections represent the talent, ingenuity, and perseverance of our students who press forward and accomplish their dreams." President Stephens then proceeded to present the designer, illustrator, and the show's guest of honor, Giles Deacon, with his honorary doctorate for his achievements and accolades in the fashion industry.
Giles Deacon has designed costumes for the New York City Ballet, Marvel, Lionsgate Films, and Fox Searchlight Productions. He has also received international recognition for his designs and illustrations in publications such as Vogue and Harper's Bazaar.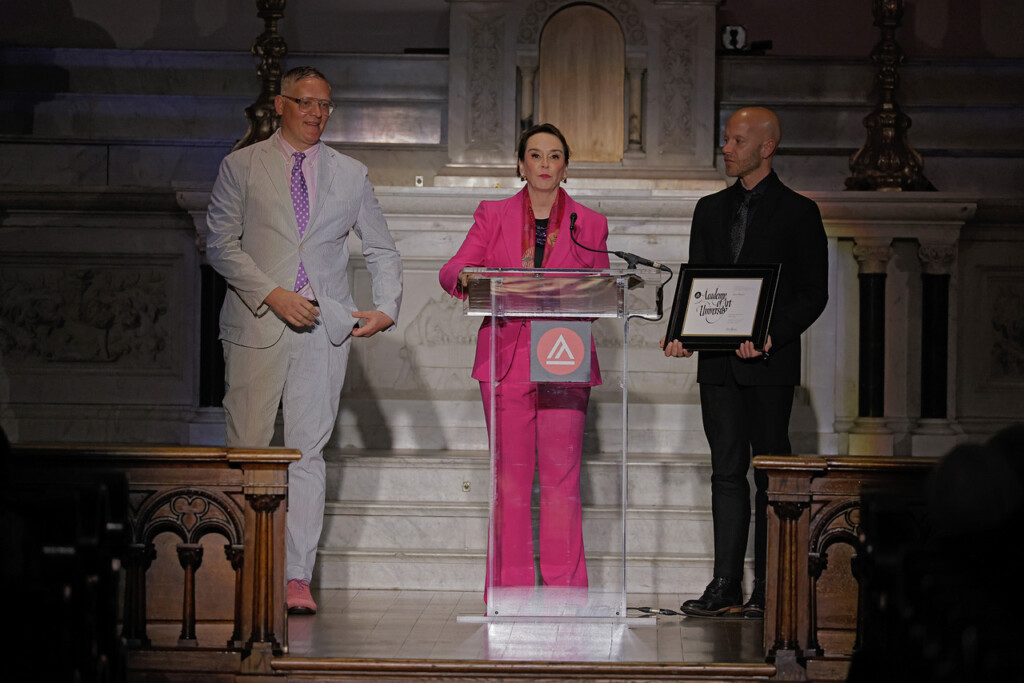 At the show venue, the energy was undeniable. Looking around at the stained glass that adorns the dome above our honoree and president, and seeing the angels stained in pastel hues, it felt like a heavenly event.
All introductions and honors aside, it was time for the show to finally begin. Everyone was anxiously awaiting to see what our design students had been working on in 3D design and pattern making, textile design, and knitwear. A brief pause, muddled chatter among guests, then flickering lights, and then the first model makes her entrance to the live haunting synth, and choir music performed by the Tyler Graves Band.
Opening the show was Domingo Cholula, BFA Fashion Design student and recipient of the 2022-2023 Presidential Scholarship Exchange. Long dresses and capes accompanied with black leather collars and belts complemented the church setting perfectly. The gothic but feminine silhouettes were consistent yet unconventional interpretations of womenswear.
Easing into the show but still leaving us on the edge of our pews and craning our necks to see the following collection from Rebecca Fabrizio, MFA student of Fashion Design, we also ease away from the dark color palette and onto pastel watercolor hues. Burnt orange, turquoise, blush, and blue-gray dyed organic cotton paint monochromatic dresses and skirts layered over pants in a deconstructed fashion. Hoods and bonnets reminiscent of something between Handmaid's Tale and Jane Austen novels are disrupted by industrial buckles and opera-style gloves that were layered in a neatly stacked and succinct manner.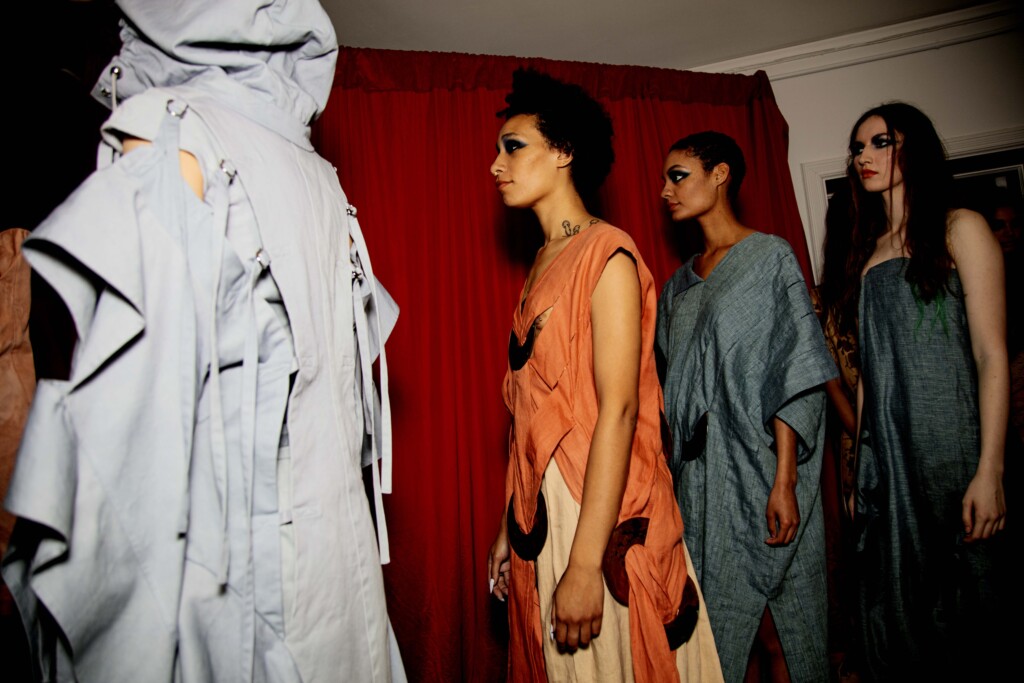 Moving on throughout the show, the diversity of design and the designers' ability to tell a story through their work was constantly present. Felecia Shania Dharmawan, BFA Fashion Design, offered her interpretation of classic Indonesian dress with rich textiles in a cutout design layered over asymmetric pants and dresses. Her knitted binding detail and embroidery were playful yet sophisticated and felt like an extension of a personal story that she was sharing with us.
Rashida Birdlong, a BFA Knitwear Design graduate, debuted two sweater dresses and an oversized cardigan. Her most eye-catching design was a brown intarsia sweater dress with three large face profiles in shades black, brown, and beige and a single blood teardrop, another cultural and societal narrative that was a visually relatively simple but undoubtedly strong statement.
Red, blue, and green Mikado handwoven dresses and skirts from MFA Fashion Design student Andrea Aunni Young added lots of texture and volume to the show. These three garments not only felt classic but modern as well, and complemented the stained glass windows as the models sauntered throughout the church.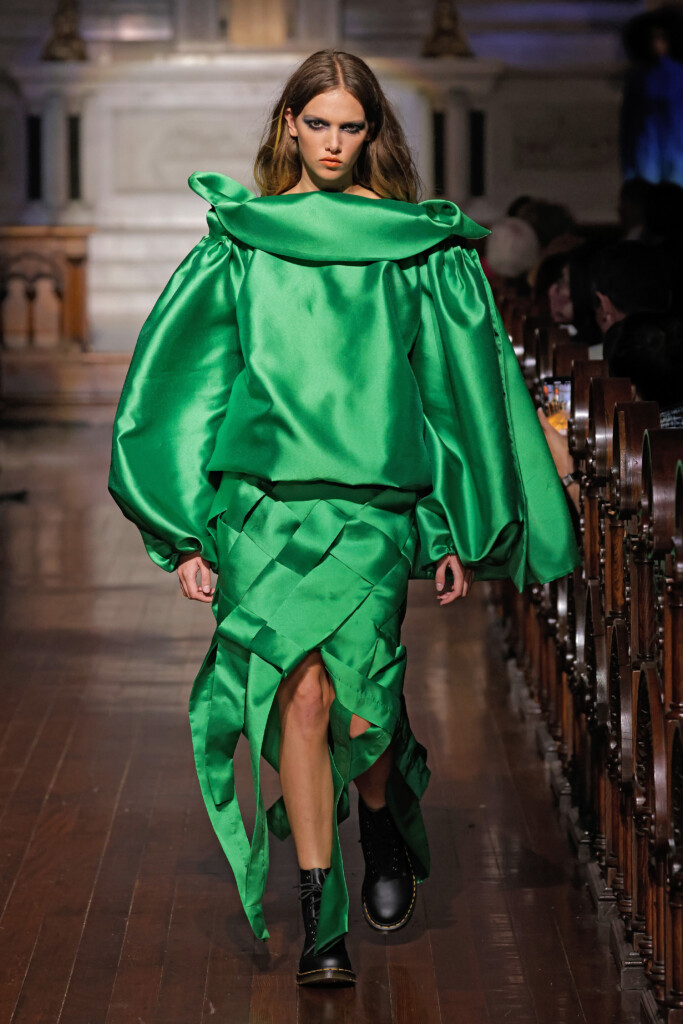 Following behind were billowing aqua, plum, and champagne ombre looks by Allyn Mae Fox, BFA Fashion Design. A stark contrast to the previous structural garments, the movement in these two sets and one printed dress complemented the muted ombre tones perfectly and created an illusion of a live sunset.
Daniel Kim, BFA Fashion Design switches up the earthy, woven tones with his
interpretation of menswear. White cotton shirts, asymmetrical and cropped jackets, and oversized proportions reminded the crowd that just when you think everything has "been done," it, in fact, has not. After a brief intermission of black and white structures, Jaclyn
Shahan MFA Fashion Design impressed with her hand-dyed selections. Green, turquoise, blue ombre, and dark gray dyed silk were something to be admired. The looks played a lot with geometric shapes and unconventional contrast with dark gray wools and delicately dyed lace. It felt like a blending of previous woven and ombre collections and the more structured menswear outfits.
Gabriella Weinkauf's MFA Fashion Design collection was sponsored by Mimaki for all fabrics as well as digital printing. Extravagantly exuberant sleeves that could be used for fashion or utilized as shade disrupted the runway. The genius layering of Mimaki prints was tiered on jutting shoulder pads, puff sleeves, and down to the wrist.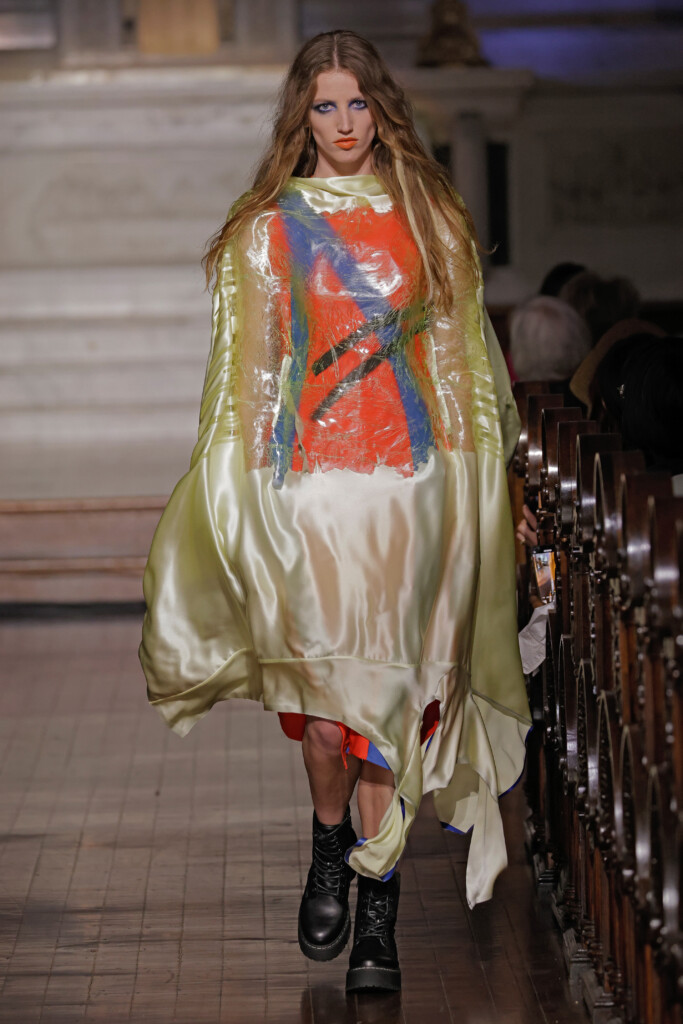 Just over the halfway mark of the Graduation Fashion Show, the band is jamming on as the models continued to make their way through St. Brigid's. Pushing us along is Milijana Delic, MFA Fashion Design. Delic was the 2020 CFDA Geoffrey Beene Design Master's Scholar Award recipient and a participant at CFDA Fashion Future Graduate Showcase. With color blocking and geometrical shapes, predominantly in navy blues and reds, Delic's most noteworthy look had to be the voluminous bomber jacket paired with an asymmetrical cutout skirt and bodysuit.
It feels as if we've made a full circle moment by the time Tianyu Candice Ji, BFA Fashion Design makes his collection's debut. Another striking and noteworthy collection, Ji takes a charcoal and black color palette and creates five outstanding ensembles. Shredded shirts, billowing tunics, and asymmetrical patchwork knitwork were a few of the design themes weaved together to create a succinct display of work. It almost felt like, against the backdrop of the church, modern-day monks and religious leaders were walking among us.
Serafina Levy, BFA Fashion Design was another standout designer from the Graduation Show. Opposing her peers who chose the solid black color tone, Levy's four outfits are all bright white asymmetric dresses, tops and pants highlighted even more with mesh and rope detailing. It felt like a breath of fresh air and as if all the eyes in the church were widened with each phenomenal look coming down between the pews.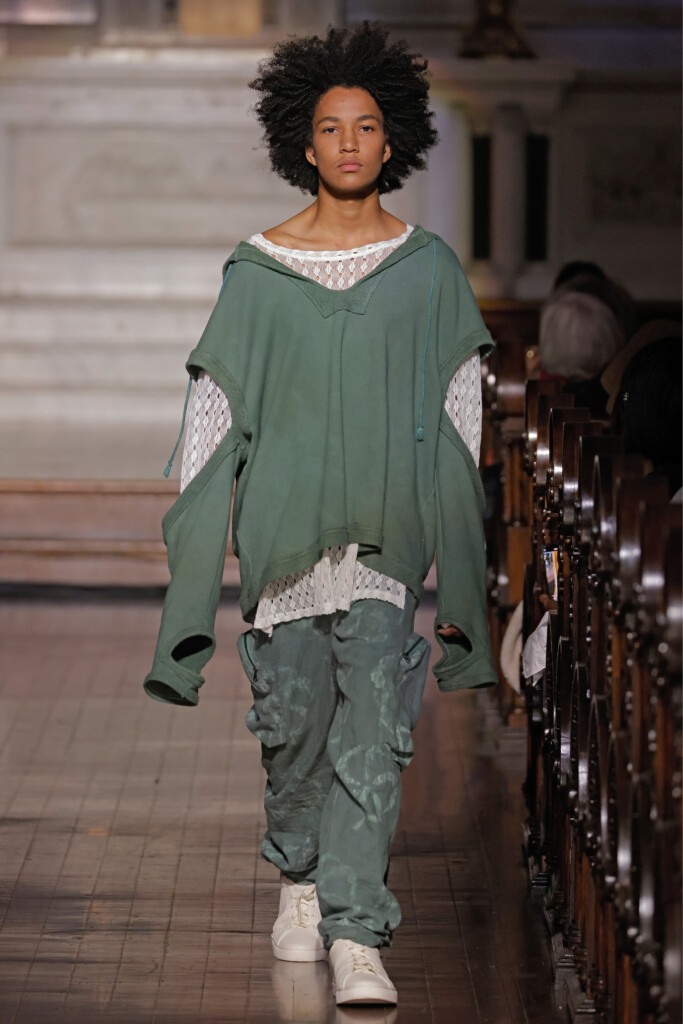 Seth Russell, BFA Fashion Design, presented us with three menswear designs that demonstrated elevated casual streetwear. Cream and sage hues combined with a minimalist take on layering made for three solid looks that are very on-trend with street style today.
Yiran Mia Cong, BFA Fashion Design presented an incredibly strong portfolio of designs with her denim and indigo theme collection. The first look was a complete denim asymmetrical dress and from there morphed into delicate and feminine dresses and singular coat. The display and variety of Cong's collection using only shades of blue was something to be admired.
Yachen Xie, BFA Fashion Design, and Voonbin Shine Leow, BFA Textile Design, were the only collaborative collection featured at the Spring Show. Xie and Leow showcased colorful, asymmetrical, and tender skirts and dresses with saturated graphic prints and full sleeves. Yachen Xie was awarded the 2022-2023 Presidential Scholarship.
At this point, the audience was fully engulfed in not only the collections and the stories they told but the haunting music and the echoes that filled the church.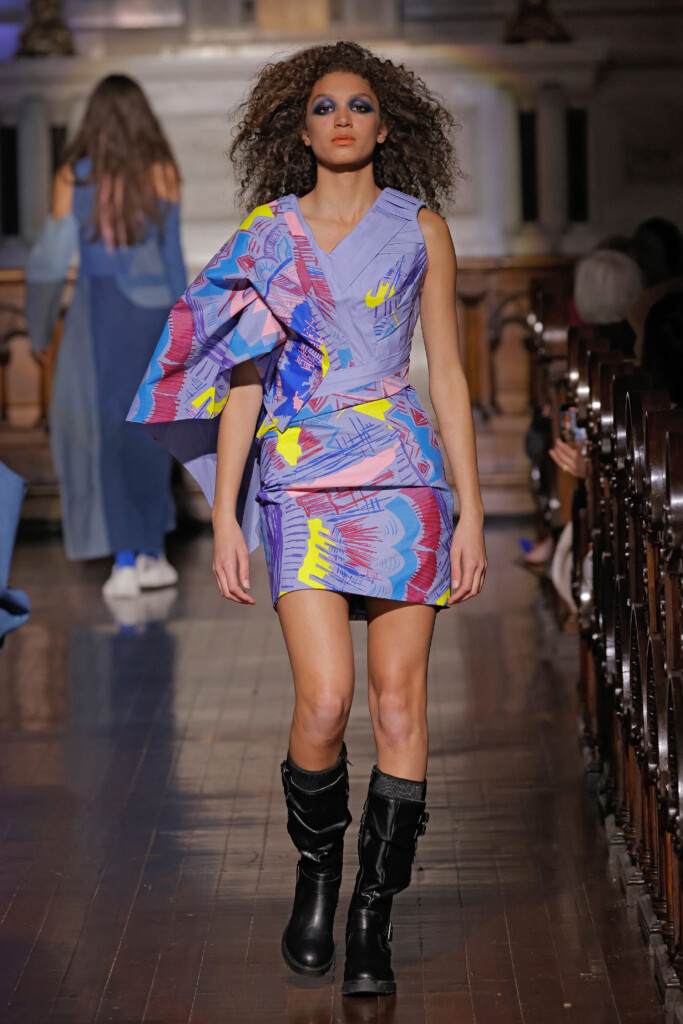 As BFA Fashion Designer Cory Lin's designs began to round the corner, she had everyone's attention with her four periwinkle looks. Laden with ruffles and drawstring detailing these unisex ensembles are just as intriguing in the front as they are from the back, making the onlooker wonder if it's an "anything goes" policy for Lin.
Finally, we had reached the end of the show with a phenomenal three-look collection from Keer Ivy Chen, BFA Fashion Design. The first look, a preview of what's to come, was a stellar, sculptural 3-D orbital jacket followed by a look of layered bows and ruffle pants. The closing look, another architectural masterpiece similar to the first, however, was much more extreme and awe-inducing. Every neck was craned to see the metallic circular orb-like installation that was a skirt and top.
It was time for the designers to take their turn soaking in all of the deserved praise. Thirty BFA and MA Fashion designer graduates, cheerful and excited, made their rounds down the center of the church.
After waves of applause and cheering from the crowd, there was lots of chatter. There were also tears from proud faculty, parents, and friends. The energy that the guests had at the beginning of the Graduation Show was only amplified by the conclusion of it. Selfies were being taken, numbers exchanged, and Instagram follows were all taking place as we slowly began to exit the church. We flooded Van Ness Avenue and continued socializing and rejoicing all around the venue while some said 'goodbyes,' others said 'see you later,' and many deciding where to grab dinner or a drink to continue the good feeling.
Despite the challenges that have arisen over the last few years, that's nothing to stop this student body and its faculty from creating and celebrating artistry, and there was no better way to commemorate those accomplishments than the 2022 Graduation Fashion Show.
Video of the show and images of all the looks are available here.