A few weeks ago, we briefly introduced you to Keanan Duffty, the School of Fashion's new Senior Director of Fashion Merchandising, and now we're going to let you hear from the man himself. But before we do, just a brief recap of his many, many accomplishments. Keanan graduated from Central Saint Martin's School of Art and Design at the top of his class, earning a B.A. in women's and men's fashion design and textile design. He has worked with a number of brands including Ben Sherman, L.A.M.B. by Gwen Stefani, Dr. Martens, and Target, for whom he created his own line England's Dreaming by Keanan Duffty, and collaborated with David Bowie for David Bowie by Keanan Duffty. He is also a member of the Council of Fashion Designers of America, has published a book examining the relationship between music icons and fashion called Rebel Rebel Anti-Style, and is also working on a docu-drama about the life of Malcom McLaren, the provocative manager of the Sex Pistols and New York Dolls.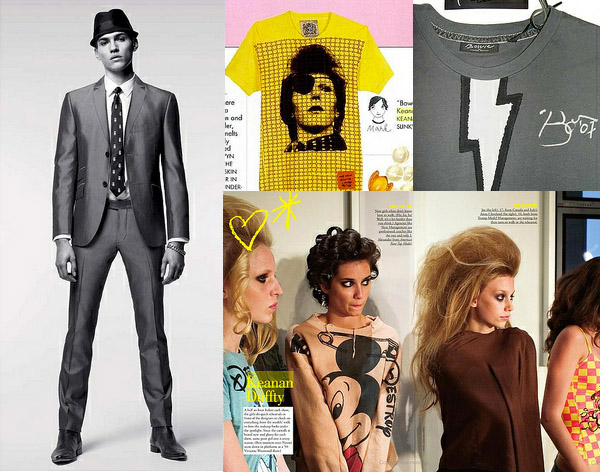 Clockwise from left: Duffty's menswear line featured in DNR; David Bowie by Keanan Duffty featured in
Elle Girl and Marc Spitz's biography of the icon; Duffty's womenswear line featured in Elle Girl. 
Keanan will focus on industry collaborations and product development classes, lending his years of experience and expertise to our students. For the Fall 2012 Semester, he is teaching FSH 350 – Product Development, as well FSH 616 OL – Dynamics of Fashion, and directed study classes.
Follow the jump for our interview with Keanan!
What originally drew you to fashion?
I saw other worldly musicians; Roxy Music, David Bowie, Queen and the Sex Pistols, on TV and loved their clothes-Later I discovered those clothes were designed by Zandra Rhodes, Anthony Price, Bill Gibb, Kansai Yamamoto and Vivienne Westwood/Malcolm McLaren. I was inspired to follow them.
You've worked on so many amazing projects – do you have any favorites?
Some favorite memories: David Bowie making me laugh with his Brit humor while we created a collection for Target. Sitting by the pool with Gwen Stefani at her Hollywood home, looking at swatches & sketches for L.A.M.B. Wheeling a hand cart through the garment district in NYC in August, carrying boxes of my first collection to UPS, because I couldn't afford a delivery service.
What are you looking forward to in your new position at the School of Fashion?
Seeing the wonderful energy of our talented students and witnessing the change that they are creating.
What advice would you give to students?
Follow your heart – forget about the rest.