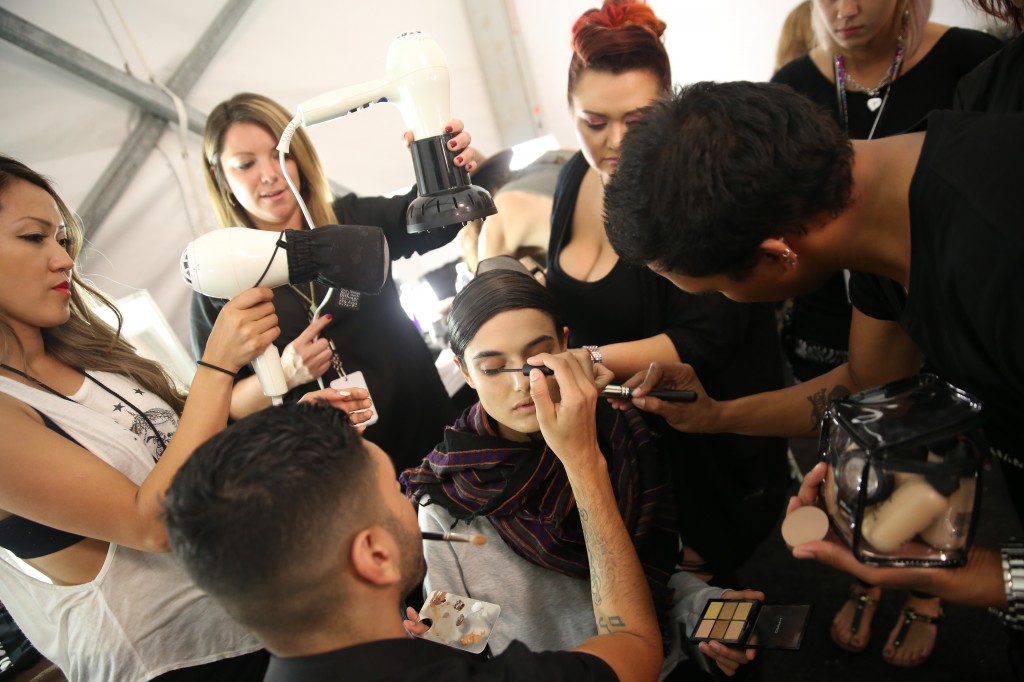 As one can imagine, the scene backstage at a major fashion show is exceptionally fast paced, with a huge number of people working to complete varied tasks all within a short span of time. The Academy of Art University show was no different from what I had imagined, and the controlled chaos backstage was a sight to see.
Among the talented individuals putting in tons of work backstage was Victor Cembellin, the lead makeup artist for the show. Together with the MAC PRO team, Cembellin created a minimal, ethereal look to complement the Spring 2015 collections. With over 20 years of industry experience, Cembellin's credits include freelance editorial makeup artist, educator at the Academy of Art University, and also Senior Makeup Artist for North America at M.A.C. Cosmetics.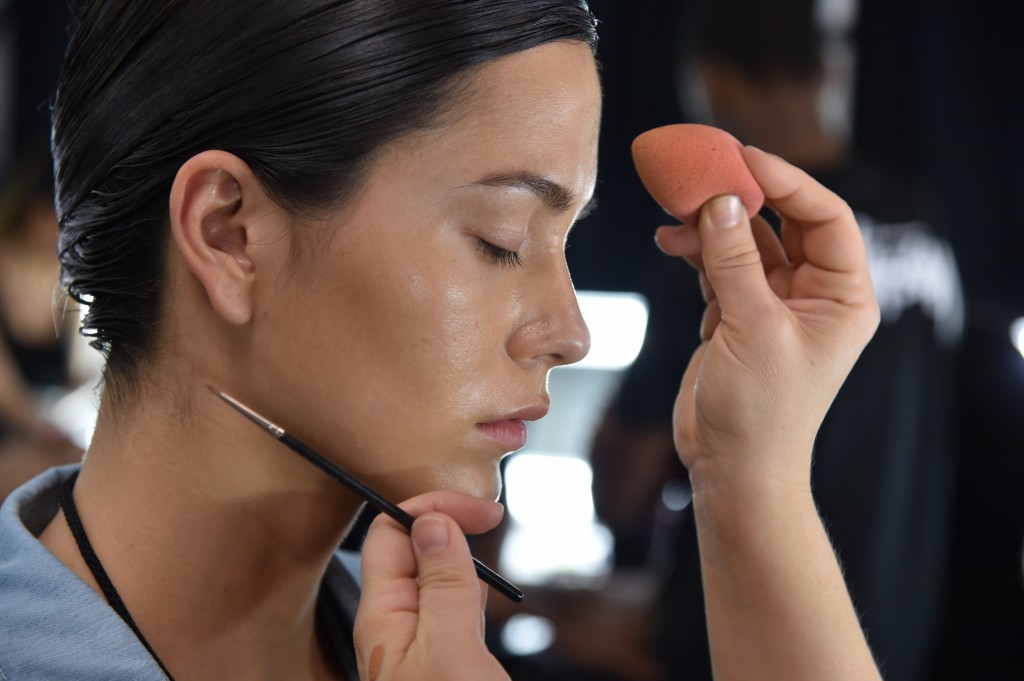 Cembellin's extensive experience and knowledge are an exceptional asset for Academy of Art University students who wish to further their career in the beauty world. "I initially became involved with the Academy of Art University after leading the makeup team during New York Fashion Week several years ago, back when the tents were still in Bryant Park. Upon returning home to San Francisco – I was born and raised in the Bay Area – I shot several covers and editorials for 180 Magazine."
 Cembellin was then approached by the Academy to teach a course solely dedicated to hair and makeup, which he teaches alongside hair stylist Joel Cortes. Cembellin gushes that he loves working with other creatives and, "interfacing with students at the Academy of Art University gives me the opportunity to share my lifetime of industry experience as the embark upon their creative paths."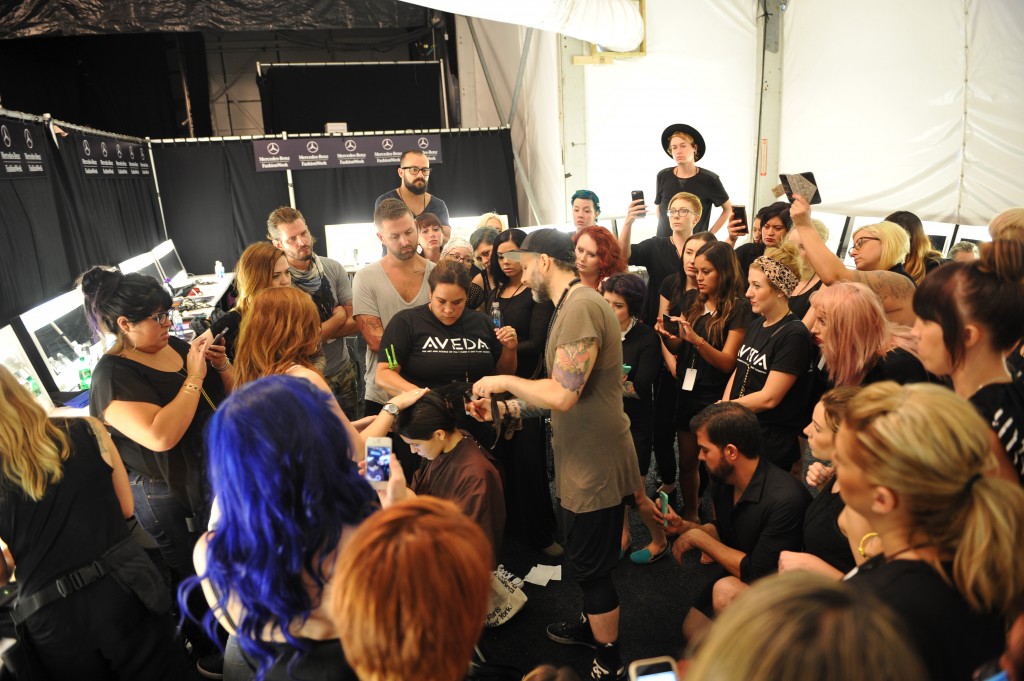 Collaboration is the key to a successful beauty concept, Cembellin reminds me. Hair and makeup are decided upon as a team, "In the case of New York Fashion Week and the Academy of Art University show, the hair and makeup team met with Simon Ungless, Executive Director of the School of Fashion, two or three days prior to the show for something called a test. One female model and one male model are secured in order to actualize various hair and makeup visions for the show. The process is finalized with pictures that are taken for reference and to assist the backstage hair and makeup teams on the day of the show."
 It was during these tests that look for the show, which Cembellin dubbed "Puritanical Minimalism," began to take shape. With this look, the models were "meant to feel slightly sorrowful with their sculpted cheekbones and glossy stained eyelids. Rather than 'playing into the pretty,' we focused on the architecture of each models face," explained Cembellin.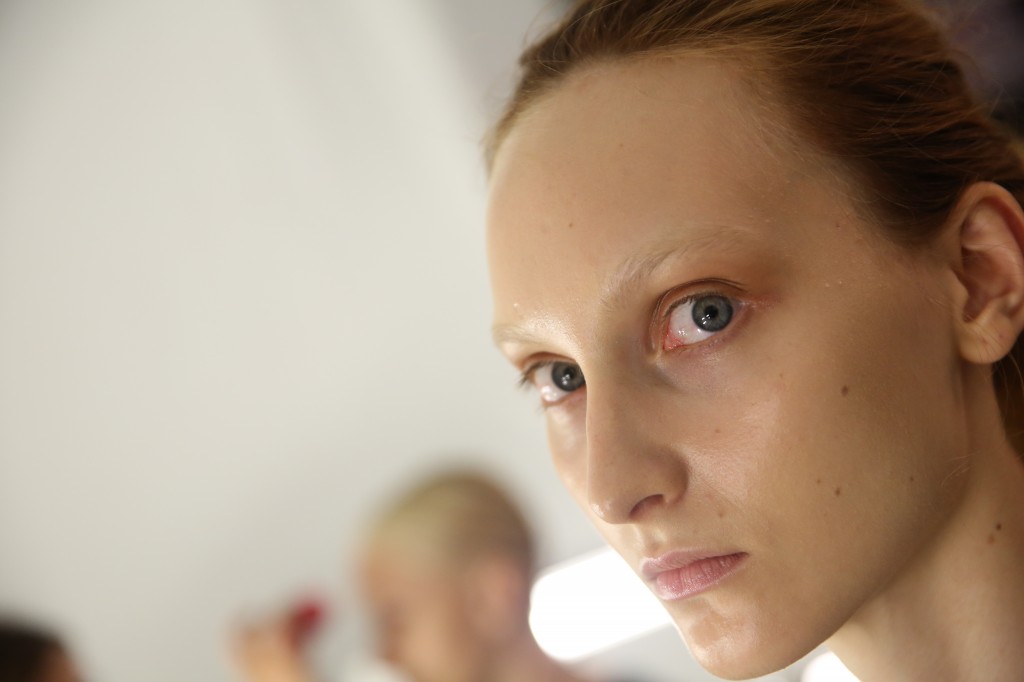 Just as designers pull inspiration from multiple sources, so did the beauty team. Cembellin explained that the inspiration for the makeup came courtesy of Ungless, and ranged from "pictures of Greek marble statues to movie stills from the movie Jane Eyre." He was then able to conceptualize a look that fell within this creative vision while also tying in with modernity and current trends. Complementing the minimal makeup was a sleek, almost wet-looking hairstyle dreamed up by hair guru Jon Reyman for Aveda.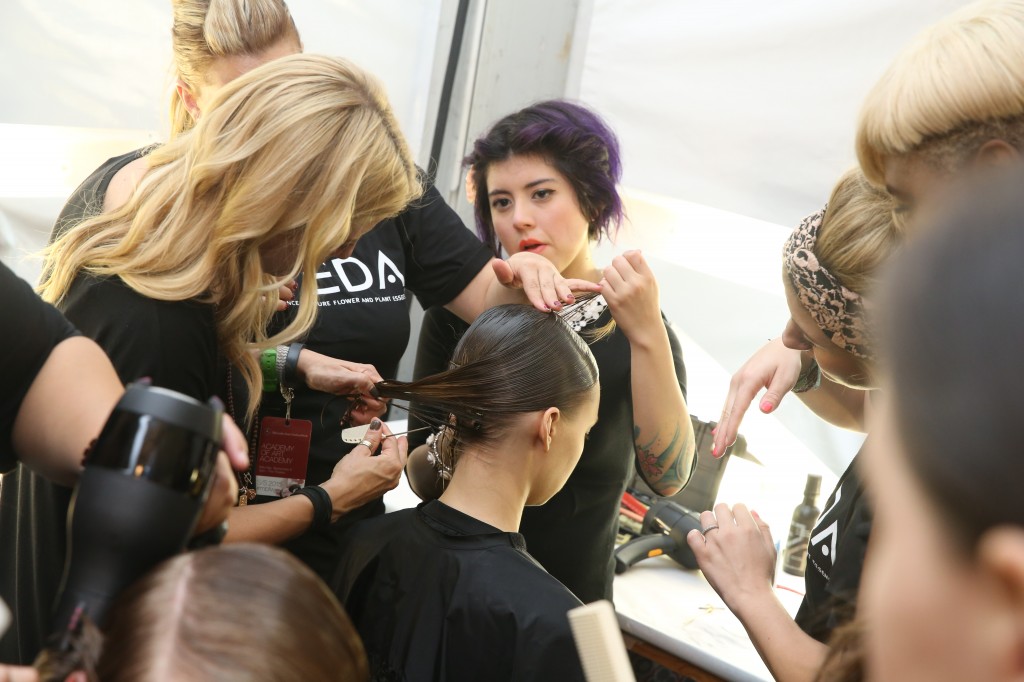 Each station backstage was masterfully set up for efficient, speedy work. To get every beauty aspect covered in the short time allotted, multiple artists worked on one model simultaneously. One artist worked on makeup while another perfected the model's coif, and yet another artist was hard at work on manicures and pedicures. Although at times the beauty area backstage seemed hectic, the masterful, sculpted makeup lent the models an ethereal peace as they walked the runway.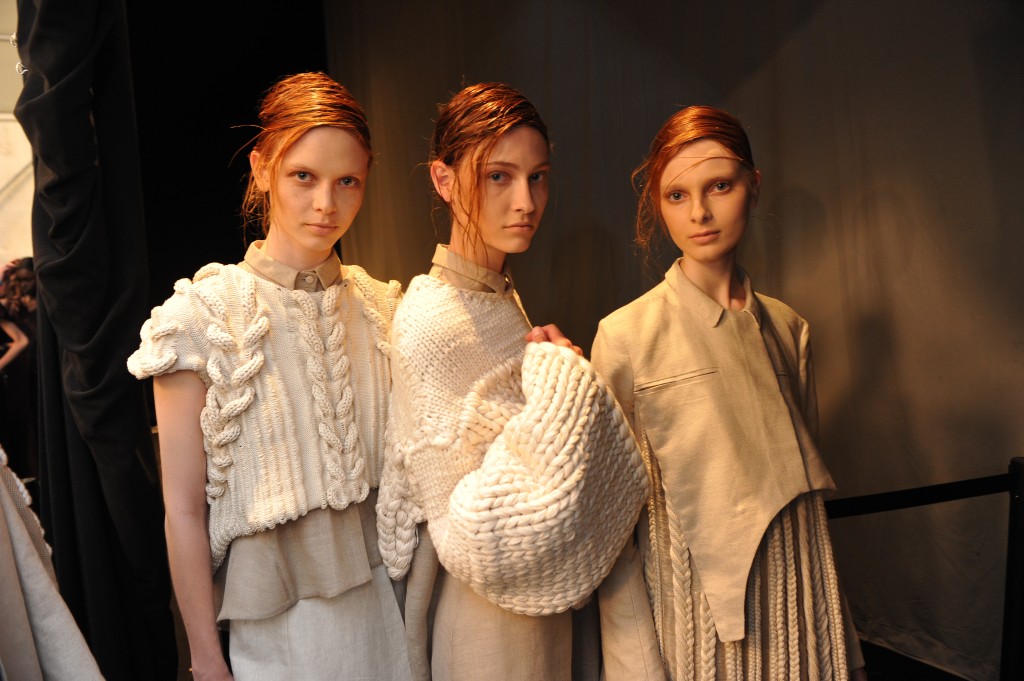 Written by Alexa Palacios, BFA Fashion Journalism