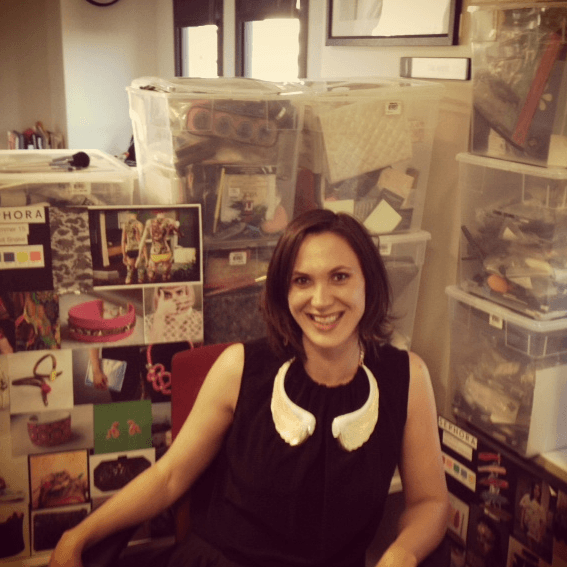 Tiila Abbitt, 2007 MFA double major in Fashion Design and knitwear design, is turning the fantasy of little girls everywhere into reality. She gets to play with makeup all day- for her job! More specifically, this Academy of Art University Alum is currently the Director of Product Development at Sephora. Tiila talks with Fashion School Daily about trolling on Instagram, drawing inspiration, the fact that she sometimes forgets what year it is and the piece of advice that led her to working at Sephora, her favorite job yet.
Fashion School Daily: Could you tell us a bit about your current job and company?
Tiila Abbitt: I currently work at Sephora as the Director of Product Development. I work on their private label brand, Sephora Collection. I am responsible for designing and developing the accessories business: makeup brushes, brush sets, cosmetic bags, eyelash curlers, hair tools, false lashes, sharpeners- all the tools of the trade that you need for flawless application. It's my job to take these seemingly day-to-day beauty products and give them all an innovative twist or unique design. I also work on special collaborations including Pantone's Color of the Year collections, where I also develop makeup formulations as well as the new Alexis Bittar collaboration, which is coming out to stores in November.
 FSD: What is an average day like for you at work?
TA: Product development keeps me on my toes. There is always something to do and always something to create. Every day you have to think about what the next big thing will be in beauty. An average day for me right now has me working on finalizing Spring 2015 products, in the middle of Summer 2015 products and starting to work on Fall 2015. Plus I am already thinking of what we should be doing for Holiday 2015 and into 2016! Sometimes I forget the year it is since I am working in future development. I have to say, I am truly never bored.
 FSD: What do you love about your job?
TA: I love working for Sephora. It truly appreciates the creatives. I work for the largest brand for the company, but it still has the start-up atmosphere. There isn't a lot of red tape which definitely lets our team think big. We explore as many ideas and opportunities that we think is right for the brand.
 FSD: Where have you found inspiration lately?
TA: Inspiration comes from everywhere. I travel a lot. I like to explore other places and other cultures for inspiration. I work with Beauty Forecasters, whose job it is to forecast future micro and macro trends in beauty, but that's just one part of it.  I'm always trolling Instagram. I read a million beauty blogs. I study fashion runway trends, attend art exhibits, take photographs … to try and see things in a different light. I look at a lot of beauty makeup products and innovations and think about how I can make a brush or accessory to go along with it. You know, leopard is coming back as a trend, and we're launching a leopard printed eyeliner curler! Who doesn't want to carry that in their makeup case? I recently went on a trip to Asia where I went to Japan, Korea and Vietnam for a trade show and to visit with vendors. It was a truly inspirational trip! There is so much innovation coming out of Asia that we decided we must go to the source.
FSD: What advice would you give to students?
TA: To be open and let fate take a hand. Meet lots of people and try different things to see what you actually enjoy doing. I never thought I would ever work in beauty. I barely wore foundation before I started working at Sephora. The best piece of advice my mentor told me before I took the job was you never know if you are good at it, unless you try it. What's the worst that can happen? You don't like it? Then quit. But you will never know unless you try. It was the best piece of advice I ever got and it led me to my favorite job.