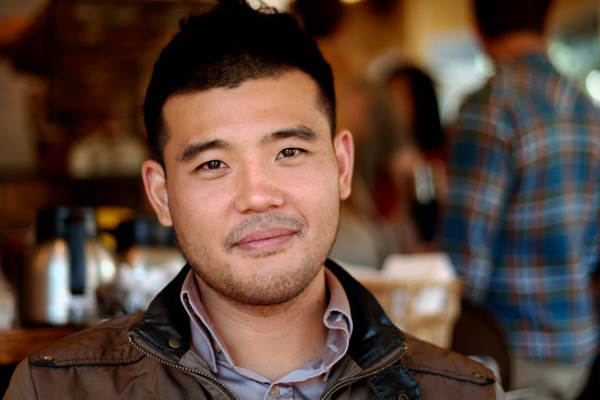 Today's Alumni Update is with Teddy Sae Park, a B.F.A. Visual Merchandising alumnus who recently landed an amazing job with Louis Vuitton in Korea. Teddy was a standout student and had some amazing internships – all his hard work is certainly paying off. We caught up with Teddy to talk about his budding career, his time at the School of Fashion, and his advice to current students!
You held several internships while you were a student, can you talk about them and what you learned?
The first internship I had was at the 79 gallery – Atelier – and it was included in a class FSH 464: The Real World of Retailing. It was nice hands on experience for me, since I did not have any work experience in fashion. I really learned how retailing works, and not only worked as a sales intern, but also had several chances to help out with window displays and basic merchandising in the store, which was a great experience.
And when I was done with the class, the store was renovating, so I applied to work there one more semester. And I am very glad that I did, because I not only learned a lot from the store, it is also where I first met my fiancé Anita Chen who was also a student at the University, working in the store as an intern. 😉
After the internship with Atelier, I worked as a visual merchandising intern at Saks Fifth Avenue San Francisco for a summer. I helped out with both the women's and men's stores, including mannequin styling, window displays, and setting up different store events. Even though it was only for 3 months, it gave me a good idea of what a visual merchandiser actually does. Also I believe it helped me to get my next – and first paying job – at Bloomingdale's San Francisco.
I started to work for Bloomingdale's as a seasonal visual merchandiser for the holidays. After the holiday season, I continued to work as a visual stylist for the men's floor taking charge of visual presentations. I had lots of fun working in Bloomingdale's, and I pushed myself to be more creative, since I was able to design my own windows and displays in keeping with the visual standards of the store.
You now work at Louis Vuitton in Seoul, what is your current position?
I am working as the Visual Merchandising Coordinator for Louis Vuitton Korea.
What is a typical day like at work?
Everyday is different, depending on what events we have. Our visual merchandising (VM) team reinforces the quality and consistency of VM in all 22 stores in Korea. We also provide training and implementation assistance to in-store VM support staff. Therefore, I don't get to stay in the office for too long, I have lots of trips to the stores.
I also coordinate with local contractors and all stores for the installation of store display windows, and support stores for special events such as store openings, public relations events, and so on.
Follow the jump to read more!
What do you love most about your job?
Perfection is one of the words that really explains Louis Vuitton. I am hired to achieve that perfection in our visuals, and that is what I am good at.
I also love traveling.
Do you have a favorite display or installation that you have worked on?
I have few displays that are my favorites. My first favorite window was my holiday window at 79 New Montgomery in 2010, since it was my first actual window, not just mock-up for class. I took the plastic cups from textile lab and made a wreath.
Another favorite is a window from Bloomingdale's. The theme needed to be Pop of Color, so I made it look like mannequins were shooting each other with paint ball guns.
And my last favorite is the Art of Packing window. It was my first window at Louis Vuitton that I installed. The window was designed in Paris, but one day I hope I can design my very own LV window.
What did you learn at the School of Fashion that has been helpful in your career?
The Visual Merchandising Major is not a big major at the Academy of Art University, but the curriculum is quite practical. I learned a lot about fashion, of course, and also learned how to use graphic tools, as well as basic training for interior design and photography, which are a huge plus for a visual merchandiser.
I also had the chance to design and build my own windows in the visual merchandising classes with instructors who have tons of experience. I hope the school can offer even more visual merchandising classes – they helped me so much, and I also enjoyed them.
What advice would you give to current students?
It is hard to build a portfolio, especially for merchandising and visual merchandising students. Therefore, choose your classes wisely and put a lot of effort into school projects, because many of them can be used for your portfolio.
Also keep your work from classes, and take good pictures of them. I recommend taking a basic photography class in your first year so you can keep good records of your school projects.
Where would you like to see yourself in the future?
Among all the tasks of a visual merchandiser, what I enjoy the most is designing the window displays. Since all of the designs for the Louis Vuitton windows are done in Paris, I would like to see myself doing that in Paris someday. We will see how it goes. 😉
[imagebrowser id=17]
You can view more of Teddy's work on his website.