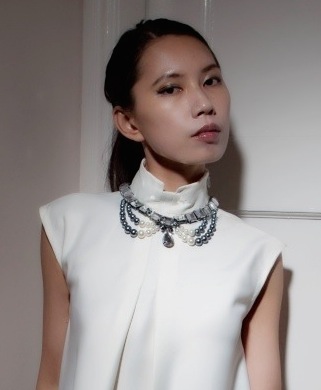 2012 MFA Fashion Design alumna Janey Cao has dual fashion industry experiences from the Bay Area and her home country, China. Recently, FSD caught up with the textile and fashion design enthusiast and asked her about her post-graduation journey.
Fashion School Daily: What have you been doing since graduation?
Janey Cao: After graduation, I stayed in San Francisco for a year working as a fashion designer at Alvarado Mills for my OPT. As soon as I returned to China, I found my first job as a fashion designer for a brand called Five Plus at Trendy International Group in Guangzhou. During that period, I also took part in the Zac Posen for Five Plus Cooperation Project. I researched and develop new designs and followed up the process of fabric and design development. It was a great experience. After Five Plus, I worked as an Assistant of the English Fashion Design Professor and Textile Instructor for 1st year in Esmod Guangzhou. During that time, I assisted and translated for the Fashion Design Professor in 2nd  and 3rd year classes, as well as the Textile Instructor for 1st  year preparation and planning classes, translating school work from English to Chinese. That was a wonderful time working at the school. And recently I have been busy working at EXCEPTION de Mixmind as a textile designer.
FSD: What do you love about your job?
JC: I love my job since I have a passion for original design. EXCEPTION de Mixmind is one of the famous original fashion design companies in China. I work as a textile designer. I work with fabric and create new pattern design and use different techniques for my work, and I am always happy to see my design turn into the real product.
FSD: What is your average day like?
JC: My average day begins with coffee in the morning and making a list of my goals for that day. Sometimes we have meetings and I end up working until 9pm, but usually I get out of work about 6pm so I relax and play the guitar in the evening.
FSD: Where have you found inspiration lately?
JC: I have been finding inspiration from a Chinese painter called Peng Wei and Song Dynasty art.
FSD: What is your favorite memory from your time at the School of Fashion?
JC: My favorite memory from the School of Fashion would be my two dresses showcased during the spring show in 2011. As I remember, those dresses were from the 3D design class and that was how I first learned the 3D draping technique.
FSD: What was your biggest challenge / surprise during your time as a student?
JC: As a student, my biggest surprise was that I found textile design was my second favorite thing as a student. I took applied textile 1&2, and I used my work from those textile classes in my interview in EXCEPTION de Mixmind and got accepted. So that was my biggest surprise – that I could work as a textile designer as well as a fashion designer.
FSD: What was the hardest fashion lesson you've learned?
JC: The hardest fashion lesson I have learned would be in3D design class; as a student I found pattern making was the biggest challenge, because sometimes it is difficult to make my designs into real garments. I remember I spent more time on pattern making and sewing than designing.
FSD: Any 'insider information' from the fashion industry that you could share?
JC: Know what you are good at what you are most interested in. Always remember the 3Ws — who, when, where, and your statement for design, be professional. Don't give up if you love fashion.
FSD: What advice would you give to students?
JC: My advice would be keep working hard: No pain, no gain. If you don't understand, always ask. Someday you will be grateful for what you've learned from the School of Fashion at Academy of Art University