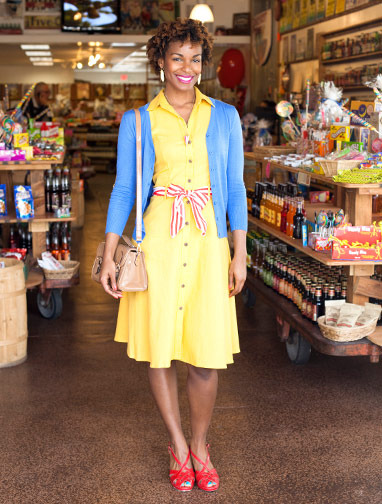 Though Cassie Jenkins is one of the newest additions to the School of Fashion faculty, she's by no means an Academy of Art University novice. Having graduated in 2005 with a MFA in Fashion Merchandising, Jenkins left the University as a student only to return as an instructor—an apt decision reached amid a period of self-reinvention. Looking back, there were a series of seminal moments that led Jenkins back to the hub where she (re)discovered her fashion aims. Forgoing a background in design, ascending job positions at Macy's, and marrying her classmate's roommate are just a few of the auspicious occurrences that have studded Jenkin's journey. Through the twists and turns, her insatiable hunger for knowledge and firm resolution have been the constants that continue to steer her to exactly where she's supposed to be. The student-turned-instructor took the time to reminisce and open up on how she keeps up with the accelerated pace of e-commerce, the importance of networking, and her resistance to complacency.
Angela Han: You just joined the School of Fashion team—welcome! What is it like to go from student to instructor?
Cassie Jenkins: Thank you! Although I'm an instructor now, in some ways I [still] feel like a student, always learning and wanting to find creative ways to motivate and inspire my students to learn. For example, since I'm a new teacher I developed a new project idea for my course and a student asked me if I had an example of the project to show the class. Since the answer was "no," I told the class I would go ahead and do a sample project as if I were a student so they would have a clear example to reference. Working on the project firsthand led me to refine the assignment requirements. It was hard work, but fun at the same time. I was reminded how much I love to create, which I'd forgotten over the years since I graduated from Academy of Art University.
AH: Have you always had an affinity for fashion?
CJ: Yes, for as longer as I can remember! I recall one occasion in grade school when I wore a girly striped knit dress with a sporty vest, knee-high socks, and high-top sneakers and walked out to the living room to grab something. I overheard my mom's friend who was visiting ask her quietly, "What a cute outfit, did you put that together for her?" My mom replied matter-of-factly, "No, she has a gift for putting clothes together." Shout out to my mom who recognized I was a creative kid! She always nurtured my proclivity towards art and fashion.
AH: You have a background in Apparel Design & Textile Science. What brought you to study Fashion Merchandising at Academy of Art University? Do you plan on pursuing the design aspect of fashion?
CJ: I have an appreciation for fashion design and knowing how things are made. The properties of fibers have always fascinated me and it has been invaluable knowledge to me as a consumer and professional in the fashion world. But, I ultimately realized after undergrad that a career in design was not my calling. The business side of fashion was a missing link for me and when a family retail business that I was involved in failed, I felt compelled to go back to school. I initially looked into MBA programs, found out about the Academy of Art University and discovered I could earn a MFA in Fashion Merchandising, so that resonated with me. I applied, moved to the Bay Area, and the rest is history. I still have my sewing machine, overlock, a large assortment of vintage patterns, sewing supplies, and dress form—none of which I could ever part with even though they're collecting dust now.
AH: What was your favorite memory as a MFA Fashion Merchandising student?
CJ: I have two—one professional and one personal. My favorite professional memory is of a Visual Merchandising class field trip I took during my second year at Academy of Art University to the flagship Macy's store in Union Square. At the end of the store tour, the Visual Manager passed out his business cards and said to contact him if we were interested in doing an internship there. Some students rolled their eyes at the thought of it and said it seemed like too much physical work. I immediately saw the opportunity as a student to get my foot in the door at a large company, so I emailed him the following week and was working as an intern the following month. Over the course of seven years, I moved to different departments and divisions of Macy's Inc. and still see that moment as a pivotal point in my career.
My favorite personal memory has to be meeting my husband through a classmate during my second semester. The first day of class, my classmate and I were grouped together for an "icebreaker" activity, and we immediately became friends. A few months later, he introduced me to his roommate who I just happened to marry a couple years later. It was only fitting that my classmate was a groomsmen.
AH: What was the most important thing you learned during your studies?
CJ: I quickly learned it was not enough to rest on my natural talents, nor was it productive to fixate on getting the perfect grades. Instead, I worked harder than I ever did because the Academy of Art University was challenging, competitive, and required grit and unwavering discipline. Without a doubt, these lessons equipped me for reality after graduation, and have since served me well in business and all other facets of life.
AH: You've worked at several large businesses including Shutterfly and Macy's. Can you tell us a little bit about what it's like to work for a big corporation? How is it different from working at a start-up?
CJ: Working at a larger corporation often has more processes in place, increased organizational structure, and greater access to myriad of resources like robust employee training programs. A start-up is more agile and scrappy. They're able to react fast to change and course correct at lightning speed. Process does not typically get in the way of progress in these smaller organizations. There are pros and cons for either type of business, and it all depends on personal preference—I'm glad I've experienced both ends of the spectrum.
AH: It's an exciting time in fashion, especially in the retail/e-commerce sector as new technological innovations and business strategies are transforming the retail climate. How do you stay ahead of the curve at a time of constant change?
CJ: Yes, it's definitely an exciting time in the retail digital space! I subscribe to industry e-newsletters, read tech blogs, and attend industry events like the National Retail Federation (NRF) Shop.Org conferences—an event where the leading business practices, technological trends and industry knowledge is shared. I also go to networking events where other service providers and e-commerce companies congregate. I'm constantly learning, and because consumer behavior is changing so swiftly, it's crucial to strategize, innovate and listen to the customer and meet his/her needs no matter what product/service is being sold. And if you didn't know, mobile is the current hot topic in the e-commerce world.
AH: What do you like to do in your spare time when you're not working?
CJ: I enjoy shopping at thrift stores. I could spend hours (which I have) meticulously sifting through racks of clothing and jewelry cases—it's my therapy.
AH: What are you currently obsessed with?
CJ: I'm obsessed with reinvention. I've been described as a chameleon because I delight in embracing new beauty and fashion looks and making them my own. On a deeper level, I'm in a season of personal reinvention. For me, it's important not to get too complacent. Lately, I've been more intentional about inward transformation, setting personal and professional goals for myself and writing them down with an action plan. This recent self-discovery led me back to the Academy of Art University, this time as an instructor, and I feel like I'm right where I'm supposed to be.
AH: As someone who has a plethora of professional experience, what type of advice would you give to aspiring fashion merchandisers?
CJ: Network, don't be above doing entry-level work, ask questions, never stop learning, say thank you, and be nice! The last one goes a long way.
Written by Angela Han, BA Fashion Journalism