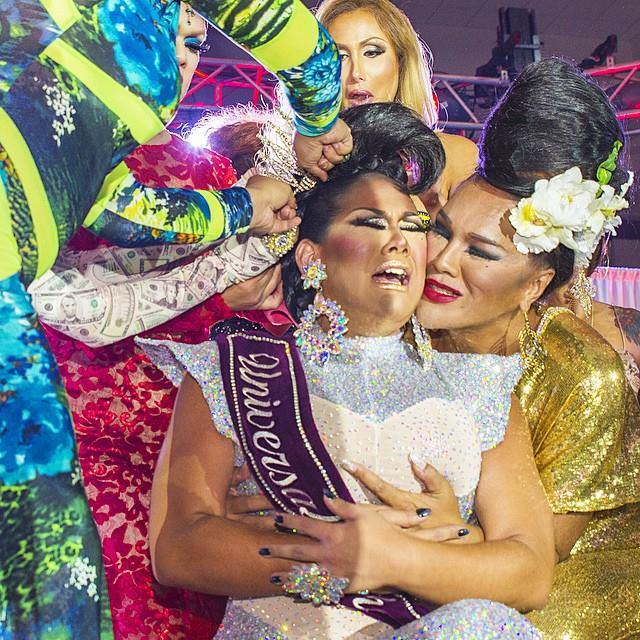 Drag royalty – it runs in the family. For Aleeciya Ashton of Honolulu, Hawaii, winning Universal ShowQueen (USQ) 2015 was not just another notch in her lipstick case, it was a family affair that spanned three generations of drag family. In the drag world, a drag family at the bare minimum consists of a mother and daughter, but can extend through multiple generations. A drag mother is exactly what it sounds like – an older, more experienced drag queen who imparts her knowledge and personal style to individuals who come seeking advice or improvements on art form. This is how drag families and houses are formed—blood relation is not a requirement. Many drag queens refer to each other as "sisters", even if they are not part of the same drag family. These are the connections in the drag world that help unify and strengthen creative individuals in the LGBTQ community.
The Universal ShowQueen pageant is a competition for drag queens and trans-women that takes place annually in Honolulu, Hawaii. Known for its unique and signature category of "Showgirl Costume", the pageant attracts contestants not only from Hawaii but across the nation and globe. Aleeciya is the 32nd queen to win the pageant since its induction in 1984, but she was not the first in her family to do so. Aleeciya's drag predecessor, Maddalyn, was the first of House Ashton to win the pageant back in 2007. In a world where beauty is celebrated by the young, Aleeciya explains that while Maddalyn is technically her drag grandmother, she's been asked not to call her that. Aleeciya smiled and explained that she instead lovingly refers to Maddalyn as "Mama".
Ashton's persona Aleeciya was born October 31, 2003. She admits that Halloween was a good opportunity to try her hand at drag makeup for the first time, and she happily donned a pink bikini, skyscraper-tall acrylic high heels, blonde wig, and fully painted mug to walk the streets of Waikiki as Malibu Barbie, in search of her Ken.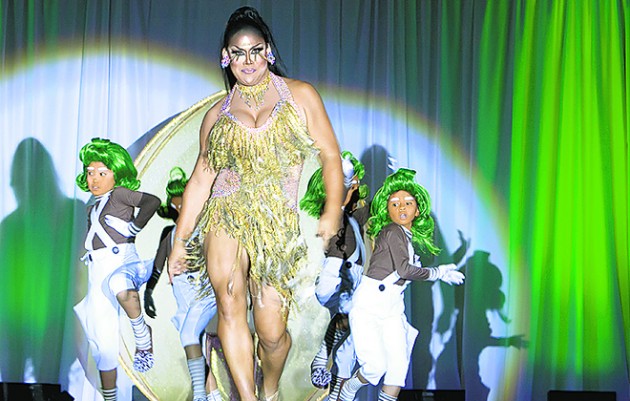 In a moment of respite, Aleeciya recalls how silly she felt and joked about her terrible makeup and cheap wig. Regarding the name Aleeciya, Ashton shares that it derived from two sources: a fellow dance crewmember Alicia Vela Bailey to whom Aleeciya admires, and actress Alicia Silverstone of Clueless (Aleeciya's all-time favorite movie). Originally intending her name to be Alicia, she admits to a fated encounter with a handsome Latino man outside of local gay joint Hula's Bar & Grill that suggested she pronounce her name ah-lee-see-ya because it sounded infinitely more exotic and alluring. Aleeciya was (re)born and has since been Ashton's show name.
Almost on a whim (and as a passing comment to friend and costume designer Calvin Marquez), Aleeciya expressed interest back in October 2014 of competing for the title of Universal ShowQueen 2015. Aleeciya has a very successful track record with winning drag pageants – she has won seven pageants to date. Understanding her winning potential, Marquez agreed to design her outfits for the competition with the caveat that she invests an ample amount of time and energy into all aspects of the competition, including her costuming. While it's been expressed by many drag queens that the art of drag costs more money than it potentially makes, funding materials for costumes and the time and labor of backup dancers was far from cost effective. Aleeciya estimated investing upwards of $9,000 for the entirety of her Universal ShowQueen experience. Thankfully, Aleeciya won back $5,000 in prize money (along with other prizes that included traveling and networking opportunities). Being the natural diva that she is, Ashton claims that the official title and accompanied bragging rights were her favorite prizes.
The journey to stardom wasn't easy and was studded with challenges. Aleeciya faced a range of obstacles including mild depression, weight loss, and frequent schedule conflicts with her costume designer and backup dancers. Unable to turn to her familiar coping mechanisms of binge eating and partying—due to her self-enforced strict diet—Aleeciya was forced to search for new outlets of stress relief. Incapable of finding her outlet, she admitted to spiraling down into a mild depression and being in a negative state of mind leading up to the date of the competition. Internally, she felt she was not going to win; she had already convinced herself to be the best and most gracious loser of the competition.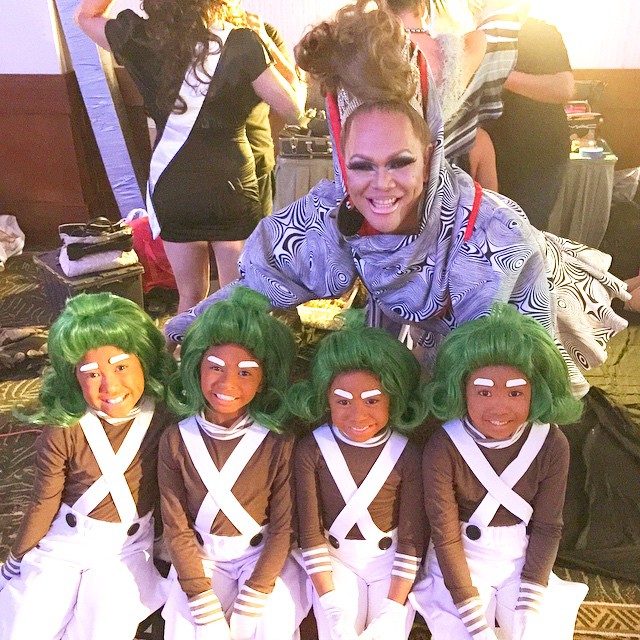 However, on the day of the competition things took a dramatic turn during dress rehearsal. Assuming her rehearsal time slot was more of a casual run-through, her group of miniature backup dancers from local dance troupe 24-7 Dance Force pumped on the gas full-throttle and snapped Aleeciya out of her dazed and confused state of mind and back into competition mode. Competitors gathered in the wings and peeked in to watch her high-octane performance. Armed with her reignited competitive spirit, Aleeciya and her posse of Oompah-Loompa children danced and sang to a golden egg inspired Willy Wonka remix, which set a high and lofty standard for other contestants at the competition. That evening after performing a flawless routine to a room full of cheering fans, Aleeciya's victory was sealed, and she was crowned (Show)Queen.
When asked if it was worth it, Aleeciya answered with a nod of affirmation. She shared a memory of a private conversation she had with friend and drag sister Marina Del Rey, who won Universal ShowQueen 2014, in which she came to a revelation about herself. Recalling the dialogue, Ashton shared Marina's inspiring words, "'think of the difference you're going to make when a young queen opens the program and says I want to be like her…'"  to which she paused a moment before admitting, "…that was me… that was me when I was younger." Ashton's childhood aspiration to express herself and compete in the Universal ShowQueen competition has given her a platform and opportunity to reach other like-minded individuals in the LGBTQ community who dream of being center-stage and having their moment in the spotlight.
In a competition primarily dominated by trans-women, Aleeciya's victory is shaking up the winners circle; the USQ age of deep-rooted hyper-femininity is waning and the barriers are coming down. Times are changing. Aleeciya's victory and the ensuing Ashton legacy is paving the way for a new era of drag pageantry.
Written by Kahea Montgomery. Originally posted on CHROMA Hawaii.
This content was produced by Academy of Art University MA Fashion Journalism students as part of their Fashion Journalism coursework.