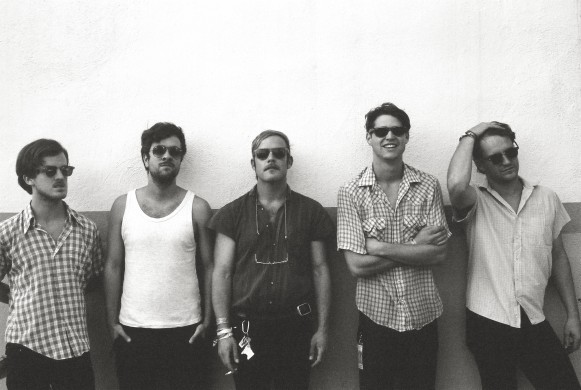 Photo Courtesy of Gardens & Villa.
It's Friday, It's Friday! Forgive the Rebecca Black reference – we're just really happy it's Friday. It's already shaping up to be a glorious weekend – the sun is shining, the temps are up, and there's a rockin music festival happening tomorrow. In honor of Phono del Sol, this week's musical offering highlights the band we're most excited to see: Gardens & Villa. The synth-pop group hails from Santa Barbara, where they met in college, and definitely embodies that California vibe. After messing around (musically and otherwise) for a few years, the five-some decided to get serious in 2008. And we're glad they did.
Follow the jump to read more!
Their debut-album was released a year ago, and features a beautiful blend of '60s sound put through an '80s filter – with a heavy dose of flute thrown in for good measure. They've been touring like mad since the release, including an appearance at Coachella earlier this year. We were introduced to G&V with the tune "Orange Blossom,"  and we still can't get enough. It packs a little funk, which we have a serious affinity for, and also manages to work in the word "pheremones" really nicely (which can be tough) – needless to say, we're impressed. Another plus – in this live rendition from Noise Coalition studios, the drummer reminds us a lot of Guy from That Thing You Do – 'nuff said.
So without further ado, A Little Music for Your Friday, courtesy of Gardens & Villa.