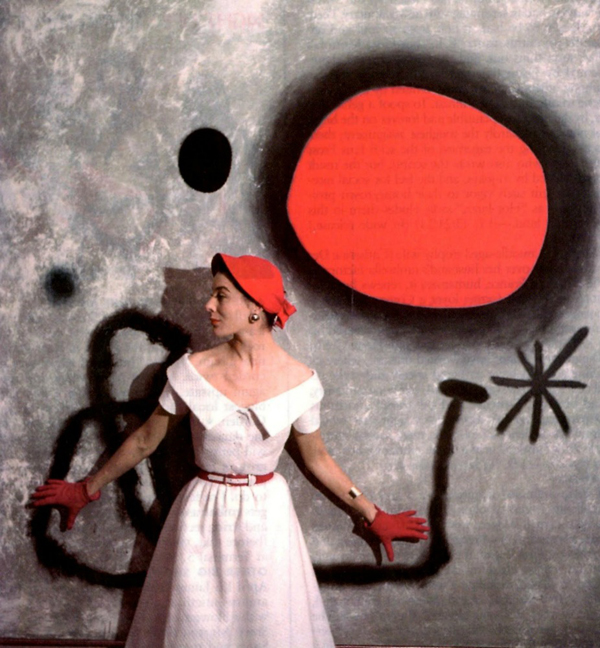 Bettina in front of a Miró, wearing Jacques Fath. Photo by Georges Dambier.
For today's edition of Monday Morning Photo, we've chosen a stunning image by Georges Dambier. Dambier began his career as an artist and graphic designer, but following an apprenticeship with renowned portrait photographer Willy Rizzo, he set his sights on photography. He first gained notoriety as a celebrity photographer for France Dimanche, a daily magazine in the 1940s, but was encouraged by friends to try his hand at fashion photography.
Follow the jump to read more!
Dambier became known for bringing his images to life, capturing models in motion, smiling, and laughing – a far cry from the emotionless images that populated fashion photography at the time. He went on to work for Elle, Vogue, and Marie France, and was also highly sought after in the advertising world, shooting campaigns for L'Oréal and Jacques Dessange, among others.
In this photo, Dambier captures his friend and frequent subject Bettina, standing in front of a stunning Miró. The worlds of fashion and art have always overlapped, and we love how this image brings the two together. Bettina is wearing an ensemble by Paris couturier Jacques Fath, which features bright pops of red that perfectly coordinate with Miró's painting. It is a prime example of Dambier's impeccable eye for beauty – an inspiration to us all.