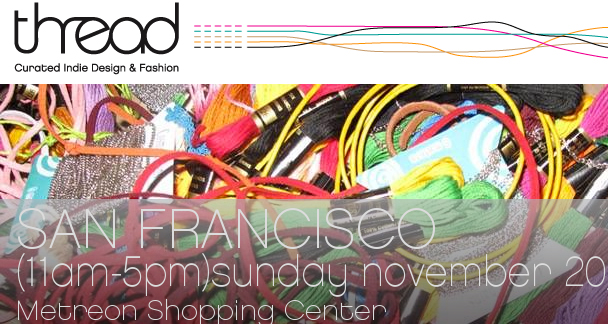 VOLUNTEER OPPORTUNITIES AT THREAD SHOW — San Francisco, Sunday November 20th
THREAD is a one-day fashion shopping, art and music event. With more than 3,000 people slated to attend, you'll get the chance to meet lots of cool, hip,industry people while adding San Francisco's signature fashion event to your resume.
For more information about THREAD please check out our website.
HOW TO APPLY Please respond to heather@threadshow.com with your:
Name
What area of the show you are interested in working — we will do our best
to accommodate
A few sentences on what experience you can contribute
Resume if available
Contact telephone number & email
You must be available for all hours required — we cannot do splits
You must be over 18 to volunteer at THREAD Show
Follow the jump for the rest of the info!
WHAT WE ARE LOOKING FOR:
We are looking for highly responsible students/alum who want to work as part of a fun team for one day at THREAD Show in San Francisco.
We need outgoing people who have no fear of working direct with the public.
THREAD is open to all ages. You need to be out going, polite, solution orientated and know when to say 'no' in a professional manner.
You also need to be good at numbers and be able to think on your feet, as well as have knowledge of pay pal and online merchant services.
WHAT YOU WILL RECEIVE:
· Free lunch and drinks (Metromint Water and Redbull)
· Free wristbands for two of your guests
· A VIP gift bag from THREAD Show
· A chance to get your hair and make up done for free in the style lounge.
· PLUS Lots of event production, PR and marketing experience that you can include on your resume or points for an internships as well as invaluable networking opportunities with local and independent designers, buyers and more!
LOCATION:
Metreon – 135 4th Street, San Francisco CA
SHOW HOURS JOBS:
6:30am-8:30am SET UP/PRE SHOW
7:30am-11am EXHIBITOR CHECK IN
11am-1pm SHOPPER CHECK IN
11am- 5pm BRAND REPRESENTATIVE
11am-5pm CREDIT CARD SALES
6pm-6pm DISMANTLE
JOBS
SET UP PROJECTS
Assist with setting up signage, Prepare check in desks, Prepare credit card Sales desk, Assist with floor plan layout, Set Up Media Lounge, Check in Sponsors, Help stuff VIP gift bags with items
EXHIBITOR CHECK IN
Greet and welcome exhibitors for check in. Help them locate their booth area and make sure they have all they need. Offer them tea, coffee and bagels. Make sure they are aware of THREAD interns who can help with load in.
SHOPPER CHECK IN
Assist THREAD interns with ticket, wristband, and cash at entrance. Assist shoppers with check in, organize entrance, answer basic shopper questions.
BRAND REPRESENTATIVE
Assist in a vendor booth with merchandising, and helping attendees with any questions, completing sales for Jedidiah clothing. Retail experience preferred.
CREDIT CARD PROCESSING DESK
This is an important and busy area of the show. This person is responsible for processing credit card transactions for designers. This is working direct with the public. You also need to be good at numbers and be able to think on your feet, as well as have knowledge of pay pal and online merchant services.
CLOTHING SWAP ZONE
To manage and assist with the clothing swap zone. Monitoring the racks of clothes and the shoppers who want to swap! FUN!
WHAT TO WEAR
Please wear all black. Feel free to wear whatever black clothing you like. Black jeans, tops, skirts, and shorts whatever you feel comfortable in. You will also be given an official Thread Staff lanyard to wear in order for you to be recognizable as THREAD staff to our visitors.