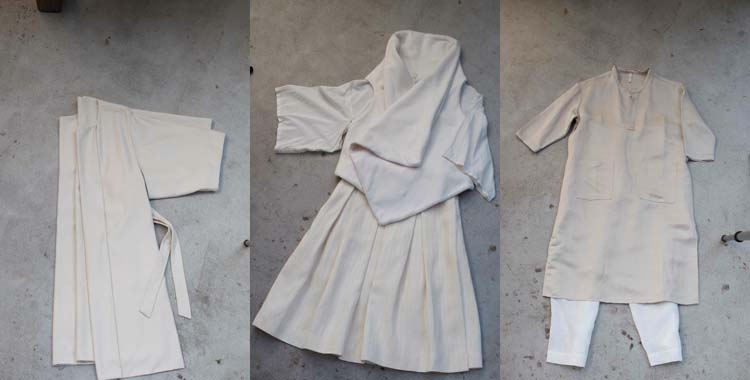 Three of the looks from collaborative collection Matt Dick for MARCH. Photo Credit: Drew Altizer Photography

 Matt Dick might just be one of the most creative people around. He has worked in everything from textiles and clothing design, interior design, curating, branding, product development – the list goes on. His latest project is a collaboration with MARCH, a home furnishings store with some of the most beautiful kitchen wares you've ever seen (they also make their own spices, vinegars, and jams). For the collaboration, Matt designed a line of clothing inspired by work wear from around the world. He was nice enough to take a few moments out of his busy schedule to answer our questions – and even his answers are exceptionally creative!
You have worked in so many different creative fields, having designed clothing, spaces, and worked as an art director, among other things – what was your first creative love/outlet?
IF DAYDREAMING DOES NOT COUNT THEN IT WAS COLLAGE AND DRAWING SINCE I CAN REMEMBER , I STILL KEEP AND CREATE LARGE SCRAPBOOKS.
Your latest project is a collection for MARCH inspired by work wear from around the world – what gave you the idea for the collection?
PEOPLE DRESSED FOR THEIR TRADE IS ONE OF MY FAVORITE THINGS TO LOOK AT WHEN TRAVELING AND AFTER SAM HAMILTON APPROACHED ME WITH THE IDEA OF A COLLABORATION IT MADE SO MUCH SENSE FOR MARCH .
WE WERE PRETTY MUCH ON THE SAME PAGE FROM THE BEGINNING, OUR TAKE ON GETTING DRESSED FOR LIVING LIFE.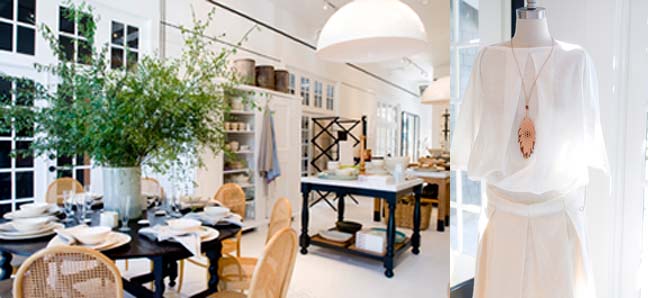 Some of the gorgeous kitchen and table wares at MARCH; An airy look from the collection. Photo Credit: Angie Silvy

Follow the jump to read more!
You used indigo in the collection, and I've heard that you're a bit of an indigo expert. What originally drew you to indigo and the natural over-dying process?
LEARNING MORE ABOUT INDIGO ALL THE TIME FROM PEOPLE WHO ARE HARVESTING THE PLANT, MAKING THE SUKUMO AND DYING. THEY ARE THE EXPERTS, I AM A FAN. INDIGO CULTURE IS IN ALMOST EVERY CONTINENT. IT IS A VERY INTERESTING PHENOMENA RICH IN HUMAN HISTORY, BEAUTY AND STRUGGLE. I WAS INVITED TO BE AN ARTIST IN RESIDENCE IN 1997 AFTER GRADUATING CCA(C) AT THE TIME , TO GO TO JAPAN TO THE KONYA – WE STILL WORK TOGETHER TODAY – THE MARCH INDIGO COLLECTION WAS DYED BY THE NAKAJIMA KONYA.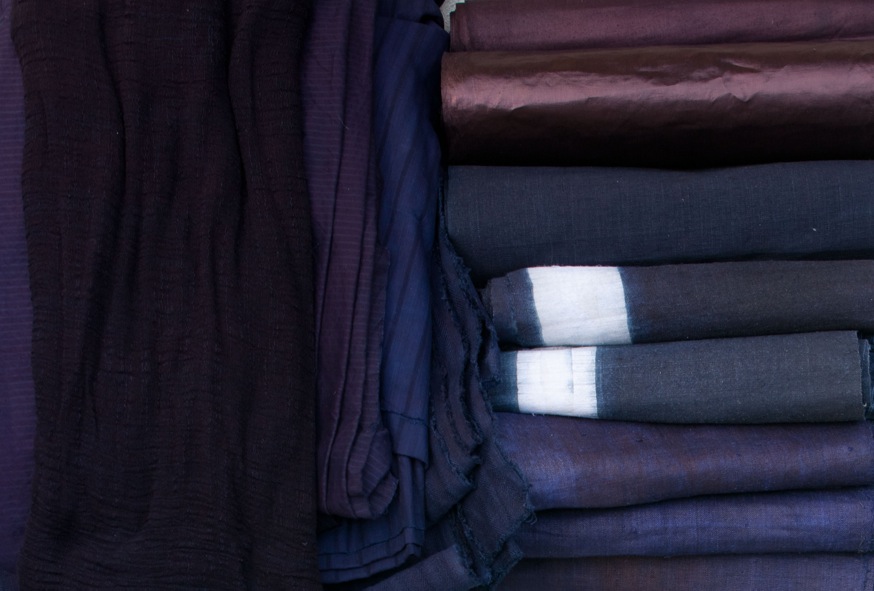 Some of the gorgeous indigo dyed fabrics from the collection. Photo Credit: Drew Altizer Photography

You have designed several amazing spaces, what do you try to communicate through design when you're creating a space?
I FEEL LIKE THE SPACE CAME THROUGH EACH TIME, I HOPE TO PEEL BACK AN EXISTING SPACE TO WHERE IT FEELS RIGHT – ON THE RARE CHANCE I AM PART OF THE TEAM ERECTING THE SPACE, THEN IT IS MUCH MORE
EXCITING AND WE CAN EXPLORE SURFACE OPTIONS AND PLAY WITH HOW WE INTERACT WITH SPACE AND FORM. I LOVE ARCHITECTURE AND LIGHT. SURFACES ARE VERY EXCITING TOO.
You have worked in the Japanese market for over a decade, what originally drew you to that market?
I DONT REALLY HAVE CLEAR SENSE MANY THINGS FASCINATED ME ABOUT JAPAN VERY EARLY ON – I DIDNT THINK ABOUT THE MARKET UNTIL I START TO LOOK AT DESIGN AND CRAFT IN THE LATE 80's . THEN IN COLLEGE I MADE UP MY MIND TO LEARN JAPANESE AND STUDY ART HISTORY – CLOTHING CAME LATER, AND INDIGO.
What are your favorite things about San Francisco?
COMING HOME. EATING . AND IT IS A GREAT CITY TO TRY SOMETHING NEW OR START SOMETHING UP.
Are there any types of collaborations you haven't done that you hope to in the future?
BEEN THINKING ABOUT A BOOK. I LOVE BOOKS .
Based on his answers to our questions – we'd love to read that book!
For more Industry Interviews, click here.