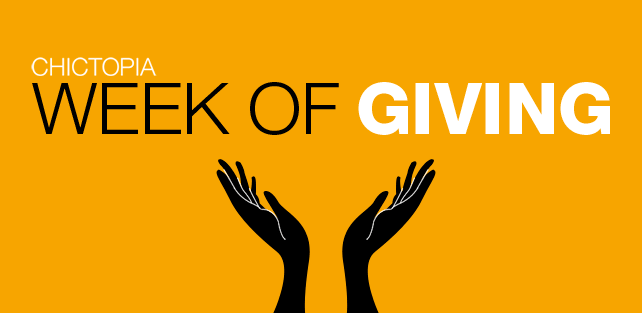 This year, Chictopia is holding their first "Week of Giving" contest. They want to honor the many chictopians who do so many great things around the world, with so many different charities – and their letting YOU decide with three charities they'll donate to. The winning charity will receive a donation equivalent to the total amount of qualifying entries – so, just by entering, you're adding $1 to the total sum that they will donate!
HOW TO ENTER:
Upload an outfit photo for the contest of yourself that relates in some way to your favorite charity.
Title your post with the name of your charity.
Write about what your charity means to you and why you think it deserves a donation.
Encourage people to FAVORITE your entry – winners will be based on MOST FAVORITES.
The most-favorited entry will earn a donation toward their selected charity equivalent to the total amount of qualifying entries to the contest (for example 1000 total entries means Chictopia donates $1000 to the winning charity!), as well as 500 Chic Points, a feature on the homepage, and a profile on our blog. The second and third most-favorited entries will earn $100 donations toward their selected charities and 500 Chic Points each. The contest ends on Wednesday, November 23rd, 2011 at 11:59 PM PST, so hurry and show us which organizations mean the most to you – and remember – even by just entering, you're practically donating $1 to the winning charity! The winners will be announced November 24th.
Enter the contest here.