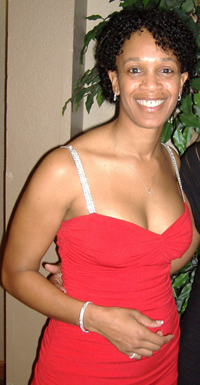 Name: Tracie L. Keesee
Where do you live?
Elizabeth, Colorado (35 miles southeast of Denver! AKA Tibow Town!!)
What is your area of study?
MFA Fashion Merchandising
What is your current occupation?
Captain, Denver Police Department –Assigned to Homeland Security/UASI
If you were to die and come back as [a fashion icon], who would it be?
Grace Jones – (I'm coming back big and bold!! Flat-top and all!)
What is your most treasured possession(s)?
My family, my husband, especially my two grandchildren and my great-grandmothers pearls (the order may change dependent upon my mood!)
Who are your favorite [fashion] writers?
Celia Smith, Essence and Suzy Menkes, New York Times
Which talent would you most like to have?
The ability to sing.
Which [items in your closet] do you most use?
My white Calvin Klein t-shirts and my DKNY boyfriend blazer.
What is the quality you most like in [yourself]?
My sense of (dry!) humor.
What do you consider your greatest achievement?
My family, and obtaining my PhD in Intercultural Communications while working full-time!