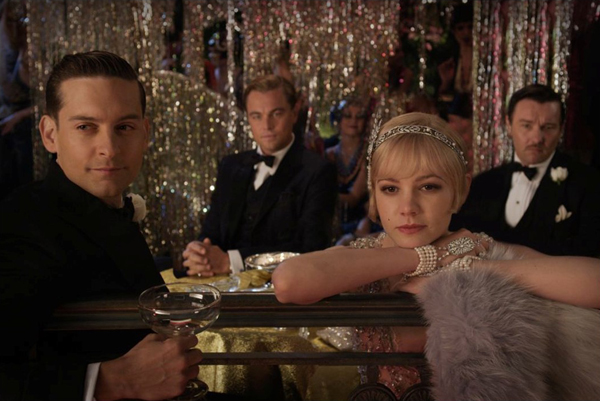 The wait is over – well almost – for Baz Luhrmann's adaptation of the classic novel, The Great Gatsby. One of the most anticipated films (probably ever) doesn't come out until Christmas, but we've got the first official trailer! The film stars Leonardo DiCaprio as the mysterious Jay Gatsby, with Carey Mulligan playing his love interest – er, obsession – Daisy Buchanan. Rounding out the all-star cast are Tobey Maguire as Nick Carraway, Gatsby's best friend and the narrator of the film, Isla Fisher as Myrtle Wilson, and Bollywood star Amitabh Bachchan as Meyer Wolfsheim.
The trailer showcases Luhrmann's signature cinematic motifs – lavish party scenes à la Romeo + Juliet, over-the-top decor, and a multitude of special effects. One stylistic element that we're really excited about is the costumes. Ever since the announcement of film's production, the fashion world has been feeling some serious '20s nostalgia, most notably at Gucci and Ralph Lauren. The costumes, designed by Catherine Martin, are just as extravagant as one would expect in a Luhrmann film – flapper dresses galore, brooches, baubles, and rhinestone barrettes, three piece suits, satin bow ties, and suspenders – no embellishment was spared. They may not be period pieces per sé, but pretty darn close – and they look amazing.
Oh, and did we mention that Jay-Z and Kanye's "No Church in the Wild" and Jack White's cover of U2's "Love is Blindness" provide the musical accompaniment? Yeah.
Follow the jump to watch the trailer, and start counting down the days until December 25th!