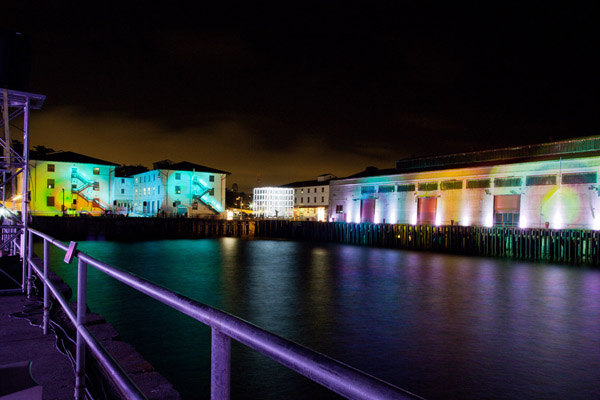 The Creators Project at Fort Mason. Photo Courtesy of Bryan Derballa.
This weekend, The Creators Project took over Fort Mason, kicking off their 2012 world tour with a bang. The free, two-day festival brought together everything that San Franciscans love: art, technology, music, and even food trucks. If you haven't heard of The Creators Project, we can describe it in one simple word: awesome. The collaboration between tech-innovators Intel and Vice magazine supports visionary artists around the world working across multiple disciplines and technologies, pushing the boundaries of creative expression in the digital age.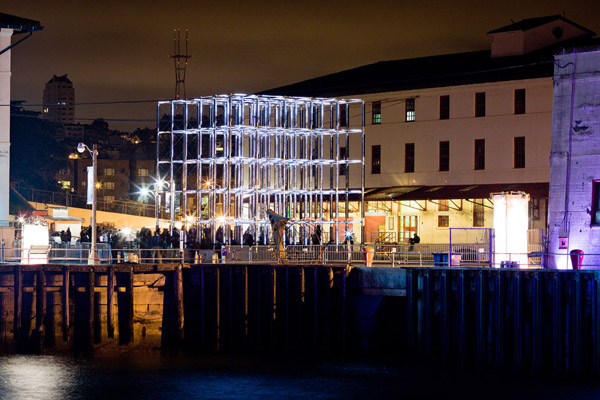 Origin by United Visual Artists and Scanner. Photo Courtesy of Bryan Derballa.
The festival included a number of films, panels, artworks and installations, many of which were interactive – allowing visitors to actively participate in the art. Origin, a 40-foot by 40-foot cubic sculpture greeted festivalgoers as they entered the grounds. The awe-inspiring installation by United Visual Artists fuses light, design, and music – complete with an original score from electronic music artist Scanner. Each individual LED pixel is controlled and programmed to respond to visitors as they enter the cube and are immersed in the audiovisual environment.
Follow the jump to read more!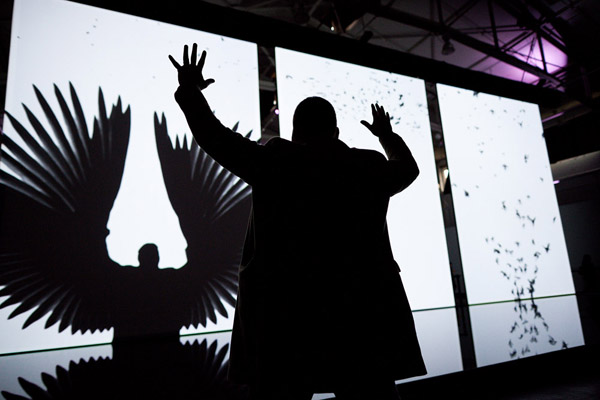 The Treachery of Sanctuary by Chris Milk. Photo Courtesy of Bryan Derballa.
Herbst Pavillion was home to several impressive installations over the weekend. The Treachery of Sanctuary, by experimental filmmaker Chris Milk, used Kinect technology to allow viewers to control the installation and experience different forms of flight. Casey Reas' Process 16 (Software 3), was an ever-changing digital canvas of colors. Reas programmed the software to follow a series of logical rules and processes, resulting in a progression of fluid, colorful expressions that constantly transformed the work.
Another fan favorite was Six-Forty by Four-Eighty by Zigelbaum + Coelho. The interactive lighting installation is composed of magnetic, physical pixels that actually communicate through human interaction. We had a chance to sit down with Jamie Zigelbaum, one half of the creative duo, to hear a bit more about the project:
Jamie Zigelbaum and Marcelo Coelho met while taking classes at MIT's Media Laboratory. They were both interested in the space where technology and art collide – Coelho had previously earned a BFA in Computational Arts and Zigelbaum was always creating – and they formed a collaborative to further explore the relationship.
Their piece, Six-Forty by Four-Eighty, offers a critique of the ways in which we generally interact with technology. Instead of an experience that is mediated by a mouse and screen, the installation allows viewers to "experience computation with the body – to interact viscerally and communicate with the technology". In creating this participatory experience, Zigelbaum and Coelho hope to change the way in which people relate to technology. In their work they constantly seek to mimic human interactions and relationships and to visually display "the profound richness and depth of computing" that is often overlooked. As visitors interacted with the pixels, the oscillating lights changed colors – if you touched a second pixel, it would change to match the color of the first. It even works if two people hold hands and touch two different pixels. The visual response of the pixels to physical contact creates an experience that is much more real – you immediately see the effects of your actions.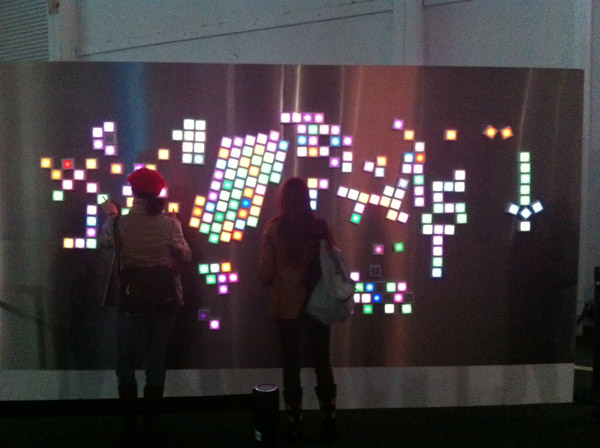 Six-Forty by Four-Eighty by Zigelbaum + Coelho. Photo Courtesy of David Parker.
Before heading over to the music, we had to make a quick stop at the Firehouse for Life on Mars Revisited. The film, by director Barney Clay, remixes classic footage shot by iconic rock photographer Mick Rock of David Bowie performing "Life on Mars". Viewers are surrounded by Bowie on all four sides and the bass pumps through your body, creating an immersive experience that really is like being on another planet – Life on Mars as imagined by Clay.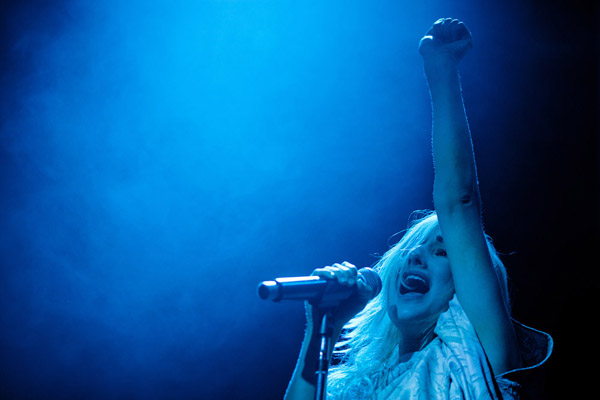 Zola Jesus. Photo Courtesy of Bryan Derballa.
And over in the Festival Pavillion, music pulsated all day long. Acts included Teen Daze, Shabazz Palaces, HEALTH, and The Antlers. Zola Jesus' performance got the crowd going with her eerie vocals and general thrashing about. Her white, cape/kimono combination gave her the appearance of an alt-angel who might take flight at any moment – and at one point she did, leaping into the crowd and creating a frenzy among the fans.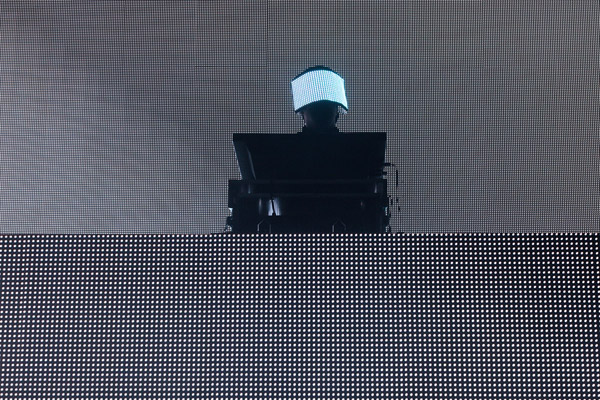 Squarepusher. Photo Courtesy of Bryan Derballa.
A bit later in the day, Squarepusher took the stage, marking his first US performance in seven years. The show seemed to embody technology in many ways – from the LED screen emitting patterns of light in sync with the music to the LED helmet that adorned his head. Even the music sounded like technology – multiple riffs playing simultaneously, working together to produce a complex sound – which to some may have actually sounded like a robot talking (or at least how we would imagine it).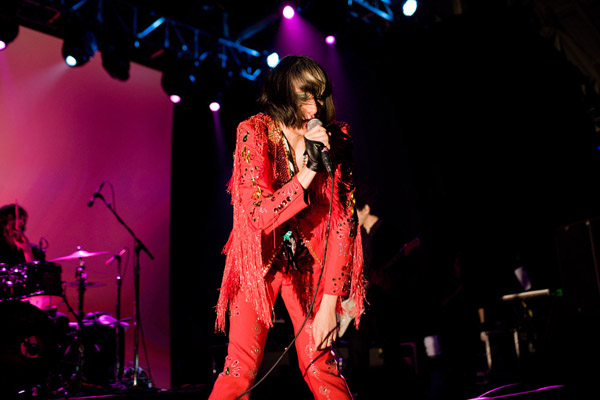 The Yeah Yeah Yeahs. Photo Courtesy of Bryan Derballa.
The highlight of the evening was certainly the Yeah Yeah Yeahs. The trio – spearheaded by lead singer Karen O – always take their performances to the next level, it is art the moves you (literally). Decked out in a red matador's suit complete with fringe and a sequined zebra cape, O's stage antics kept the crowd rolling until they finished the set with "Heads Will Roll".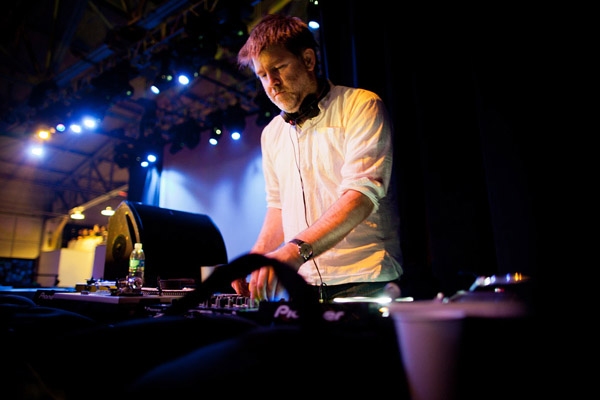 James Murphy. Photo Courtesy of Bryan Derballa.
The evening ended with a DJ set by LCD Soundsystem's James Murphy, Pat Mahoney, and Nancy Whang. While it was no LCD performance, it was a great way to end the evening – with a band that jumpstarted electro-music and the use of technology in the industry.
The Creators Project tour will hit locales all over the world, from Seoul and Beijing to Paris, Sao Paulo and NYC – picking up more amazing artists along the way. We're so happy The Creators Project finally landed in SF, and we can't wait to have them back next year!