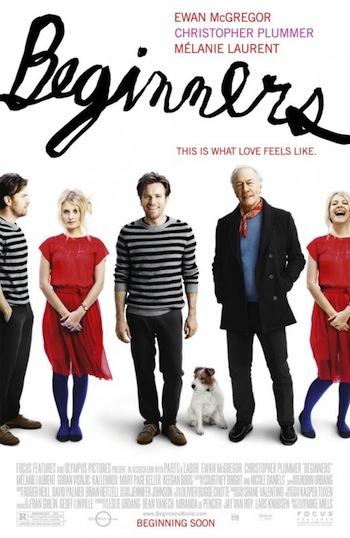 Here at Fashion School Daily, we keep you up-to-date with some fine movies for your artistic consumption. We don't have anything against big-budget blockbusters — in fact we thoroughly enjoy them (i.e. X-Men: First Class and we can't wait for the last Harry Potter movie). On the flipside of that cinematic coin we do like presenting you with "alternative" movies like Blank City, Potiche and Midnight in Paris.
We want to add Beginners to that list.
Directed by Mike Mills, the film stars Ewan McGregor, Christopher Plummer and French actress Mélanie Laurent. It's a riveting and insightful story about Oliver (McGregor) and his relationship with his newly out-of-the-closet, cancer-ridden father (Plummer). Check out the trailer below:
That said, balance out those 3D blockbusters with something a little bit more tame and "human." It is a great way to keep things grounded in your life.
Beginners is currently playing in limited theaters now and opens in San Francisco theaters on June 10.