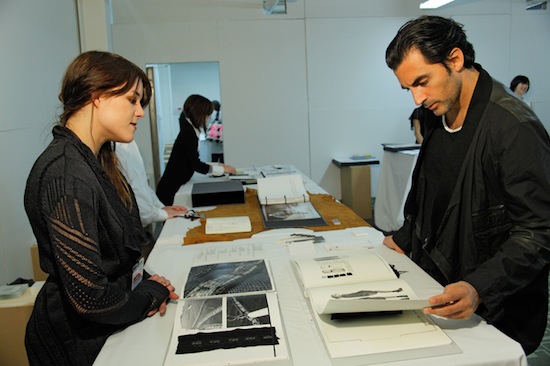 As you may know, Yigal Azrouël was a special guest at our Spring Fashion Show in San Francisco. Inez-Marie Galvez, Margaret (Maggie) Yoha, and Jannika Lilja were lucky recipients of internship positions with him this summer. Fashion School Daily caught up with the trio before they headed off to the East Coast.
What was your reaction when you heard that Yigal Azrouël selected you for a summer internship?
Inez-Marie Galvez: I was in an L.A. hotel room with my mom, decided to check my email via phone, saw an email from Sara titled "Yigal", opened it and as I was reading the words, I started to say "omg, omg, OMG OMG OMG!" (in a gradual increasing volume) haha! My mom ran to me thinking something bad happened, like back home up north, but I couldn't utter a word because I was in shock. It completely caught me by surprise because I did not expect, nor plan, to snag an internship from the show. I was SO thrilled that I started to tear a bit. It was a perfect moment.
Maggie Yoha: Shocked and excited.
Jannika Lilja: Excitement. I'm eager to start this internship and move to a new city.
When do you move to New York?
Inez-Marie Galvez: Realistically, my move would be the last week of June. I still need to plan it out more, I mean, we did just find out. You look at the calendar and realize that" We only have one month left before the start date."
Maggie Yoha: I fly out on June 27th.
Jannika Lilja: By the end of June!
Other than the internship, what are you most looking forward to doing in New York?
Inez-Marie Galvez: I'm looking forward to making connections and getting back into my music. What a great city to combine the two.
Maggie Yoha: Living with a high school friend that I haven't had much time to see in ages, being somewhere I've never been before, learning a whole new location.
Jannika Lilja: Seeing my friends who moved there a year ago and exploring the city. I want to find the hidden gems.
Follow the jump to read more.
What will you miss most about San Francisco?
Inez-Marie Galvez: Just living in it and how it has been my home for 5 years. I'm going to literally miss that fact.
Maggie Yoha: Everything! I don't have much to compare it to, but I'm assuming I'll miss the weather.
Jannika Lilja: Everything. San Francisco will always be a home to me. I'll miss the steep hills that offer the prettiest views of the city when you hit the top, the diverse and creative people, the crazy cabdrivers, riding my bike on Valencia street, having breakfast in a neat and nice restaurant in the middle of the dirtiest Tenderloin, the one-of-a-kind cafes and boutiques different in every neighborhood — I could keep on going!
What was the most valuable lesson your learned this year doing senior collection?
Inez-Marie Galvez: To "keep your eye on the ball" – [quote from] Lisa Relth. To just see the goal and conquer, even if it mean you have to be obsessed, not sleep, or even socialize. There will always be distractions, pressure, politics, or even gossip around you. The worst thing you can do is let it get to you or even be a part of it. Stick to what you believe in, you won't fail.
Maggie Yoha: Even if something appears to be completely utterly impossible, it's probably not.
Jannika Lilja: Balancing your life and time out will help you concentrate and work more efficiently. Be humble and listen to advice yet trust yourself to be able to make decisions.
What would people be surprised to learn about you?
Inez-Marie Galvez: That I'm classically trained in voice; (i.e. opera and classical music) and that I'd still want to be on Broadway or do something with music. Now I have a reason to move to NYC — are the paths crossing?
Maggie Yoha: Only thing I can think of right now is that I can write upside down and/or backwards.
Jannika Lilja: I was a synchronized skater for 16 years.